'Dead Of Summer' Has A Variety Of Inspirations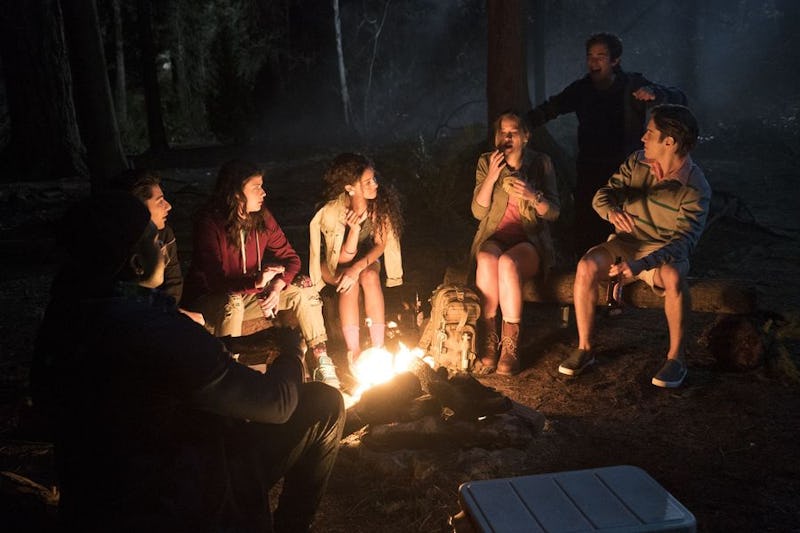 Given television's recent obsession with true crime series (American Crime Story, The Jinx, Making A Murderer), you'd be forgiven for assuming that pretty much any series that features a murder or other grisly crime is at least partially inspired by real life. Heck, even CBS's sudsy summer series American Gothic has its roots in a very real case, the notorious BTK Killer. So, does the same hold true for Freeform's newest drama? Is Dead Of Summer based on a true story?
The new series, from Once Upon A Time writers Ian Goldberg, Adam Horowitz, and Edward Kitsis (the latter two of which also worked together on Lost), takes place at a Midwestern summer camp called "Camp Stillwater" — and Stillwater is the name of a very real town in Minnesota, a popular tourist destination on the St. Croix River. So is this '80s-set mystery in some way pulled from some obscure annals of that town's history? Well, there are no indications that Dead Of Summer even takes place in the Minnesotan city; the name seems more coincidental than referential.
If it's not based on a real town, then is the story perhaps pulled from the personal lives of the show's own writers? "We all went to summer camp separately," Horowitz told Entertainment Weekly in an interview this past Monday. "We all were involved with murders at our summer camps. We all were exonerated." "That's not true," Kitsis chimed in. "I was involved with a demon and an exorcism. Adam had a murder." "Provides good fodder for the show," Goldberg said.
OK, so the co-creators are clearly joking. Dead Of Summer is not based on a true story — which will become clear pretty quickly when audiences tune into the premiere and realize the show is perhaps more fantastical than they assumed. "People see it and go, 'Oh, it's a slasher thing.' But it isn't a slasher thing, it's much more supernatural in a way that Overlook Hotel in The Shining was," Kitsis told EW. "Each episode is going to focus on one character, their flashback, and they will literally have to confront their demons."
But just because the show isn't adapted from real life doesn't mean it has no inspirations whatsoever. Aside from the aforementioned Shining influences, Kitsis also revealed that they were inspired by other films as dissimilar as The Breakfast Club and Halloween. "We loved John Hughes and we loved John Carpenter, and one of the things we noticed in both genres were the same archetypes," he said. "So often in a horror movie, you don't care about the first four people that die, it's just the final girl, as they say. We wanted to do a show about identity, because when we talked about those genres and camp, the thing we liked best about camp was the freedom — the freedom to be yourself."
In that sense, Kitsis and his co-creators are working from their own experiences. "It was also super personal in a way, not because we were possessed or killed any one or anything like that, but because we did go to summer camp," Horowitz said. "Everyone goes through this coming-of-age thing where you're trying to figure out who you are, who you could be. It's actually the one time in your life where you really can sort of define it. There's an excitement to that and there's a terror to it — that terror becomes personified and something these characters have to deal with."
"For me, camp is where I met life-long friends, it's where I had a lot of my firsts, and the summer of '89 has a special place in my heart," Kitsis recalled. That's why Dead Of Summer Season 1 will take place in 1989; and the team already has a plan in place for the future, should the show turn out to be a success. "Season 2 could potentially be 1970. We could do a year that's 2004 and then go back to 1948," Kitsis revealed. Goldberg added: "The camp was founded in 1924. You also see that the history of the lake goes back even further than that. We would love, if successful, to jump around to different eras."
While Dead Of Summer may not be based on anything from our country's real history, it's clear that the show will be drawing on its own well-thought-out fictional history to craft a story that feels lived-in and authentic — and one that anyone who's ever been to summer camp should be able to identify with.
Images: Katie Yu, Tyler Shields/Freeform