Andy Cohen On What To Expect From 'RHONJ' Season 7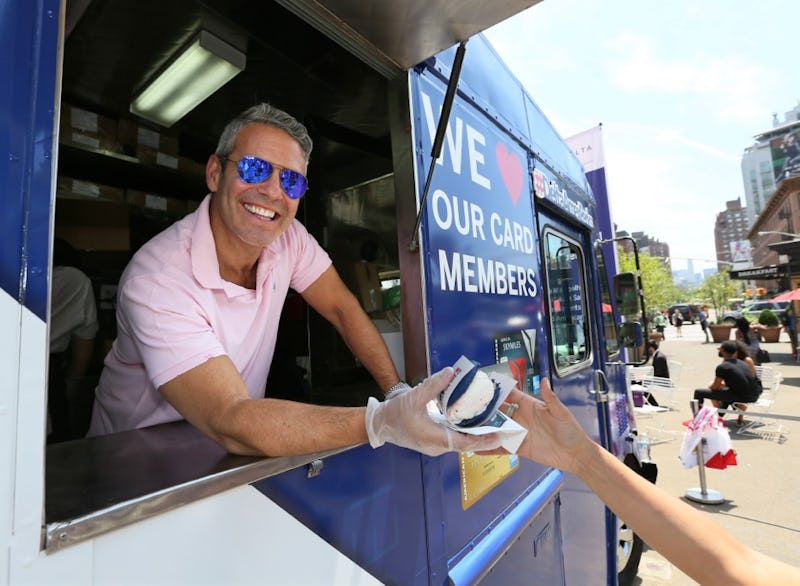 The Sunday, July 10 premiere of Real Housewives of New Jersey cannot come soon enough. My life has just been so thrown off without any new episodes, but I understand that there is just no way the show could ever be filmed without its queen Teresa Giudice, so it was essential to wait until she returned from prison to roll the reality show cameras. But now, thankfully, RHONJ has new episodes on the way, and I got to talk to Andy Cohen all about the upcoming new season at the #DeltaAmexPerks Coolhaus Ice Cream Tour in New York City on Monday.
"It's so good. Expect tears, water works. It's really good. The first episode centers around Teresa getting out of jail. It's a tear jerker," he says. I am so ready for that. I don't even know Giudice and I've really missed having her and the other ladies in my life — not that any of them are actually in my life, but if you are devoted fan, you know what I mean.
I'm also beyond curious to see what RHONJ will be like now that Giudice is getting along with her sister-in law Melissa Gorga. Their feud has been a prominent story line on the show for years, so I'm curious to see what it will be like now that they are BFFs. Cohen puts my worries to rest when he says, "I think it's great. They're good. It's really nice to watch."
But what about the new ladies? Are we going to like Siggy Flicker and Delores Catania? Cohen says, "The new girls are great. Siggy's hilarious — piece of work. She shows up in the first episode having just had a facelift. Her face is still healing." #TotalVickiGunvalsonMove, if you ask me.
Cohen also explains that Catania is an ideal cast member since she is already a part of the ladies' lives: "Delores has known the women for like 10 or 15 years, so she's a perfect fit."
Is it July 10 yet?
Image: Guest of Guest