How To Wear Tarte's Swamp Queen Palette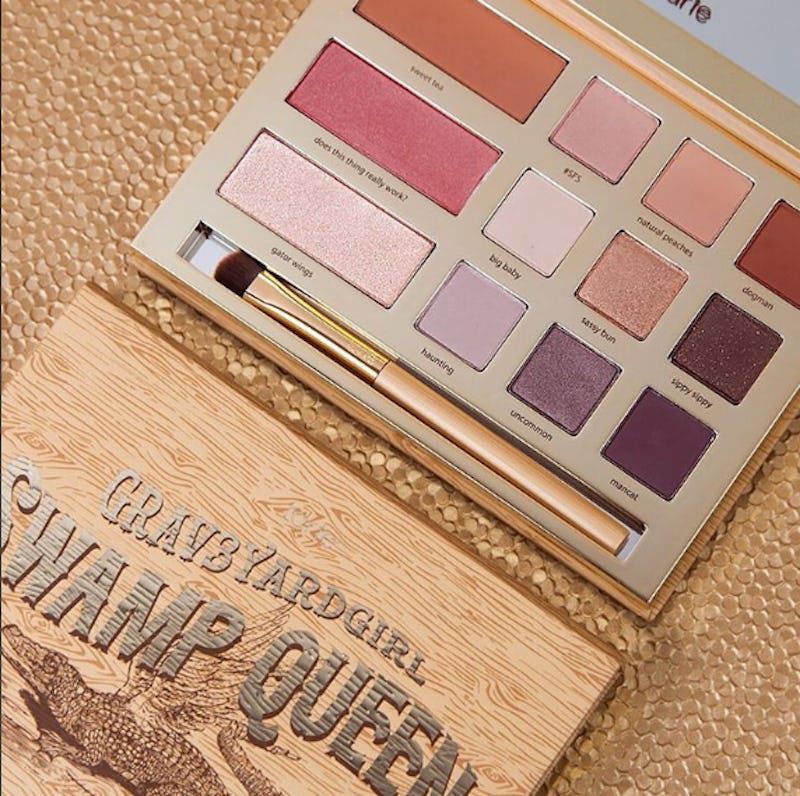 So you got your hands on another limited-edition brand name palette. Congrats! You basically won the lottery, because the latest Golden Ticket beauty item from Tarte is a huge hit — emphasis on huge. If you're wondering how to wear the Grav3yardgirl x Tarte Swamp Queen Palette, you've come to the right place.
Earlier this month, Tarte launched its collaboration with YouTube sensation Bunny Meyer, aka the Grav3yardgirl. She got her start on YouTube as a paranormal storyteller and now chats fashion, beauty, and makeup to her seven million followers. So when those followers campaigned to Tarte to release a collaboration with Meyer, the beauty brand listened and gave us the Swamp Queen palette of our dreams.
Swamp Queen is a full face palette featuring nine eyeshadow shades, a highlight shade, and two blushes (or a blush and a bronzer, depending on your skin tone). The shades are warm, everyday neutrals and plum cool tones that can be amped up for romantic evening looks. The palette has both shimmer and matte shades, so it's basically everything you need for a weekend getaway.
Swamp Queen also has a full-sized eyeshadow brush and a giant mirror, so it's well worth the $45.
Tarte Swamp Queen Palette, $45, Tarte Cosmetics
But as with any palette, you may not know exactly how to rock what you're working with. So here are a few tutorials to inspire your inner Swamp Queen.
1. Jeffree Star
As always, Jeffree Star turns up the drama on these seemingly tame colors. Pair with a mauve-brown lip for nineties glam.
2. Manny MUA
Manny used the palette for his entire face, and created a beautifully dramatic eye with orange and cool-toned colors.
3. Nicol Concilio
I love this everyday glam look. Nicol used the "Gator Wings" highlight powder over a cream highlight for an extra glow. She calls it the best highlighter she's ever used in her life. Consider me sold.
4. Tarte
Take it from Tarte themselves. Blend the peach, russet, and white shades for a sunset look.
5. Jamie Paige
If you love warm colors, Dogman is going to be your shade. Mixing cool and warm tones together creates tons of depth and drama.
6. Carli Bybel Tutorial
A glittery, all-over-gold look is perfect for summer.
Image: Grav3yardgirl/Instagram