The 'Dead Of Summer' Cast Runs Deep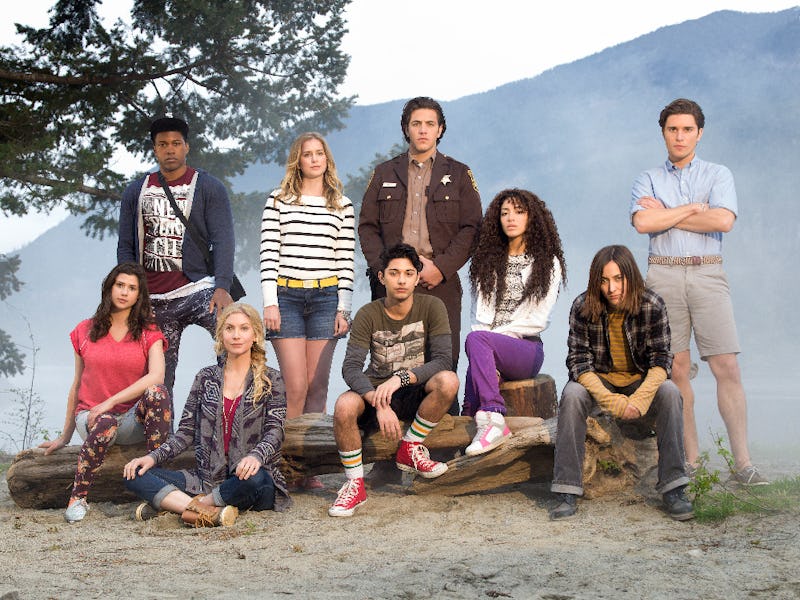 Freeform has embraced many popular television genres, from mysteries like Pretty Little Liars to the fantasy adventure Shadowhunters and science fiction series Stitchers. Tuesday night, it's going straight for the scary with a new show that has more than a few fresh faces. The Dead of Summer cast is full of innocent-looking characters you're going to want to root for.
The series, which was created by Once Upon A Time's Eddie Kitsis and Adam Horowitz, is a horror series that takes place at Camp Stillwater. The camp has recently been re-opened by a woman named Deb. Instead of the little kids, however, the show is centered around the former campers (and a few newcomers) who join Deb as counselors. That would be fun, if it weren't for whatever is lurking around the camp, ready to strike. Trust me, trying to recreate the best summer of your life is never as easy as it sounds.
As for the show's cast, you may know some faces better than others. For most of the actors, this series could be their big break. That makes the prospect of meeting new new characters extra exciting. There's nothing quite like discovering a new fave. Here's a roundup of the cast and where you have, or haven't, seen them before.
Elizabeth Mitchell
One of the most recognizable genre actresses out there, you may remember Mitchell as Juliet on Lost, the Snow Queen on OUAT, the short-lived ABC series V, and Revolution. She's also in The Purge: Election Year, so chances are Mitchell will be scaring you all summer long.
Elizabeth Lail
If you know Mitchell best from Once Upon A Time Season 4 then you definitely know Lail — she played Princess Anna of Arendelle!
Mark Indelicato
Another ABC familiar face, he played Justin Suarez on Ugly Betty.
Zelda Williams
Though she has been famous since birth, Robin Williams' daughter may be most recognizable by her voice. She has lent her vocal talents to The Legend of Korra and the recent Teenage Mutant Ninja Turtles animated series.
Ronan Rubinstein
He is somewhat of a newcomer, who was in one episode of Orange is the New Black and several short films.
Amber Coney
Another veteran of short and independent fims, she will play Carolina Diaz, who is called "Cricket" as a nickname.
Paulina Singer
You may recognize Singer from Gotham, Orange Is The New Black, South of Hell, and The Intern.
Eli Goree
He briefly played Wells in The 100 and had a major supporting role in the 2016 film Race about Jesse Owens. On Dead of Summer, he plays Joel.
Alberto Frezza
Last, the local law enforcement is played by Frezza, who was in Broad Squad, Battle Force, and Angel Falls in Love — but this is still a major role for him. Dead of Summer is featuring a cast of mostly unknown actors, which makes it all the more mysterious and spooky, in my opinion.
Images: Tyler Shields/Freeform (10)