How To Prevent Skin & Hair Damage From The Beach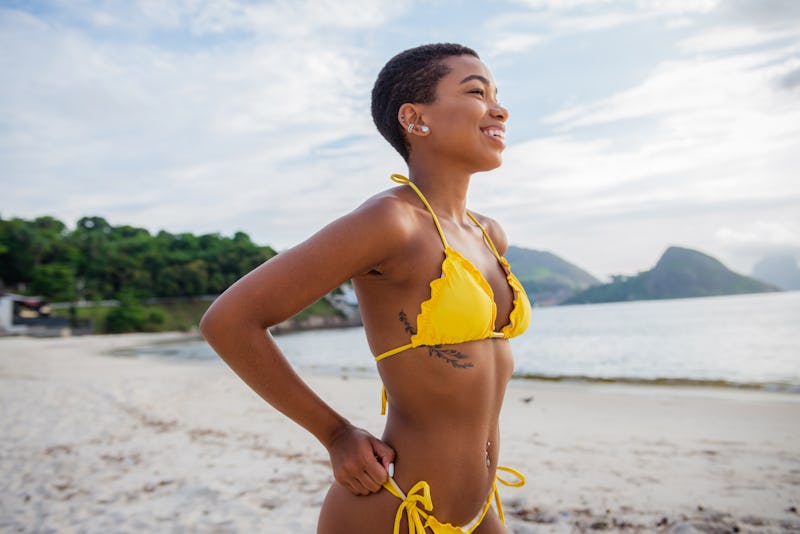 DaniloAndjus/E+/Getty Images
One of the best parts of summer is being able to spend long days at the beach. But the problem with clocking all of that time under the sun is that it can seriously dry out your skin and hair. So that dryness doesn't turn into a whole lotta damage, it's good to know the precautions to take so that your skin and hair don't dry out while you worship the sun.
While there are ways to make sure the salt and sun don't have any lasting effects by rinsing off and using a moisturizing body wash and shampoo as soon as possible, there are also helpful, preventative measures that you can take. Starting the day off right with oils, clean water, and some UV protection will really help ensure that the sun and salt don't wreak as much havoc as they could. Especially if you have dry skin or hair to begin with, you'll probably want to try at least a couple of these eight ways to help protect your skin and hair from the drying effects of the beach. This way, your day in the sun will end with soft and healthy skin and hair without limiting your time on the sand or in the sea.
Bumble and Bumble Hairdresser's Invisible Oil Heat/UV Protective Primer, $28, Sephora
UV rays can really dry out your locks. If you plan on spending significant time in the sun, spritz your hair with a protectant spray before you go out, and throughout the day. And if you dye your hair, a UV protectant will also help prevent your color from prematurely fading, according to Real Simple.
Clarins Sunscreen Care Oil Spray SPF 30, $31, Amazon
Applying SPF is a must for a day at the beach. But regular sunscreen doesn't always have the extra skin benefits to help prevent your skin from drying out as well as burning. A dry oil sunscreen, however, will give that extra shot of moisture to combat the drying effects of the sun and salt.
3. Wet Your Hair First
Although it may seem a little odd, wetting your hair with fresh water before submerging yourself in the ocean will actually help prevent the salt in the water from totally drying out your strands. Chris Lospalluto, Sally Hershberger stylist in New York, explained to Huffingtonpost.com that starting with wet hair acts as a coating so that 100 percent of the saltwater isn't absorbed by your locks, meaning that you won't suffer 100 percent of the possible damage.
4. Moisturize
Mayfair Soap Foundry Body Souffle, $9, Target
While it's important to moisturize after a day at the beach, moisturizing before can also help prevent dryness. LA plastic surgeon, Dr. Joubin Gabbay, MD, told Realself.com that when moisturizing before the beach, it is important to select a hypoallergenic product so that sun exposure does not cause skin hypersensitivity.
5. Go Easy On Styling
Don't kick your hair while it's down. If you routinely style with products or heat, Allwomenstalk.com recommends giving your hair a break before a day at the beach. Because heat and buildup can damage and dry hair out on their own, you probably won't want to exacerbate the problem by exposing your hair to the sun all day as well. Give your hair a day or two of rest before hitting the beach so it won't be so vulnerable to the effects of the sun and salt.
6. Try A Leave-In Conditioner
SheaMoisture Zanzibar Marine Complex Age-Defy & Color Protect Leave-In Conditioner, $13, GNC
A leave-in conditioner is basically your hair's equivalent of slathering on a body butter before the beach. The moisture boost will combat the drying effects of the sun, and act as a barrier between your strands and saltwater too. Certain ones may even help protect your color from fading.
7. Stay Hydrated
Of course, one of the simplest things you can do to make sure your hair and skin are healthy and ready for a day at the beach is to stay hydrated. As Dr. Gabbay explained to Realself.com, the sun, wind, and saltwater will all dehydrate your skin, so the better hydrated you are, the less damage you will incur.
8. Wear A Hat
Ultimately though, wearing protective layers is one of the best ways to prevent damage from the sun on both your hair and skin. While you may not always want to be fully clothed at the beach, according to Huffingtonpost.com, donning a hat at least will help combat the drying effect the sun has on your hair (and scalp).
Images: Getty Images (5); Courtesy of Brands