7 Oily Skin Mistakes To Avoid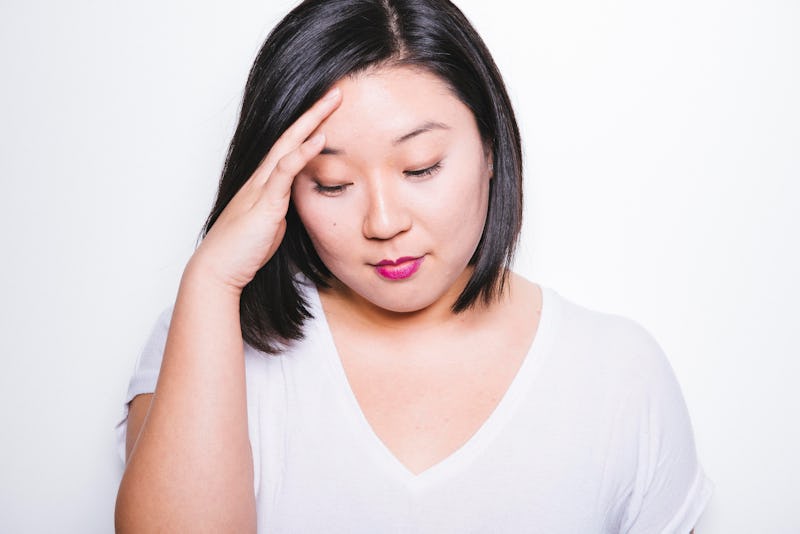 Yay for oily skin, said no one ever. With summer heat setting in, those of us with naturally oily skin are getting grumpy because there's nothing cute about an overly shiny face. For that reason, you should learn these seven mistakes to avoid when dealing with oily skin, so you can achieve a gorgeously matte complexion.
I've always had oily skin, and growing up in the heat and humidity of the South made it a real nightmare at times. Sure, I'll age well with all this moisture, but it's still a real pain to deal with when I just want to wear makeup on a summer evening. You can cart around blotting papers all summer long, or you can dive deep into finding out what exactly is causing your oil production and adjusting your routine accordingly.
Sneaky habits, routines, and ingredients can throw off your skin game and wreak havoc on your body. You may not realize that what you're buying or eating is making your skin even oilier — while oily skin can be genetic, it can also be brought on (and made much worse) by outside forces. But don't worry, that's good news! There is plenty you can do to combat your melty summertime skin.
Below are some of the biggest mistakes to avoid when it comes to dealing with oily skin.
1. Being Afraid Of Oil
Desert Essence Tea Tree Oil, $9, drugstore.com
Overproduction of oil is often caused by the lack of natural oils present in and on your skin. So while it sounds a little goofy, the more oil you put on the less your body will produce naturally. Continue to moisturize, but up the ante by layering an oil underneath.
2. Buying The Wrong Foundation Formula
Clinique Acne Solutions Liquid Foundation, $27, sephora.com
Anything labeled dewy, luminous, or moisturizing can add extra shine. Instead, opt for a matte formula infused with acne-fighting ingredients.
3. Use A Primer
NYX Shine Killer Primer, $14, drugstore.com
Mattifying primers are my secret weapon in the summertime. They not only help protect my skin from being clogged up by foundation, but it also mitigates pores and keeps my face looking matte. If you don't want a full face of makeup, you can rub in a primer for a perfected look.
4. Forgetting To Exfoliate
Clarisonic Mia, $99, ulta.com
When dead skin builds up, it can clog your pores and make skin matters much worse. According to the American Academy of Dermatology, oily skin can definitely benefit from exfoliation.
5. Loving Dairy A Little Too Much
Dairy consumption is linked to acne, and that's because dairy products contain ingredients that can trigger breakouts for some people.
6. Not Going Bare-Faced
Lots of products can dehydrate your skin, but they can also contain ingredients that is making your skin worse. In addition to using the best foundation for your skin and exfoliating, go barefaced every now and then to give your skin a break.
7. Drinking Too Much
We know that alcohol dehydrates, and your skin is not immune. Plus, alchohol also has sugar, which is another problem. Both of these ingredients are problematic because alcohol rises your body temp (causing sweat) and sugar stimulates oil production.
Image: Andrew Zaeh/Bustle; Pexels