Things To Do For Great Skin All Week Long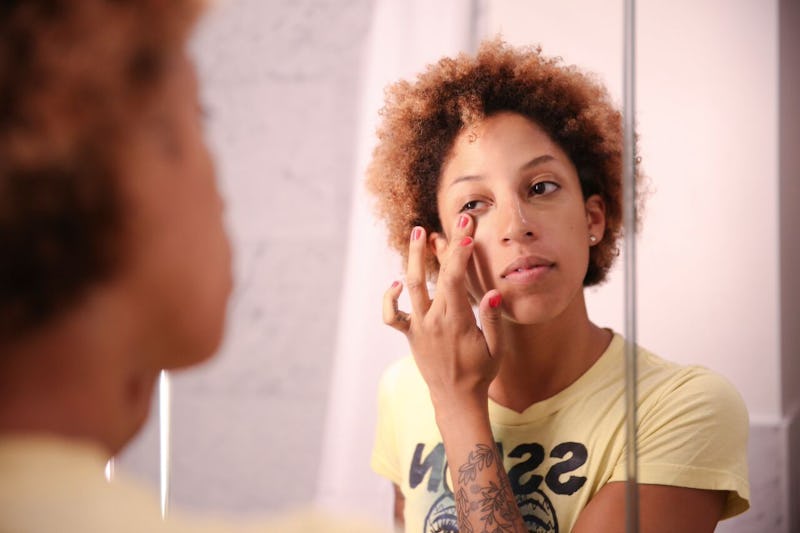 To me, a big part of successfully adulting is learning to deal with Sundays. Sure, it's part of the weekend. It's a free day — a day to be lazy, maybe. But it's also a day that comes with a lot of pressure to successfully prepare for the week ahead. It seems daunting to add a step or two to your routine to make the rest of your week flow smoothly. I mean, is it even realistically possible to prep on Sunday for a successful week? Well, when it comes to your skin at least, the answer is yes. I talked to dermatologist Dr. Whitney Bowe and lifestyle blogger Lo Bosworth about their Sunday night tips for having great skin all week long. They had a lot of wisdom to share with me.
While you might think Sundays are all about going over your calendar, prepping lunch, doing laundry, or watching Game of Thrones, the fact is that your skin deserves a little extra attention, too. And that little bit of extra prep time can go a long way, according to Bowe and Bosworth, who really know what they're talking about. Plus, Bosworth watches GoT every Sunday, too, so she can definitely be trusted.
1. Use A Scrub
St. Ives Blemish Control Apricot Scrub, $4.39, drugstore.com
Bosworth says that doing a weekly full-body exfoliation with different varieties of St. Ives scrubs is one of her favorite parts of the week, and a relaxing way to way to treat herself and rejuvenate her skin.
"When I get home from the gym [on Sundays], I typically do an exfoliation of my entire body. I love St. Ives — it's the brand of scrub I've been using since I was a kid." Bosworth says. "I take a nice, long shower and I feel like I'm cleanest, glowiest, softest girl in the entire world afterwards. It's really a treat to be able to do that."
If you're interested in trying a scrub or having a designated #ScrubDay like Lo, but not sure where to start or if your skin is too sensitive for an exfoliant, Dr. Bowe suggests starting out with a gentler scrub before going overboard.
Apricot Body Wash, $3.49, drugstore.com
"For people with sensitive skin who are prone to getting red, blotchy patches — it's not that you can't exfoliate, but you want to choose a more superficial or shallow exfoliating product and try to go down to once a week," Dr. Bowe says. "For example, when it comes to St. Ives — their traditional apricot scrub is actually the deepest level of exfoliation, meanwhile the mandarin orange is a moderate level of exfoliation, but the oatmeal is the gentle exfoliant."
Bowe also notes that exfoliation should be done gently until you know exactly what your skin reacts best to. "When it comes to exfoliating, you don't want to scrub too deeply — you want to use your fingertips and go into circular motions on your face, but if you use a loofah or Clarisonic brush in combination with the scrub, that is overkill. If you have sensitive skin, you want to make sure you're just using the scrub — fingertips only, warm water, a gentle scrub that doesn't go too deeply — and start off once a week, and if you can tolerate it, then you can double up to twice a week."
2. Get A Good Workout In & Try A Steam Afterwards
While Bosworth says that getting a great workout on a Sunday really sets a healthy tone for her week, her favorite part of the gym routine is what she does after, and how amazing it is for her skin.
"I always like to get in a great workout on Sunday and...my favorite thing to do after a workout is a great steam — my gym has an amazing steam room, and I have been steaming for maybe two years now — I've incorporated that into my routine," Bosworth says. "[Steaming] does wonders for your skin, it does wonders for the overall tone of your body. It's sort of like the 'dessert' or my reward for working out. I go to the gym...because I get to do a steam afterwards." Don't have a gym with a steam room? Try at at-home steam facial for similar effects.
3. Use A Humidifier
Crane Drop Shape Ultrasonic Cool Mist Humidifier, $47.50, amazon.com
"Invest in a humidifier. Our skin actually goes into repair mode while we sleep. The cellular machinery is working its hardest at night to repair all the stress and damage it was exposed to during the day, so our skin ends up losing water," Dr. Bowe says. "The same way when you're running a race, you need to rehydrate — it's the same way with your skin. The humidifier will prevent the water from evaporating from your skin."
4. Sleep, Sleep, Sleep
Dr. Bowe can't stress the importance of sleep enough when it comes to healthy skin. "Sleep is so important when it comes to the skin because cortisol levels — which are your stress hormones— goes up when you are sleep-deprived — and cortisol have been shown to break down collagen and elastic fibers and create inflammation in the skin," Dr. Bowe says. According to the National Sleep Foundation, for most adults, the ideal time to sleep is 7 to 9 hours, if you're wondering what to aim for.
5. Use A Copper Sleep Mask
illuminage Skin Rejuvenating Eye Mask, $35, nordstrom.com
And if you're looking for another way to up your sleep game, simply add a copper-infused sleep mask to your routine, "which will shut out the light and help you enter REM sleep and get more rest. Copper has also been shown to have anti-aging and anti-wrinkle properties," Dr. Bowe says. "...in general, wearing a sleep mask is a great way to make sure that you're in bed at the appropriate time and turning off your devices an hour before bedtime."
6. Moisturize
Bosworth says that Sunday is her day for exfoliation as well as for getting as much moisturize as possible, supporting my personal theory that every Sunday should be an at-home spa day for everyone.
"I always moisturize — Sunday is the day when I allow the cream to be layered on my face and soak in after 30 minutes for some great moisturizing," Bosworth says.
According to Dr. Bowe, though, the key to making moisturizers work for your skin goes back the first tip. "Make sure you're priming your skin and getting ready to receive all of those great ingredients because if you have a dead layer of skin cells, you can be investing in the most expensive moisturizer and serums and you don't reap any of the benefits because those ingredients can't penetrate through that dead layer of skin — so exfoliation is key," Dr. Bowe says.
7. Drink A Lot Of Water
You've heard it before, and now you're hearing it again. But it really is that important to drink water (and a lot of it) for your skin's health. Bosworth and Dr. Bowe agree.
"One of the things I have been doing lately, whether it's Sunday or every day, is drinking so much more water than I'm used. I have a plastic water bottle that is reusable and I fill it up about probably five times a day — and I think I [the bottle] has four glasses of water in it. I just carry [the bottle] around with me, and just drink water all day long," Bosworth says. "It has such an effect on my skin, and it is so much more clear and vibrant."
S'well Santorini Bottle, $25, nordstrom.com
Dr. Bowe says she keeps a bottle of detox water by her bed on Sunday nights, which really hydrates and boosts her skin. "I like to infuse different ingredients that have antioxidants in water and keep it by the bed. I love all kinds of natural ingredients. You can mix coconut water with apricot, lemon, or rosemary — anything with citrus like orange will also have vitamin C," Dr. Bowe says. "Antioxidants in general are a great way to fight free radicals and the water itself, especially because coconut water has electrolytes, is more likely to rehydrate you."
At the end of the day, conquering Sundays isn't necessarily about creating a mile-long to-do list and feeling like you need to tick each box, but simply treating yourself well. So go ahead and grab a scrub, drink a detox water, and do some yoga — your skin will thank you for it. And then watch Game of Thrones. Obviously.
Images: Isla Murray/Bustle; Courtesy St. Ives; Pexels