How Summer Conflicts With My Masculine Identity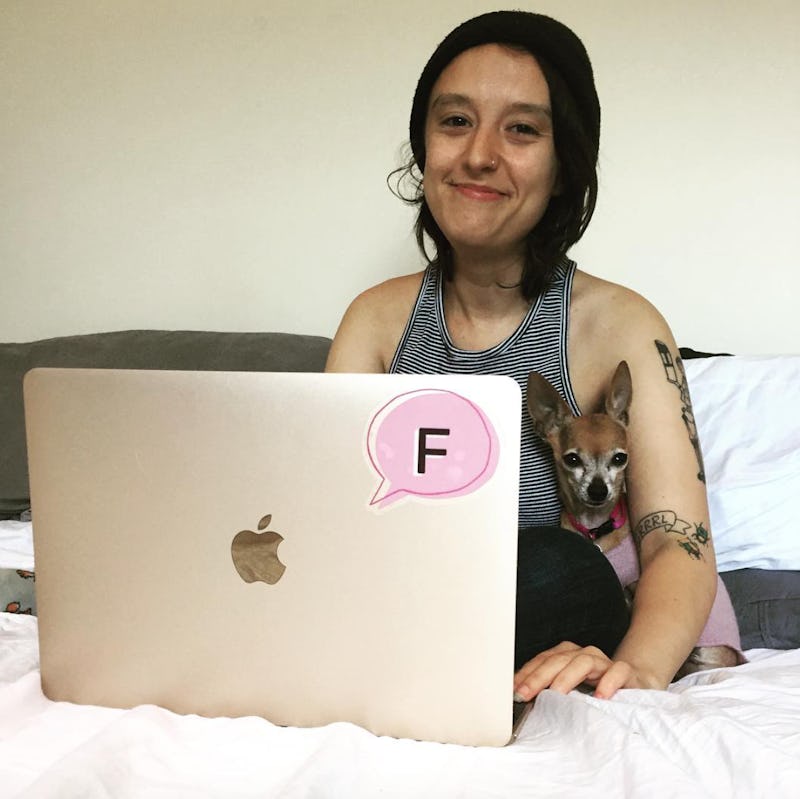 As much as I love the sunny and skin-baring season, I am filled with a particular dread come the beginning of every summer. While embracing my masculinity as a gender-nonconforming person every other season is a much easier feat, the high temperatures that this time of year is known for no longer make oversized and loose-fitting clothing (the only masc fashion truly available to me) realistic. There are certainly summer options in the men's departments of clothing stores, but none actually fit my feminine body properly. For me (and for any other gender-nonconforming and transmasculine person who can't afford specially-tailored apparel), the feeling of being misgendered this season simply isn't fair.
From a gendered perspective, shopping for new clothes is tricky enough for me at the best of times, what with the divisive male/female departments at so many retailers and the lack of versatility between differently-gendered garments. But it's during the warmer months that I feel the most disregarded by retail overall; when I feel the least entitled to my chosen presentation.
As I struggle to make enough money to support myself and come to terms with my gender identity, it feels as though the summertime and its limited clothing options for masculine people assigned female at birth oppresses me the most, blocking me from exploring and being my true masculine self. During a season that is so often reserved for fun days in the sun, lazy nights with friends, and a general sense of freedom as compared to the rest of the calendar year, such a block is particularly frustrating.
Lately, I've been grappling with my gender identity once again, toying with the idea of identifying as a trans man as opposed to a genderqueer individual. I recently did an exercise for which I tried to imagine what my ideal body and identity might look like. And to my surprise, what I envisioned was myself as a straight man with feminine sensibilities, like a penchant for makeup and a proclivity for rocking skirts sometimes.
This discovery came as a surprise to me. But it also filled me with excitement at the idea of knowing who I want to be, all the while helping me analyze some steps I can take to get there. Because of the fluid nature of my identity, particularly for now, I'm considering strict sartorial changes that could help me become the man I might actually be.
But even after having this affirming revelation, I felt more trapped in my body while frustratingly browsing my assigned male at birth partner's wardrobe — desperately trying to find a pair of shorts that might fit me with the assistance of a belt. I was reminded that even masculine clothing made to fit the dimensions of my partner's very narrow hips wouldn't cut it for my body.
For months now, I've mostly given in to the more feminine parts of my wardrobe out of convenience. Since most men's clothes are made specifically to fit the proportions of bodies AMAB (and since sales associates and shoppers alike so often seem to make the gender-nonconforming among us feel uncomfortable about what department they choose to shop in), I've virtually given up on my search for clothes that would truly affirm and support what I'm feeling on the inside.
As the summer days get hotter, I'm forced to continuously strip away the remnants of my visible masculinity (my jeans, cardigans, and hats) in exchange for the summer-appropriate floral skirts and printed shorts that I no longer identify with. And with no style of men's short or XS tees making the cut, I'm forced into the confusion and trauma of sporting clothing that fits a body I hardly relate to.
Of course, there are gender neutral brands out there that tailor-make masculine garments to fit bodies like mine. But I usually can't afford to buy my clothes this way, instead relying on mainstream shops that have small enough men's clothes or masculine-enough options in the women's section to hold me over.
With these limited options, however, I'm either perpetually trapped in fashion that is comfortable but way too feminine, or masculine fashion that doesn't let my skin breathe in the heat or soak up the sunshine.
I wish I was shaped differently; that I could buy anything from the men's section as I please without concern over proper fit. While there's sometimes a semblance of hope depending on the store I'm in (or whether I take a mosey through the children's section) this constantly forced mismatch between myself and my clothing diminishes my confidence regarding gender identity to the point of not feeling mentally resilient enough to keep trying.
I wish I could simply live in the body I want, buy the clothes I like, and live unhindered by an unfulfilled gender identity. I wish I didn't have to wear skirts, bikinis, or other women's clothes in order to stay cool in the sun. I want the world to see me as the masculine person I am and want to be.
Of course, I'm not alone in this. The feeling is perceived by much of the gender-nonconforming community, and from my experiences, particularly by those who come from more underprivileged backgrounds. It's for this reason that creating more gender neutral lines — lines that outfit masculine bodies in feminine clothes and feminine bodies in masculine ones — is crucial. No matter what our identities are, and no matter the limits of the bodies we were born in, we all deserve to have the well-dressed person staring back at us in the mirror reflect the inner working of who we really are, or who we hope to be.
Images: Meg Zulch