This 'PLL' Theory Could Explain A Lot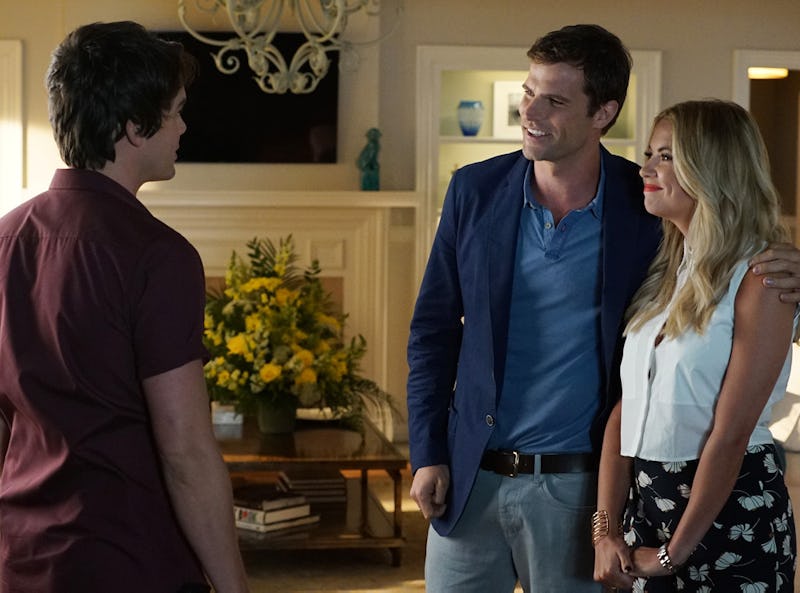 It looks like Hanna Marin is once again a single lady. Though it seemed increasingly likely that Pretty Little Liars would show Hanna walking down the aisle in a wedding dress during Season 7, she definitely won't be doing it with Jordan. Hanna ended her engagement with Jordan during Season 7's second episode "Bedlam," making Haleb shippers everywhere cry tears of joy. Hanna's breakup was certainly abrupt, and though it could set a path for Hanna and Caleb to ride off into the sunset together (assuming Caleb is brave enough to officially end things with Spencer, of course) this might not be the last time we see Jordan. Could Jordan possibly be working with Mary Drake?! There's one big clue from Season 7 that we may have overlooked.
Jordan could have been played by any good-looking man (seriously, as much as I love Caleb for Hanna, I think we can all agree that Jordan is pretty damn attractive) but the show specifically picked an Australian who had a strong accent. Why is that important? Well, in the Season 7 premiere, "Tick Tock, Bitches," Mona listens in on a conversation that Mary is having with a man. Though we never identify the dude, we know that he has an accent — likely British, or possibly Aussie. Hmm.
Though it's very possible that the person Mary was talking to on the phone was Dr. Rollins — though the Liars don't know it yet, his natural accent is actually English, not American — there's also a possibility that the show wants us to associate the accent with Dr. Rollins. What if that's because it's actually Jordan who is in cahoots with Mary, and after something that the Liars have?
Hanna has dumped Jordan so unceremoniously that it seems only appropriate for this character to have a longer arc than just Hanna's love interest. After all, he didn't even come between her and Caleb — Hanna decided not to pursue things with Caleb all on her own. Could Jordan return to the show as a newly appointed villain, instead of Hanna's love interest? It would certainly give this character a lot more to do.
Only time will tell if I'm reading too much into the accent on the other end of the phone, but we definitely can't rule out Hanna's likely disgruntled fiancé. The villain on this show could be anyone, and he might just be an Aussie.
Images: Freeform (2)