5 Tips For Dressing For Your First Job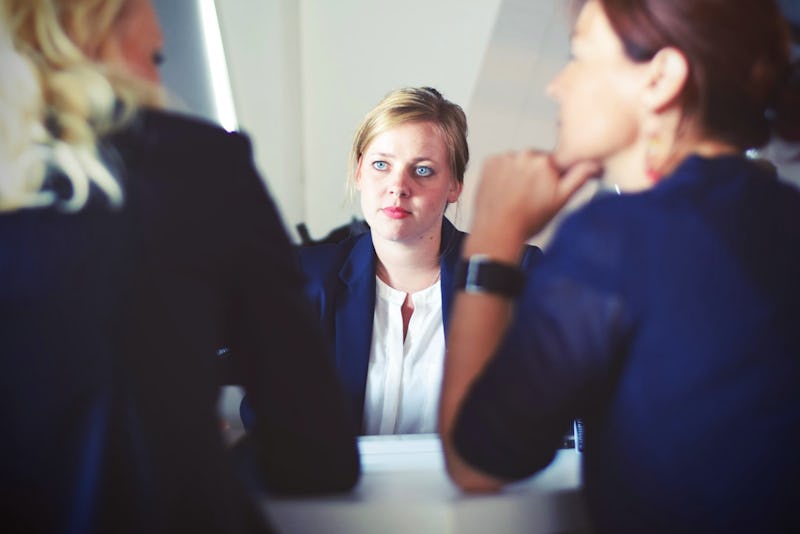 Starting a new job is nerve racking enough, which is why no one wants to also be stressing about what outfit to wear on your first day. And while clothes and accessories might not seem like a big deal in the scheme of things, most of us want to make the absolute best impression possible, which in part comes down to showing that you know how to dress appropriately and "get" the culture of the company.
Because so many people struggle with what exactly to wear on their first day at a new job, I enlisted the help of style expert Lindsay Albanese, who partnered with T.J. Maxx and Marshalls, to help guide us in the right direction. Albanese spoke to me via email, answering all my questions — big and small — about the dos and don'ts for dressing for a new work environment.
I've personally already had my "first job" experience — and quite some time ago now — but even I found a lot of her tips super helpful and will definitely keep them in mind if I ever transition back to formal office work (as of right now, my freelance writer status allows my to remain in my pajamas most of the time).
If you're about to start your first job and are unsure what to wear — or you're just about to start any job and are unsure what to wear — take a look at the below five guidelines from a style expert.
1. Ask Your New Boss The Dress Code
"Don't be afraid to ask your boss what the office dress code is!" Albanese says. "Many people don't think to ask this question but it's important to know what's acceptable for specific work environments." Just shoot your new employer an email the week before your first day — that way you'll have ample time to update your wardrobe if needed.
2. Err On The Side Of Conservative
If you're not sure exactly what to choose, it's best to start out with something conservative and then adjust your wardrobe as you feel is appropriate once you get a feel for the workplace. "Go with your gut on this one, and if you feel like it may be too much for the office, it probably is. [...] It's better to err on the side of caution than make a splash with an inappropriate outfit," Albanese says.
3. Layer
Albanese stresses the fact that layering is generally a useful tip for any office job, because outdoor and indoor temperatures can vary wildly (anyone whose ever been seated under a high-powered corporate air conditioner can attest to this fact). "The key to acing this look is to experiment with new ways to layer your everyday classics over or under your clothing. Try pairing your basic tee under a sleeveless dress, wearing a lightweight button up as outerwear or layering a tunic over a slip dress," Albanese says. She also notes that these looks don't have to break the bank, as stores like T.J. Maxx and Marshalls have these items at super reasonable prices.
4. Don't Be Afraid To Get Creative With Texture
Albanese says that while it's always better to err on the side of conservative when it comes to things like showing skin, that definitely doesn't mean you necessarily have to keep things boring. For example, she notes that, "Chambray is a great option to tone down really tailored or feminine pieces while still looking appropriate in more conservative environments. It has a similar aesthetic as denim, where it can give an outfit a more casual vibe but since the chambray fabric has a finer weave, it looks more polished." And again, she notes stores like T.J. Maxx and Marshalls are great for finding these kind of items — especially when you're operating on a budget.
5. Never Be Afraid Of A Second Opinion
And finally, if you're ever just not 100 percent sure on whether or not something is first-day worthy, Albanese says to just snap a pic and ask a trusted friend! There's nothing like getting another set of eyes on something.
Don't let your outfit be the thing you stress about before your first day at a new job. Instead, let it be something that gives you confidence to tackle everything else about the day — from learning a new data system, to remembering everyone's names. So go forth with the knowledge that you look both amazing and appropriate — and go kick butt!
Image: Pexels (5); Benjamin Child/Unsplash