'Veep' Season 6 Is A Whole New World For Selina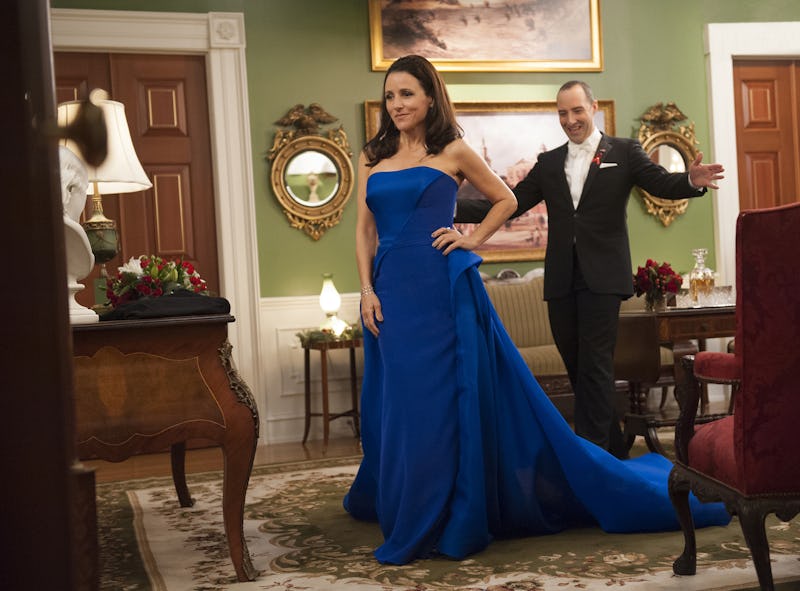 You can keep your Game Of Thrones carnage and resurrections. To me, the biggest plot twist on TV this summer happened in the Vee p Season 5 finale. After a brilliant season that took the sitting POTUS through a tedious recount process, Selina Meyer (Julia Louis-Dreyfus) got her walking papers. Selina won't be sworn back in as the leader of the free world. She won't be Secretary Of State or Vice President to Tom James (Hugh Laurie) either. Instead, she's been dropped unceremoniously back into civilian life as surprise contender Laura Montez takes over the Oval Office. The series carried on when the Veep was no longer the Veep; but is Veep over now that Selina is out of the White House entirely?
Do not fret, lovers of political comedy and Pulitzer-worthy insults. Deadline confirmed in April that Veep will return for Season 6 next year. In fact, HBO kept its entire scripted Sunday night block in tact, with orders also placed for more seasons of Game Of Thrones and Silicon Valley. You may be wondering how the caustic D.C. comedy can keep firing on all cylinders without the ambitious but flawed Meyer and her band of squabbling aides in positions of power. Well, Veep already sailed through a backstage shake-up with its acerbic humor and sterling reputation in tact, so surely the show can handle this. Before Season 5 began, David Mandel replaced creator Armando Iannucci as showrunner. While some showrunner switch-ups can lead to a conspicuous change in tone, if anything, Veep just got better.
Still, HBO anticipated viewers having a bit of a freak-out over a season finale that could have easily been a note to end the entire series on. Mandel did a few interviews assuring Veep fans that this is not the end of embarrassing Selina Meyer. In fact, Mandel told Indiewire that this Season 5 ending was in the cards all along and had roots in Selina's status as a POTUS-by-default. He said:
"So for me, the real first idea I had was that she was going to lose the presidency. And the real reason is that what Selina Meyer most wants on the planet Earth is to be elected President of the United States ... And I think some of the great comedy comes out of not giving her what she wanted."
Veep has always been a comedy about failure; what better way to keep it fresh? Mandel also spoke to Deadline about Season 6, saying that the show will explore "what it's like for [Selina] to be the former president of the United States – and not perhaps a well regarded former president of the United States." Some of my own favorite Veep moments have to do with Selina's complete inability to make sophisticated small talk with strangers, so seeing her back in the real world ought to be fun.
Selina will be still be Selina, whether she's in office or not. But does her ousting from the White House affect the make-up of the show's supporting cast? Mandel set audiences' minds at ease again by addressing that concern and reminding fans that the show covered several different locations this year (the Nevada recount, Jonah's campaign, etc.) to keep all their favorite characters relevant. "No, there's nobody we said goodbye to," the showrunner told Indiewire about the season finale episode in the same interview. "Everybody's coming back, as they say. And I'm not just talking about our regulars. That also extends to our extended family." That's a relief for Gary and for me.
Selina Meyer has fallen further down the D.C. ladder, but as always, her loss is Veep's gain.
Images: Lacey Terrell/HBO; Giphy