11 Ways To Dress Like Your Inner '90s Girl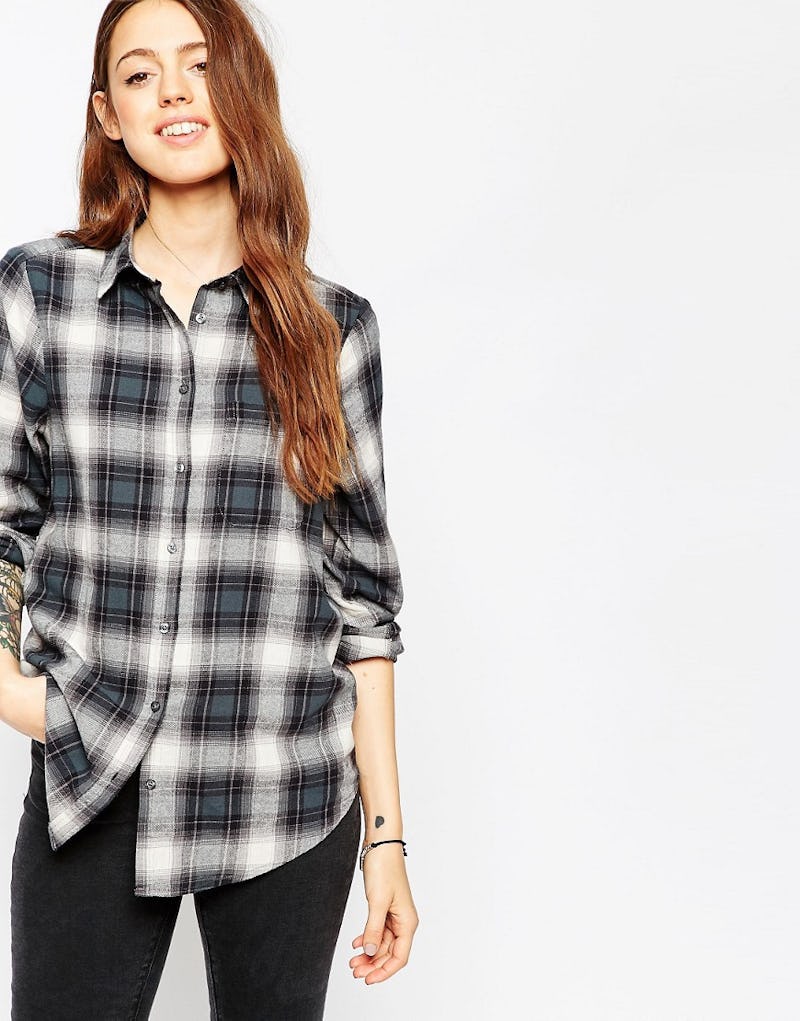 Ask me to craft my ultimate '90s girl wardrobe and I'll give you this: crop tops à la Kelly Kapowski, a hint of flannel care of My So-Called Life, and one army green jacket because hello, Lindsay Weir. Chokers are scattered somewhere amongst the recipe. And I'm no fan of scrunchies, but I'll happily settle for denim overalls, Michelle Tanner-style. Though the '90s now merely exists via throwback articles or gimmicky quizzes — content that I admittedly gobble up — don't let that stop you from channeling your inner '90s girl in a sartorial manner.
The level of '90s style integration depends on your personal taste. Are you the type to go big or go home, or do you prefer to play it slow and steady? Either way, it is up to you to tailor your '90s girl wardrobe to meet modern standards. As for me, while I dearly love threads of the '90s, I like to incorporate splashes of nostalgia into my ensembles as opposed to going full-on Kimmy Gibbler (respect to those folks, though).
The key is all in balancing the familiar and the unfamiliar, and honestly, I don't mind experimenting and seeing what concoctions I can whip up. I mean, we now live in a world where bucket hats and street chic kicks can be worn in union.
Don't know where to begin on your quest? I've got you covered with eleven ways to channel your '90s self in everyday fashion.
1. Dig Up An Old '90 Tee
Pull&Bear T-Shirt with Looney Tunes Badges, $25.90, asos.com
If you're anything like me, you probably are still shamelessly hoarding old tees from a bygone era. I'm talking vacation tees from family trips and band shirts from historically important music phases of your life. If the shirt still fits, dig into that trove and re-purpose it the '16 way — tucked into a denim skirt, layered under a dress, paired with printed trousers.
2. Rock The Backwards Cap
River Island Wool Cap, $24.26, asos.com
Take a dose of inspo from The Fresh Prince and don the backwards cap. Paired with the right ensemble, you can easily pass this '90s fave in the present day. Opt for relaxed, laid back outfits — think breezy button downs and distressed denim.
3. Layer On Those Chokers
Reclaimed Vintage Ric Rac Trim Choker, $16.50, asos.com
Chokers instantly amp your look to the next level, so if you've got a dire sartorial emergency, simply throw on a choker and you're cured. And the best part? There's a choker for every wardrobe, whether you prefer the classic tattoo style or a striking floral number.
4. Tie The Flannel Shirt
ASOS Boyfriend Shirt, $28.50, asos.com
I'm not talking about just any flannel shirt here, but the flannel shirt tied around the waist. From LA to NYC, it is difficult to prowl the streets without seeing one girl falling victim to this trend. Start with denim shorts, add a white tee, and then top off with a tied flannel to channel your inner '90s grunge.
5. Bring On The Tie Dye
Boohoo Tie Dye Halter Top, $12.94, asos.com
Personally if I were to incorporate a touch of the '90s to my everyday wear, it would without a doubt be tie dye. Ask yourself: are you the type to go full-on pyschedelic or the kind to tread lightly? Whatever the case may be, tie dye comes in many varieties — printed romper, scarves, oversized tees.
6. Treat The Scrunchie As Jewelry
Days Of The Week Scrunchie Set, $12, urbanoutfitters.com
Forget about fitness trackers and charm bracelets (ugh, remember those?) — to truly capture the essence of the '90s girl, you had to sport the scrunchie as a bracelet. Luckily, most retailers seem to be hopping on the '90s craze and are too cranking out their versions of these velvety babies.
7. Layer Shirts Under Dresses
ASOS The Easy T-Shirt, $19.41, asos.com
For when you want to get away with wearing the same dress two weekends in a row (been there, done that), you can sneakily deceive others by layering a shirt underneath to create a completely new outfit. Personally, I love plain white, striped, and lace tees for optimal layering.
8. Opt For High Waisted Denim
Pimkie Denim Mom Short, $35.57, asos.com
Believe it or not, relaxed fit and high-waisted denim were also rampant during the '90s. In fact, you may very well be the owner of mom jeans or high-waisted shorts and exude the '90s girl vibe without even knowing it.
9. Say Hello To Color & Prints
Motel Smock Dress with Ditsy Floral Print, $56.61, asos.com
Whenever I picture the '90s, I think instant color (pretty sure normcore would have not survived day one back then). Feel free to mix and match your favorite hues and prints to nail the throwback look.
10. Do The Denim Jacket
Monki Embroidered Denim Jacket, $80.88, asos.com
Oversized denim jackets? Enough patches and pins to satisfy the pop culture junkie? Casual distressing and acid wash? Yes please. Most likely all of your favorite '90s TV characters owned a denim jacket, so naturally that meant you had to get one too (at least, that's what you told Mom — denim jackets are the epitome of cool).
11. Raid Mom's Closet
I say this as I have, too, adopted a few items from my mom's brimming closet — aka '90s wear heaven. In the past, I've scored a neon geometric printed tank (perfect as a beach cover-up) and a Levi's denim jacket (perfect for layering). This is a no-brainer — it won't cost you a penny and you'll be rocking true '90s vibes.
Images: Courtesy Brands, Getty