11 Things Everyone Should Know About Concealer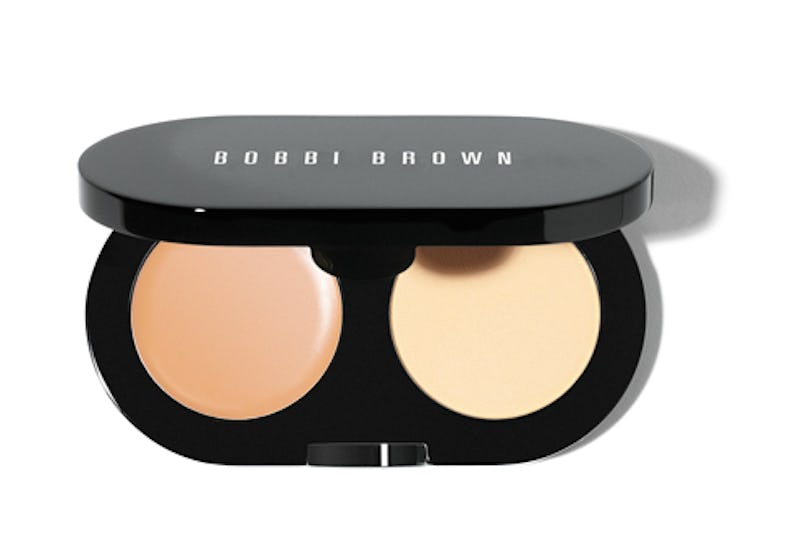 Concealer is kind of the unsung hero of the makeup world. Most of us would never list it as one of our favorite items, yet almost no makeup junky could live without it. And not only that, there are a few genius concealer hacks that make a giant difference when it comes to our overall look. It's just about knowing a few simple tips and tricks.
I didn't use concealer for the longest time. I'm not sure if it was just because I was young and didn't really think I had a need for it, or if I was just out of the loop. Either way, when I finally found my way to it in my mid-20s, it was love at first application. I suddenly understood why other people always somehow looked that extra little bit more perfect when they applied their makeup, and I definitely felt like I had found a new super secret weapon in my daily arsenal (never mind that everybody else already knew about it).
However, there are also a few concealer dos and don'ts that make a major difference when it comes to how helpful and effective it is as a product. When used the wrong way, the results are often way worse than if you hadn't used it at all.
If you're looking for some ways to maximize your concealer game, or are just interested in other super helpful uses for it, here are 11 game changing concealer hacks you won't be able to live without.
1. Apply In Triangles, Not Half-Moons
A piece on Minq.com stressed the importance of applying concealer in triangles that extend to your nose as opposed to just in the under eye area. This will help blend the product more seamlessly into your face instead of giving the infamous raccoon-eye look.
2. Pair It With A Setting Powder
NARS Light Reflecting Setting Powder, $37, Violet Grey
According to UltaBeauty.com, you should always use a translucent setting powder after applying your foundation — especially in the under eye area. This will prevent caking or creasing.
3. Foundation Can Work In A Pinch
Wet & Wild Cream Foundation, $4, Walgreens
That same Minq.com piece also noted that foundation can work as concealer in a pinch. Just let it rest on your face for a couple minutes and then dab onto your skin. The exposure to air will help thicken the solution and make it work better at concealing.
4. Use A Concealer Brush
Nic Chapman of the Pixiwoo YouTube beauty channel and founder of Real Technique makeup brushes highly recommended investing in a high quality synthetic concealer brush for applying concealer. She noted the importance of really working the product into your skin for a flawless finish.
5. Invest In Two Tones
Bobbi Brown Creamy Concealer Kit, $37, Bobbi Brown Cosmetics
The skin and makeup experts at Paula's Choice recommended investing in two tones of concealer. The concealer for under your eyes can be slightly lighter than your skin tone (though no more than two shades lighter) to help brighten your under eye area. However, the concealer for the rest of your face and blemishes should match your skin exactly, as the goal is not to draw more attention to those areas.
6. Don't Skimp On Quality
NARS Concealer, $26, Sephora
Paula's Choice also noted the importance of investing in a good quality concealer. This is because a good quality product will go on smoother and is less likely to dry and cake off — which is extremely important when your goal is to hide, as opposed to exacerbate, imperfections.
7. Use Concealer Under Lip Stick
YouTuber and beauty vlogger Laura Lee suggested using concealer to neutralize your natural lip color before applying lipstick or tinted glosses. This will allow the product's true color to show through, and she noted is especially helpful when applying nude lip colors that could otherwise get lost against your lips.
8. Use It To Define Your Cat Eye
Lee also recommended using a fine-pointed makeup brush with concealer to refine your cat or winged eye liner looks. Skip to 1:02 in the above video to see how she does it.
9. Always Apply Your Foundation First
YouTuber and beauty blogger Jamie Stone said to always apply your foundation before your concealer. You'll likely find you need way less concealer than you may have initially thought once you've applied your foundation. So don't use more than you'll ultimately need by applying concealer first.
10. Combine Your Concealer With A Highlighter For Puffy Eyes
Jane Iredale Complete In Touch Highlighter, $30, Nordstrom
Stone also recommended combining your concealer with a highlighter and anti-puff cream to hide tired or puffy eyes. It will instantly brighten your entire eye area while working on the problem.
11. Mix Concealer With Moisturizer When In A Bind
Clinique Dramatically Different Moisturizer, $27, Clinique
This is a personal tip that helps me out when I'm in a bind. I just mix a few drops of concealer with my moisturizer and apply all over my face. It instantly evens out my complexion and works in a pinch (like the time my foundation bottle exploded in transit and I didn't have my usual brand for a week. Good times).
Concealer is pretty amazing, and you can make it even more amazing by utilizing some of the above hacks. Now go forth, and look awesome!
Images: Pexels (2); Courtesy Brands