You Have To Listen To This Spoken Word Poem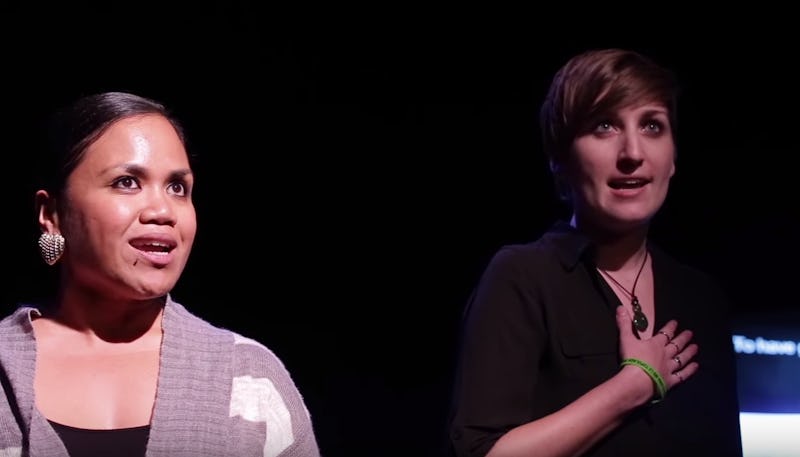 As women, we are often taught that our sexuality is something to be ashamed of, something that needs to be suppressed and ignored when it's not being exploited for someone else's benefit. But fighting back against that idea, Terisa Siagatonu and Carrie Rudzinski delivered a powerful spoken word poem about women's sexuality and power. Because women have a right to be sexual without being sex objects.
The recorded performance of Siagatonu and Rudzinski's poem "Women" was posted by All Def Poetry in June. In the performance, the two poets tackle everything from the Duke porn star "scandal" to sexual violence, touching on so many ways that women are both stripped of our sexuality and, paradoxically, reduced to it. Sexuality, for women, is something other people are allowed to own, but which you're never allowed to own yourself. Women's bodies and sexuality are glorified — just so long as it's other people (frequently men) deciding what to do with them and how to present them. Women's bodies are celebrated as long as the women they belong to do not have control over them — as long as others can turn them into sex objects.
In the poem, Siagatonu and Rudzinski make a powerful statement about reclaiming women's sexuality and ownership over our own bodies, resisting the social messages that try to tear us down.
Watch the full poem here:
And check out five unforgettable quotes from it below.
1. "The media has taught me that female sexuality is the most powerful thing in the world — by how much they want to destroy it."
2. "Being a woman is psychological warfare."
3. "My voice is a dangerous thing."
4. "It is better to speak our truth than pretend like we don't have one."
5. "I am enough."
You can see more powerful and important poetry in action over at All Def Poetry's YouTube page.
Images: All Def Poetry/YouTube (5)