Tiny Temp Lip Tattoos Are Summer's Newest Trend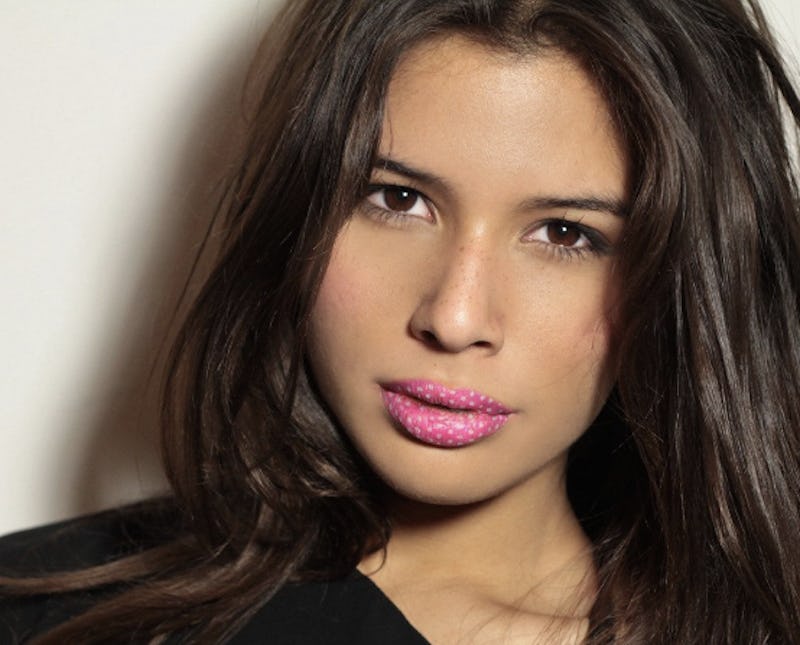 When you think of the words "temporary tattoo," chances are you don't necessarily think "chic accessory." But can that change? Summer 2016's newest obsession with tiny temporary lip tattoos suggests to me that it can.
Personally, when I think of non-permanent tats, I get thrown back to my light-up-shoe-wearing, Nickelodeon-loving grade school days. Back then, I'd rock a Tweety Bird on my upper arm or a couple of sparkly flowers, and roll up to the playground thinking I was the coolest thing on the block. And now, lip tattoos might help us get those smug, trendsetter feelings from childhood back.
According to Popsugar, the lip art trend was revamped when makeup artist Violette Serrat whipped together a new look for MAC Cosmetics, shot by photographer Elle Muliarchyk . "Violette gave this trend her own spin. Instead of outfitting her pout with one artsy look, she drew on a bunch of tiny tattoos, using her lip as a canvas."
According to Teen Vogue, this level of genius isn't something new to Serrat. "Violette's out-of-this-world lip looks include ombré, gold foil, eyeshadow pouts, and drawings that include geometric shapes and faux mustaches." Her newest stroke of brilliance was hand-drawing a set of temporary tats in a messy tumble on a pair of lips.
While Serrat isn't yet selling any any ready-to-wear temporary tattoos, the beauty world feels that this might change very soon. Teen Vogue reported, "Violette's latest lip art creation is bound to become the next big trend in beauty, and it's one of the coolest things we've seen ... Prepare [y]ourselves to see a lot of these coming your way, because makeup artists and vloggers alike are bound to hop on this bandwagon."
One can easily see these becoming the next big festival trend, or a bold beauty look for fun Friday nights out. But in the meantime, you can still find ways to recreate this look at home.
If you or a friend have a steady hand with eyeliner, you can easily craft some of these looks with the makeup you have handy in the bathroom. Beauty writer at lifestyle site A Plus offered, "A black liquid liner would be ideal to outline any illustrations or delicately paint on text, while bright lipsticks and liners could be used to fill in the images and make them pop." Drawing on a pair of lips or diamonds isn't the hardest thing to do in the world, along with a healthy sprinkling of hearts and swirly text. This means even those with basic art skills can give the trend a try. But conversely, you can purchase a preexisting temporary lip tattoo rocking one core design from brands like Violent Lips.
If you have the patience and like to play around with makeup, I definitely recommend giving this look a go.
Or if you'd like some lip tattoos but don't want to mess around with creating your own, here are some amazing stick-on options from Violent Lips:
1. Candy Dots
The Candy Dots, $9.99, Violent Lips
Violent Lips gives you a chance to get "candy coated kisses" with this fun, sprinkles motif. If you want something colorful and that looks textured, this is a great choice.
2. Sapphire Glitteratti
The Sapphire Glitteratti, $9.99, Violent Lips
With blue lipstick having a big moment with beauty lovers right now, you'd be right on trend with this blue, glittery lip tattoo.
3. Anchor Tattoos
The Red & White Anchor Tattoo, $4.00, Violent Lips
If you're feeling nautical, this red and white anchor tattoo will be the perfect accessory to tie together your look.
4. "Single" Lips
The Orange "Single," $2.00, Violent Lips
If you're out cruising for hunnies let them know what's what with this "single" lip tat. It's cheeky and playful!
5. Paint Splatter Lips
The Paint Splatter, $9.99, Violent Lips
If you're looking for a more artistic, vibrant motif, then this lip splatter option might just fit the bill. Sporting bright splotches of magenta, yellow, and blue, this pick is a show stopper.
These are all bold looks, but definitely worth a try this summer!
Images: Violent Lips (5)