This Purse Will Change Your Summer Wine Game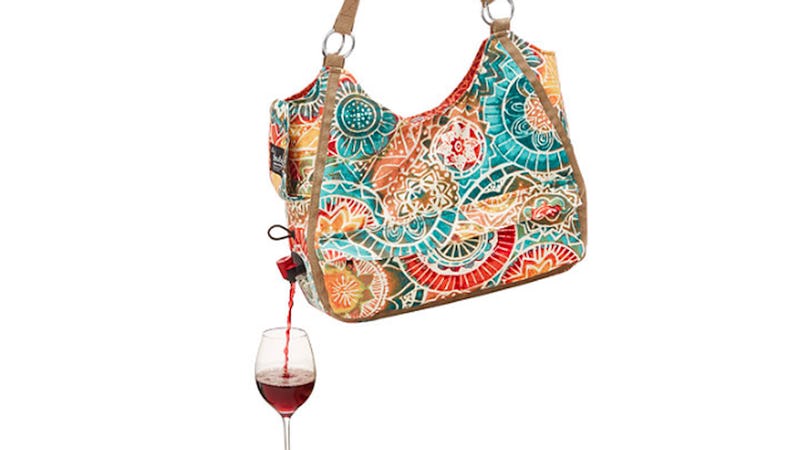 To all my Rosé, Merlot, and Chardonnay fans: I'm ecstatic to let you know that the wait is over. There now exists a stylish bag that doubles as a portable wine box. That's right, you heard me. A Wine Dispensing Travel Tote can be at your disposal with just a few clicks — one that holds a mere five liters of wine. Who is the genius behind this, you ask?
According to Mashable, the person we need to build a shrine to is Tracey Luebbers, and she's now selling her designs at Uncommon Goods. Luebbers told Mashable that she came up with this stroke of genius when "after observing people having issues with how to transport their wine or other beverages to events such as ball games, concerts, boating, pools, and beaches, she thought there had to be a better way." You no longer have to sneak wine onto the beach in dark plastic containers while hoping that the concert security guard doesn't check your backpack too closely.
Nope: You're sneakier than that, and you'll be looking fabulous while doing it.
The product in question is a roomy tote that comes with a dispensable bag inside to allow you to put in whatever drink you fancy (margaritas? Mimosas? Craft beers? It's up to you), and that comes equipped with an ice pouch as well as a discreet spout on the side where you can pour from.
Wine Dispensing Travel Tote, $129.95, uncommongoods.com
In case you're not sure where you'd take such a bag, Uncommon Goods offered, "Whether you're heading for a beach day with the girls or an afternoon picnic, this stylish bag completes your ensemble with boozy bravado."
That line alone would convince me to press "purchase."
Mashable weighed in on the gift that doesn't stop giving, saying, "The awesomeness of the wine bag is never-ending. It has additional pockets to hold cups and all your purse essentials, it comes with an ice pack to keep your beverage chilly, and it has a plastic insert with a spout so if you don't like boxed wine, you can fill the bag with the liquid of your choice."
Isn't it everything you've ever wanted from an all-purpose bag? Better yet, according to Uncommon Goods, the tote is American-made in Missouri, in a factory owned and run by women.
With summer well under way, chances are you have many concerts, beach days, festivals, and outdoor parties to attend. Rather than shelling out money at stands or wishing you had the foresight to bring a nice bottle to the park, you can just load up your purse and go.
And in case you want to stock up on some other sneaky wine-concealing products, here are a couple others that Uncommon Goods carries.
1. Bracelet Flask
Bracelet Flask, $35, Uncommon Goods
It's decorative, and boozy: The best of both worlds combined.
2. Sling Beverage Cooler
Sling Beverage Cooler, $25.95, Uncommon Goods
Is that a fold-up chair in your sling? A yoga mat? Nope, it's a party cooler that will make your beach day all the more fun.
3. Black Purse Wine Sack
Wine Sack, $69.95, Uncommon Goods
If you want a more minimalist look with your outfit, try out this all-black wine tote. It's a lot smaller than the one above, but that just shows the sacrifices we make for fashion.
4. Sunset Wine Tote
Sunset Wine Tote, $39.50, Uncommon Goods
You can be hauling anything in this compact tote, but few would think you were in possession of the fixings for the perfect boozy picnic.
5. Undercover Book
Flask Book Box, $56, Uncommon Goods
Sure, folks might think you're taking a book along to the beach to read. But you know better.
Who knew there was so much booze-sneaking goodness out there?
Images: Uncommon Goods (7)