11 Alternatives To ColourPop's "Churro"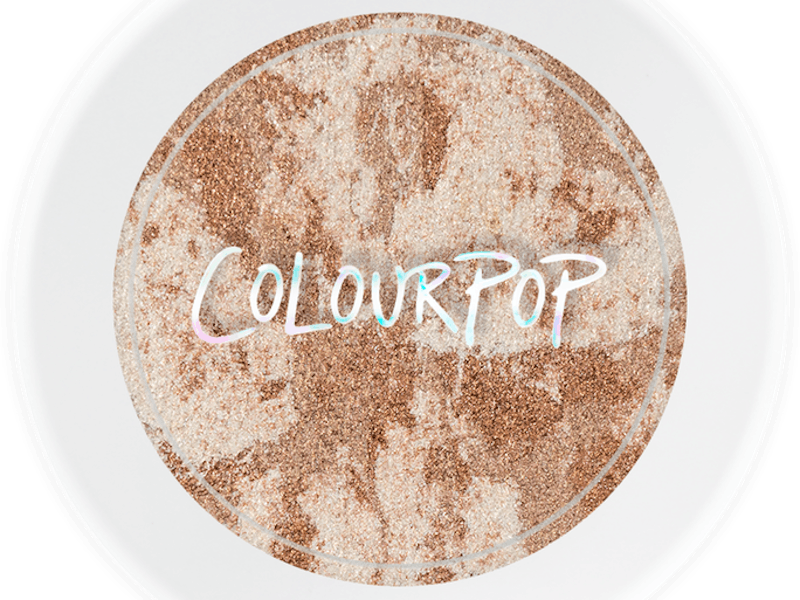 If you are one of the many who missed out on ColourPop's Churro highlighter restock earlier this morning, I have some good and bad news. The bad news is that it's all sold out, but the good news is that, when it comes to makeup, where there's a will, there's a dupe. While Churro is limited edition and the brand has yet to comment on whether it will be restocked again, if you want to get your hands on the beautiful peachy bronze highlighter goodness ASAP, I've compiled a list of Churro highlighter alternatives that have a similar hue.
ColourPop's first tie-dye highlighter is described on the company's site as "coppery peach with flips of pink and gold shimmer and light dusts of silvery glitter." The highlighter is a marbled mix of three existing ColourPop highlighters — "Avalon," "Stole the Show," and "Wisp." While it is not the first multi-dimensional highlighter on the market, it seems to be the most popular, as Churro's initial launch sold out in one minute and nearly broke the internet.
While Churro is a unique shade to ColourPop, it turns out that there are quite a few other highlighters on the market with a similar bronzed peachy tone. Scroll down to see the Churro-like contenders and get ready to get your glow on.
These might not be exactly the same as the OG, but definitely consider scooping them up while you wait for official word on the status of Churro!
Urban Decay "Afterglow" 8-Hour Powder Highlighter, $26, Nordstrom
Urban Decay's highlighters might just be my all-time favorite. Not only do they stay put, but they also come in beautiful shades like this bronze peach tone above.
Glossier "Topaz" Haloscope, $22, Glossier
Glossier is known for their cool girl approach to makeup and this bronze hued highlighter is no exception.
Laura Mercier "Indiscretion" Face Illuminating Powder, $44, Sephora
While this color looks purely gold from the photo, I promise that it has much more depth on the skin.
RMS Beauty Master Mixer, $38, Amazon
RMS Beauty's Master Mixer is the perfect bronzey peach highlight for summer.
BECCA Shimmering Skin Perfecter "Rose Gold", $38, Sephora
BECCA's rose gold highlighter has a warm yet flushed bronze tone that I believe to be very similar to Churro.
Mai Couture "St. Barts" Highlighter Papier, $28, Amazon
Swipe on Mai Couture's St. Bart's papier for a peachy golden glow.
E.l.f. Baked Highlighter "Blush Gems", $4, Amazon
E.l.f.'s Blush Gems highlighter is almost identical to Churro, and as an added bonus, it is only $4.
Ilia "Cosmic Dancer" Illuminator, $34, Sephora
Want an all natural alternative to the Churro highlight? Look no further than Ilia's illuminator stick in Cosmic Dancer.
Nars Orgasm Illuminator, $30, Nordstrom
While it might not have the silver shimmer that Churro does, Nars' Orgasm illuminator is the perfect mix of peach and gold.
Hourglass Ambient Lighting Powder "Radiant Light", $46, Amazon
This highlighter by Hourglass looks way more concentrated above than it does in real life. In fact, it actually takes on a rather warm peach gold tone.
MAC "Cheeky Bronze" Mineralize SkinFinish, $32, Nordstrom
This MAC Highlight is the perfect mix of pink and gold. Need I say more?
Here's to hoping that there will be another Churro re-stock!
Images: Courtesy Brands, ColourPop