The Only 'Game Of Thrones' Season 6 Meme You Need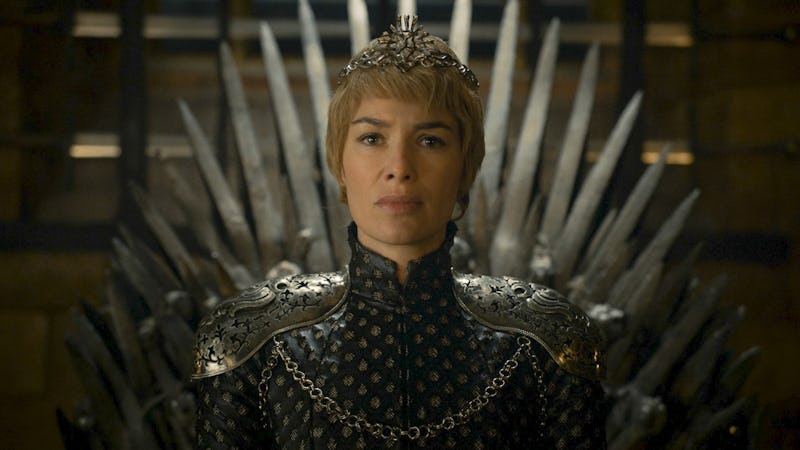 Sometimes it feels like more action went down in all of Game of Thrones Season 6 than the other (still awesome) five seasons combined. The internet responded to Hodor's tragic death, Ramsay's totally not tragic death, the pint sized awesomeness of Lyanna Mormont, and the reveal of Jon Snow's parents the way only the internet can: with memes! As much as I enjoyed all of those "hold the door" memes following the fall of poor Hodor, there is only one Game of Thrones Season 6 meme you need in your life and that is the one that says it all.
If Season 6 had a theme it was the women rule. Between Dany finally sailing for Westeros with her army, Cersei burning the Sept of Baelor, Sansa calling in the Vale and doing away with Ramsay, Yara bringing Dany a fleet, and Arya serving up justice pie to Walder Frey, it was the women of Westeros who were in control this season. The ladies got stuff done. Look at Lyanna Mormont, she "spoke harshly" and got an entire room full seasoned soldiers to bend their knees to Jon. The women of Thrones could not be stopped, and the show was better off for it.
With that in mind, the only meme you need is this ode to a few of the women who made Season 6 the best season of Game of Thrones yet.
Game of Thrones has always had a roster of compelling female characters, that is one of the reasons the show is such a hit. However, Season 6 took all of the women to new levels of cool. Whether it was Sansa finally gaining control of her own life, or the women of Dorne seizing their kingdom, the show's women were on point when it came time to play the great game. It wasn't just about being awesome though. Some of the Thrones' women sailed pass moral ambiguity into villain territory — I'm looking at you Cersei — but even that was welcome. A diverse range of female characters is the best kind.
When Season 7 begins there will be a woman on the Iron Throne, Dany sailing north with the aid of Yara, Lady Olenna Tyrell, and the women of Dorne, and Jon Snow in the North flanked by Sansa, the fierce Lyanna, and (hopefully) Brienne. The show has come a long way since The Battle of the Five Kings. Women rule the world of Westeros now, and everyone else just lives in it. Everyone cool with that? If not you can take it up with Lyanna.
Image: HBO