'The Mindy Project' Season 5 Is A Ways Away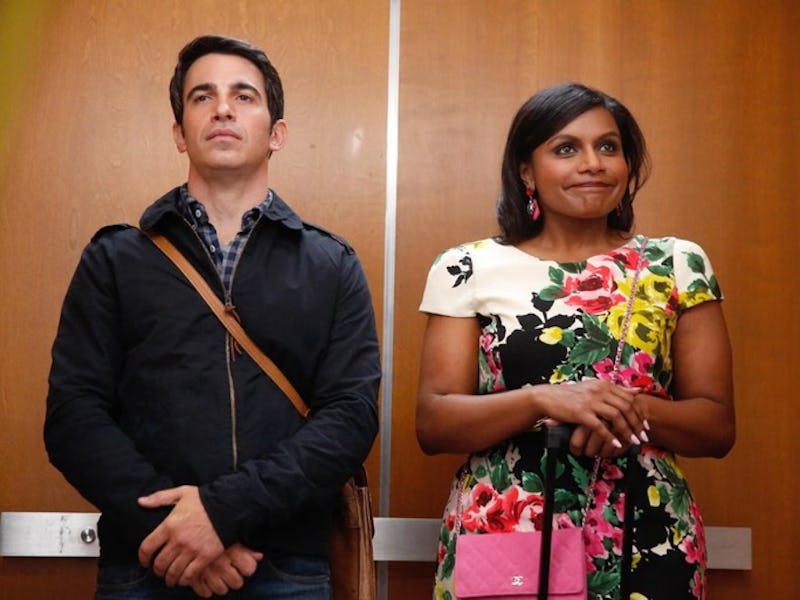 Watching a beloved show go on hiatus is always a bummer. You start to contemplate how you'll otherwise spend your time. You may even have to hang out with actual human beings, rather than the characters you've come to care about. So now that The Mindy Project Season 4 finale is upon us, we're left to grapple with that very notion and start counting the days until Dr. Lahiri & Co. will come back into our lives. The only question is... when will that be exactly? When will The Mindy Project Season 5 premiere? Luckily for us, Hulu has already locked in an official start date, so we can begin our countdown immediately.
The streaming service announced back in June that The Mindy Project would return for its fifth season on Oct. 4 for a 16-episode arc, which would debut on a weekly basis every Tuesday, much like it did for Season 4. But that still leaves us with a decent amount of time left at our disposal. As luck would have it, though, I know of the perfect way to help us navigate the waters of this Mindy-less terrain. The plan is simple: find a brand new show to obsess over until October rolls around. So if you love The Mindy Project, try your hand at one of these comedic gems.
New Girl
Full of laugher and friendship, this sitcom and its many lovable characters will worm their way into your hearts in no time. In fact, you'll want to move in with all of your BFFs immediately, if for no other reason, just so you'll have someone to play True American with at two in the morning.
Happy Endings
Yet another show that was gone way too soon, Happy Endings is a must-see, delivering the perfect blend of sarcasm and sentimentality that will make you wonder why ABC ever decided to get rid of it. (A question that still remains a mystery to this day.)
Unbreakable Kimmy Schmidt
Strong female leads are becoming a much more frequent occurrence nowadays and Kimmy Schmidt is certainly no exception. Her enthusiasm and overall ability to tackle challenges head-on is an admirable trait and one we should all try to emulate because like the intro states, "females are strong as hell." (Sure, you won't be able to get that song out of your head for weeks on end, but it's totally worth it.)
Jane The Virgin
This show boarders on both a comedy and a drama, but that should just make it's appeal all the more stronger. You'll laugh. You'll cry. You'll fall in love with the storyline in no time.
Broad City
This Comedy Central masterpiece tackles some very relevant topics, especially for young women, with a hilarious spin that will keep you rolling on the floor with laughter from start to finish. I'm not even over exaggerating here.
Parks & Recreation
You won't find a better character than the glorious specimen that is Leslie Knope and that is a fact. I mean, she loves waffles, invented Galentine's Day, and is basically the embodiment of female empowerment. What's not to love? Also, she's played by the extremely talented Amy Poehler. Watch this now and I promise you won't regret it.
30 Rock
Two words: Tina Fey. Two more words: Liz Lemon. Need I say more?
So don't be sad that The Mindy Project is over for now. Be happy that your new TV obsession is just about to begin.
Images: Hulu; Giphy (7)