The 11 Worst Breakups From 'The Bachelor'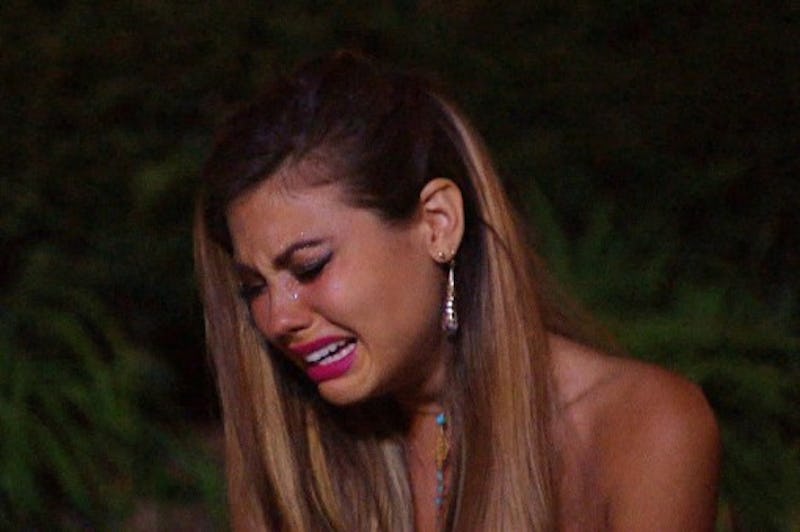 Every season of The Bachelor offers a new chance at a journey to true love, but sadly, not every romance ends with a trip down the aisle. Some relationships have ended in broken hearts and words that can never been taken back. Sure, it seems to be working out for the latest Bachelor Ben Higgins and his fiancé Lauren, but on the other side of it all, there have been many messy breakups — and some qualify to be the worst Bachelor breakups, which have both occurred on the show and after. And they certainly were quite memorable.
It's always important to remember that even thought this is a TV show, real people — using their actual names and hearts — have a lot at stake and the contestants are super exposed as they try to find love on The Bachelor and The Bachelorette. So, when a relationship ends, it's real people breaking up and going through it, but you know, sometimes these breakups happen right in front of cameras and are witnessed by millions of people and fans. Some have been emotional, some weird, and some have been very WTF.
Here are some of the worst Bachelor breakups in recent memory.
1. Andi Dorfman & Juan Pablo Galavis
During Juan Pablo's season, the former attorney called it quits with the former soccer player in this heated exchange. It's so awkward to watch, but eventually, it won her a bunch of fans and got her the position as The Bachelorette.
2. Ben Flajnik & Courtney Robertson
The once-skinny dipping couple ended his season of the show as engaged, then they took a break, got back together, and then broke up once more. "The woman that I saw on TV isn't the Courtney that I know," Ben said on After the Final Rose, according to People. "Those are the moments and the instances that led to Courtney and I not talking for a time while the show aired. We were essentially broken up."
3. Jason Mesnick & Melissa Rycroft
This breakup literally happened on After the Final Rose, in all its awkward glory. To make it even worse, Jason asked out former contestant Molly Malaney right after. Whoa.
4. Brad Womack & Emily Maynard
Sex and the City once explored a breakup via Post-It note. After Brad's second season ended, Emily claimed he allegedly broke up with her via an e-mail to the show producers — which she was CC'd on — and they even ended the relationship multiple times after that, according to her tell-all book. Brad could not be reached for comment.
5. Shayne Lamas & Matt Grant
This rocky relationship came to an end and it wasn't exactly on good terms. According to Wetpaint, in an E! special, The Bachelor: Then & Now, Matt said a number of hurtful things about his ex, including, but not limited to, this diatribe:
"Did I find true love on the show? Um, no. Not one little bit. I proposed to a woman who was about a foot and a half shorter than me, who had nothing in common with me, and thought there were palm trees in London. Did I make a mistake? Yes. Did I look like an idiot? Yes. Do I regret it? A little bit."
6. Olivia Caridi & Ben Higgins
Ben dumped the confident Olivia on an island, while he teased her with a rose in his hands. After she was dumped, she cried at the beach for a long, long time as Ben continued his date with another woman. Yikes.
7. Jake Pavelka & Vienna Girardi
Not only did this couple break up, but they aired their dirty laundry on After the Final Rose in a long fight on camera.
8. Juan Pablo Galavis & Clare Crawley
Yup, Juan Pablo is on here again, because the former soccer player seemed to have rubbed a lot of people the wrong way during his Bachelor run. Clare also gave it to him in an icy confrontation about his behavior.
9. AshLee Frazier & Sean Lowe
They had a heated discussion at the Women Tell All where AshLee accused Sean of leading her on by saying he had "absolutely no feelings" for the other finalists. Sean denied saying any such thing, but AshLee kept pressing him. "Sean, come on," she said, to which he responded, "I promise that I didn't say that. I didn't and I wouldn't say that." It continued like that for awhile until Chris Harrison finally put an end to the weird convo. Clearly AshLee and Sean are better off apart.
10. Britt Nilsson & Chris Soules
Chris dumped Britt in dramatic fashion after speculation that she was not there for the right reasons and that she hated his hometown. She left the conversation sobbing so hard she had to sit down.
11. Brad Womack, DeAnna Pappas, & Jenni Croft
Brad had two chances to find love on The Bachelor, mostly because he pulled a Kelly Taylor "I choose me" at the end of his first season, dumping both DeAnna and Jenni at the same time. Ouch.
And while I'm sure these breakups aren't fun to experience (and watch), the heart does heal and everyone moves on — sometimes even to Bachelor in Paradise.
Image: ABC