How To Get The Limited Edition Glossier Visor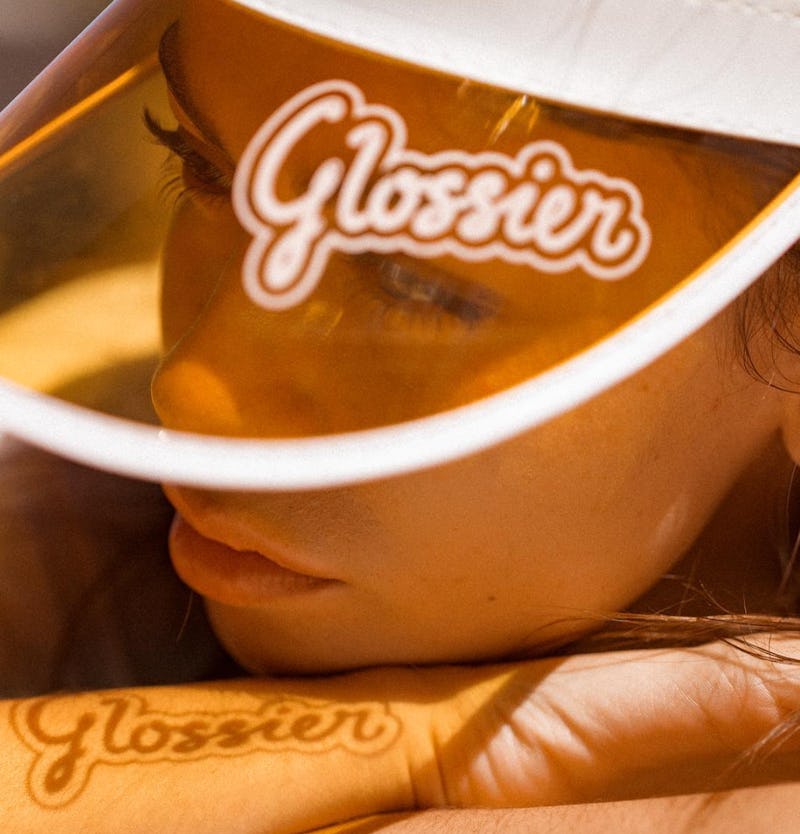 It's always thrilling to receive a carefully packed and beautifully decorated package of makeup products after ordering them online. It's even better to get free samples. Glossier takes both concepts to the next level. Glossier beauty products ship in the brand's now-signature pink plastic pouches. The brand is now offering a summer-ready, orange Glossier visor. Can you buy the super cute, orange Glossier visor? How do you get it?
If you order $30 worth of Glossier products today by 11:59 p.m. EDT/8:59 p.m. PDT tonight, July 5, you get a free, limited edition Glossier visor. It's so '80s, so cute, and so summery. Also, orders over $30 are shipped for free. Plus, you get your pink bubblewrap pouch, which can be purchased separately and re-used in many ways. They double as clutches, as safe pouches inside your larger handbag, or as totes for TSA-approved liquids when traveling by plane. So Glossier's shipping situation is awesome AF.
When can you expect to receive your snazzy visor so it can help keep hair out of your face on those oceanside days through August? How long do Glossier beauty products take to ship?
First, pause to peep the visor. Then we'll break down shipping policies.
Isn't it absolutely awesome?
The visor is the color of an orange creamsicle, a quintessential summer desert. The pink pouch is there, too.
The visor has such a retro vibe.
Here is the screen grab of the visor avails.
As for shipping?
You place your order and processing takes 1 to 2 days. If you place your order after 1 p.m. ET, it'll be processed the following day. Depending on your patience level, you can opt for three different shipping speeds when ordering from Glossier.
Standard means your stuff will arrive in 5 to 9 business days and costs $4.50. Expedited shipping, which means you'll get your loot in 2 to 3 biz days, is $12. If you are in a rush, and want your products in a day or two, it'll cost you $18.
The brand currently ships to all 50 states and Puerto Rico. International shipping is TBD for now and the company is working on being to ship overseas.
So can realistically expect your stuff to land as soon as three days after ordering and as long as two weeks, based on a variety of variables.
Images: Glossier/Instagram (4); Courtesy of Glossier (2)