Meet The Real 'Mike & Dave'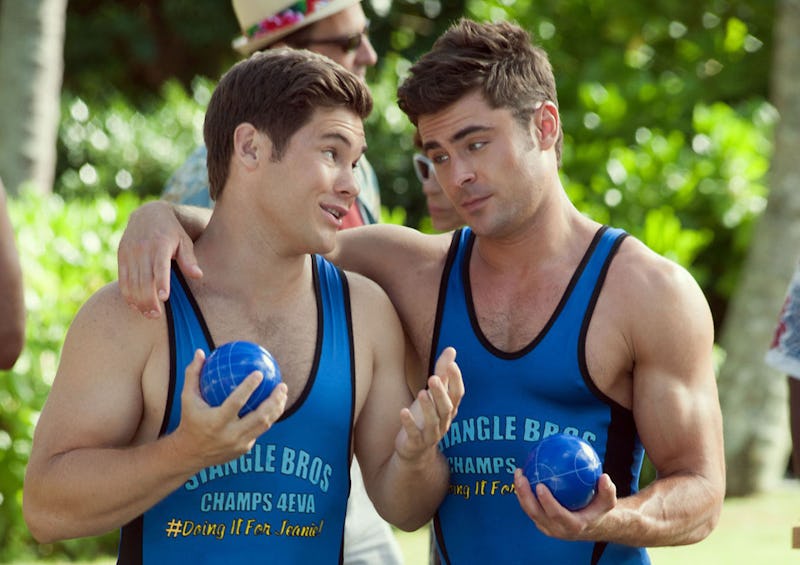 It's wedding season, and the new movie Mike and Dave Need Wedding Dates is a reminder of just how challenging it can be to find the right person to accompany you to a friend or family member's ceremony. The comedy, in theaters July 8, stars Adam Devine and Zac Efron as two guys who place an ad for wedding dates but get more than they bargained for when the ad is answered by two out-of-control women. It's a wild premise, but you might find yourself wondering, are Wedding Dates' Mike and Dave real people? Or are they just characters created for the sake of comedy?
Believe it or not, Mike and Dave are real people, and the movie is based loosely on their actual experiences. Back in 2013, Mike and Dave Stangle were told by their cousin that it was mandatory for them to bring dates to her wedding, purportedly so they wouldn't harass the bride's friends all night, according to New York. So, the brothers did what anyone in that situation would do: they took to Craigslist and posted a detailed and illustrative ad for dates, complete with a photo of the two of them as centaurs superimposed over the Declaration of Independence. But actually.
The ad went viral, and quickly received over 500 responses. It also earned the guys appearances on shows such as Good Morning America and The Today Show. The wedding came and went, but the brothers realized that their story could be something more than just a cute news item, so they decided to capitalize on the experience by writing a memoir. The proposal got picked up by Gallery Books, and Mike and Dave Need Wedding Dates: And A Thousand Cocktails was published in May 2015.
Meanwhile, a movie was already in the works. It was announced in January 2015 that Mike and Dave Need Wedding Dates was set to be written by Jake Szymanski, and by the spring Devine and Efron had been cast as the titular brothers. Anna Kendrick and Aubrey Plaza joined the cast as Mike and Dave's dates, and the rest is history.
The real-life Mike and Dave Stangle both now live in New York City, where Mike bartends and Dave works for BarkBox, according to Observer . They also reportedly are both single and have active profiles on Tinder, so it appears that their Craigslist ad didn't result in a love story. However, a book deal and a movie adaptation are pretty good consolation prizes. Mike and Dave may not have found their dream wedding dates, but they sure found a profitable story.
Images: 20th Century Fox (2)