The True Story Behind 'Mike & Dave' Is Insane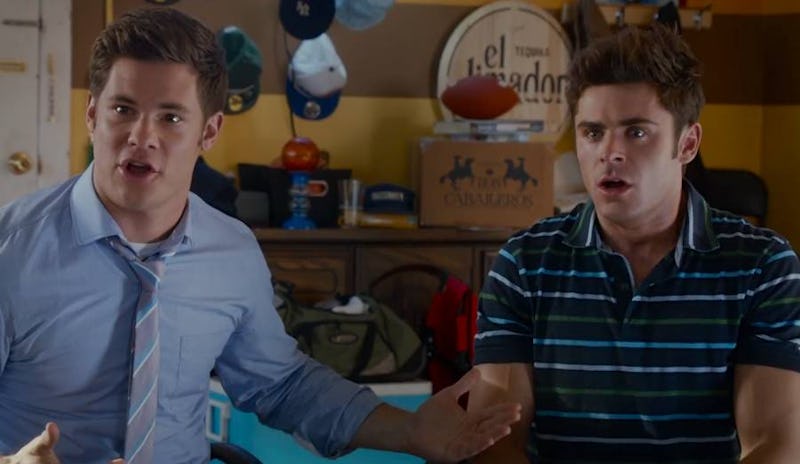 Zac Efron continues his quest to be known as a comedic actor, this time appearing alongside Adam Devine, Aubrey Plaza, and Anna Kendrick in the raunchy R-rated comedy, Mike and Dave Need Wedding Dates. Efron and Devine star as the titular Mike and Dave Stangle, two party animal brothers who routinely ruin family functions with their boorish behavior. At the behest of their parents, the two agree to bring wedding dates to their sister's upcoming nuptials to help keep themselves in check, and they find their dates via a ridiculous Craigslist ad. Sounds pretty far-fetched, but Mike & Dave Need Wedding Dates is a true story.
Well, the film is inspired by a true story, anyway. Mike and Dave Stangle are two real guys, and by all accounts they're just as brotastic as the film would have you believe. The pair really did put out a Craigslist ad looking for wedding dates, which is how the whole film came about. In real life, the Stangle brothers were preparing for their cousin's wedding in 2013 when they were told by the bride to bring dates to keep them from running rampant. The pair, as a joke, decided to post an ad on Craigslist seeking dates for the wedding — and that's when things got crazy.
The ad doesn't come off as being all that serious, as the two bros use borderline sexist and arrogant language throughout while trying to keep a humorous tone. For example, the two listed a FAQ section in their ad where they listed the following "benefits" for whatever ladies ended up being chosen as their dates:
An excuse to get dressed up
Open bar & food all night
Eccentric/downright dangerous bro-2-bro dance moves (may need to sign a waiver)
Adventure
Mystery
Suspense
True Love
Also, in a stunning example of foresight, the two also included this last benefit:
Royalties once our night's story is developed into a romantic comedy*
*if this happens (we estimate the chances at 85%) we refuse the right to let Ashton Kutcher play either of our characters, however, we will consider him for a supporting role.
It didn't take long for the would-be Romeos to have their self-assuredness pay off. The ad went crazy viral, and the two started getting a lot of attention. They appeared on TV shows like Today and Good Morning America, and within a few months of first posting the ad, had inked a book deal with Simon & Schuster and a movie deal with Fox. Not a bad haul for what began as a joke, but how much of the film is actually true?
As far as the story of the actual wedding, not that much. In the film, the pair end up going with two women who respond to the ad (Plaza and Kendrick) who end up being more raucous than the men are, but the reality is much more tame. Although the Stangles did go on dates with several of the women who responded to their ad, they ended up taking a couple of childhood friends to the wedding so as not to distract from their cousin's big day. However, the pair's book describes a lot of their debauchery from other times in their lives unrelated to the wedding, so it's hard to say how much of what ended up in the film really happened to these two guys at some point in their lives (they estimate 80 percent, according to Devine on Jimmy Kimmel).
At the end of the day, Mike and Dave Need Wedding Dates has one of the most bizarre and unbelievable origins of any movie ever based on a true story, which just makes the film that much crazier.
Images: 20th Century Fox; Giphy