The 'Outlander' Drought Won't Be Too Long, Fans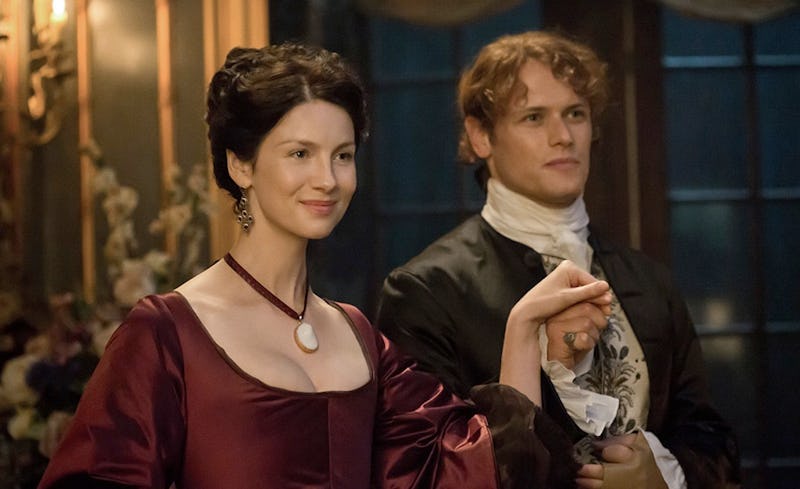 If there are two things fans of Starz's Outlander have become accustomed to, it's the constant broken heart because Jamie and Claire can never just be happy, and the long hiatuses between seasons — somewhat humorously (and somewhat bitterly, at least if you're as resentful as me) nicknamed the Droughtlander. So, with the Season 2 finale upon us, the question on all fans' minds is when will Outlander return for Season 3? Well, friends, I have some good news, some bad news, and some great news for you. Update: On Feb. 15, Deadline reported that Outlander Season 3 will premiere in September 2017.
Earlier: First off, you may already know the good news: Starz renewed Outlander for Season 3 and Season 4 earlier this year so we at least have confirmation that Outlander will be returning at some point. The small bit of bad news is that, at this time, Starz has yet to set an official premiere date for Season 3 of Outlander, which means we don't know exactly how long this Droughtlander will last — though hopefully it won't last long enough for fans to be driven mad by their lack of Jamie and Claire romance. We Outlander fans can deal with Jamie and Claire being heartbroken, but we cannot stand for them to be gone from our TV lives for too long.
Now, that brings me to the great news. While speaking to The Hollywood Reporter about the show's two season pickup, Outlander producer and writer Matt Roberts revealed the Droughtlander won't be too long, and fans won't have to wait as long as they think for the next adventures of Claire and Jamie. He said:
We get excited when we get just a back-nine pickup, so two seasons was unheard of. We're very excited. Just from inside information, yes, we knew we were going to do season three for sure. We haven't stopped working, and we just went straight over from season two to season three. We carried the writers room over and a few people in Scotland continued to prep for next season. Outlander is a beast of a show to produce, so if we took a normal break, a regular hiatus like a normal show, we would already be behind. Now the fans can have it sooner than what they think. The Droughtlander won't be as long as they expect.
In the past, the midseason break during Outlander Season 1 (between episodes 8 and 9) lasted about six months, while the hiatus between Seasons 1 and 2 stretched for nearly a year — a little longer than 10 months. Based on Roberts' comments, it's unlikely there will be another 10-month Droughtlander before Season 3, but since Starz hasn't announced an official premiere date, we have no idea of knowing exactly how long we'll have to wait.
Still, if Outlander fans want answers to their burning story questions after the Season 2 finale and need to know what happens next with Claire and Jamie before Season 3 premieres, there's always the option of reading the novels by Diana Gabaldon on which the show is based — that is, of course, if you haven't read them already. For now, I'll be re-watching Seasons 1 and 2 while waiting on news about Season 3.
Images: Starz; Giphy (2)