Could This 'PLL' Theory Explain Jenna's Return?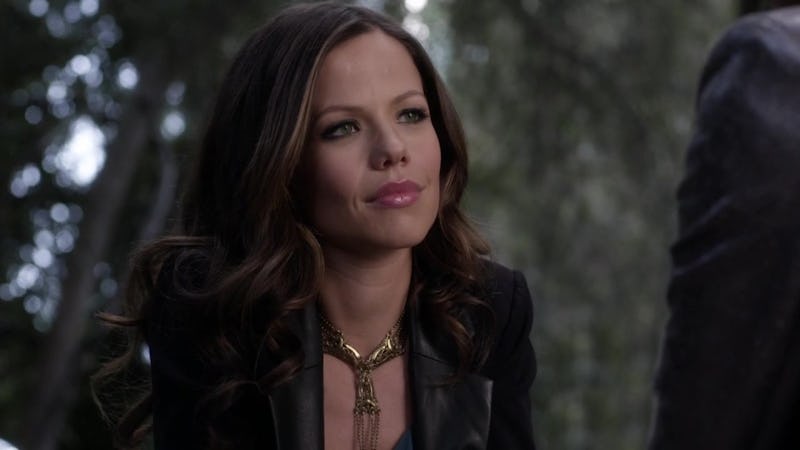 Well, it looks like we finally know who the Liars are burying in the woods — and I can't say that I'm sad to see this character go. After learning that Alison's husband Dr. Rollins wasn't exactly the good guy that everyone initially thought him to be, the Liars went to great lengths to get Alison out of the mental institution and Dr. Rollins' clutches. When Alison finally escapes her doctor husband, the Liars follow the two into the woods — only for them to become witnesses to Dr. Rollins' death. Hanna hit Dr. Rollins with her car, and from the blank stare that he gave Hanna when his body was halfway through the window shield, I think it's safe to say that he's dead. The Liars will have to figure out a way to get out of this one, but the return of a former frenemy to Rosewood could ruin everything. Could Jenna know Dr. Rollins — and furthermore, could her return to Rosewood be because she wants to finally get revenge on the Liars? Her return should make the Liars nervous.
We haven't seen Jenna in a while, but as the new promo for PLL 's Season 7 episode "Hit And Run, Run, Run" shows, she's officially back in town — and, apparently, here to stay, according to actress Tammin Sursok's May 2016 interview with Cosmopolitan:
The girls haven't seen Jenna in a year and a half, so it's kind of a big surprise. She's definitely involved in a lot of exciting, tantalizing things that the viewers want answers for. We still tread the line of, "Is she blind? Is she not blind?" She's gonna come back with some gusto, and I'm in most of the season, so it's pretty exciting.
Hmm... Jenna's timing is pretty interesting, isn't it? She always seems to know when the Liars are at their most vulnerable and hiding the most secrets, so it's totally plausible that she got wind of Dr. Rollins' accidental death and is in town to make the Liars feel as terrible about it as humanely possible.
It's also very plausible that Jenna knew Dr. Rollins well before the Liars did — Jenna always seemed to have some deeper knowledge about Charlotte (then known as Cece Drake) than the Liars did, and she definitely was afraid of Charlotte before the Liars knew that there was any reason to fear Charlotte at all. Could that mean that Dr. Rollins isn't the stranger that the Liars assumed he was when he breezed into town? Perhaps his relationship with Charlotte extended well before Charlotte ended up in Welby, and Jenna had met him when he was on the arm of Charlotte way back when. Who knows — maybe he was involved with the N.A.T. Club this entire time.
Both Dr. Rollins and Jenna are seriously mysterious, so I wouldn't be surprised to find out that these two had some hidden connection to one another. After all, now that Dr. Rollins' is dead at the Liars hands, someone is going to have to make them feel guilty about it — why not Jenna?
Images: Freeform; Giphy