Is This New 'Gilmore Girls' Image A Spoiler?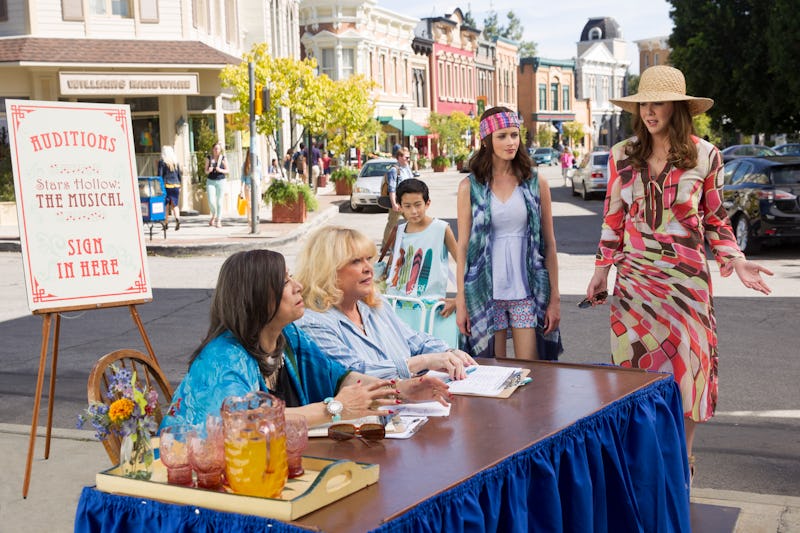 It's here! It's here! It's finally here! No, I'm not talking about the Gilmore Girls revival premiere date — trust me, if it was that, I'd be typing in all caps (and probably incomprehensibly) because I'd be so excited. Instead, today's gift from the Gilmore Girls gods comes to you in the form of the first ever Gilmore Gram on Instagram. That's right, Stars Hollow lovers: One of the first publicity shots from the Gilmore Girls revival was posted to the show's Instagram account on Wednesday, and fans came out in spades to celebrate the sneak peek into the four new episodes. Because as one of the first shots from the set of Gilmore Girls: A Year in the Life, this Gilmore Girls image tells us a lot about the revival coming to Netflix sometime this year.
So while we all sit around and wait for the official premiere date to be announced, let's dive deep into this picture and try to make out what we can from the little bit of Stars Hollow life that it captures. Because, trust me, this picture reveals a lot about the Gilmore Girls revival. What looks like, initially, a shot of two steaming cups of coffee side-by-side, is actually an incredibly telling peek into not only Luke's Diner in 2016, but also the lives of those Gilmore Girls today.
So what can we tell about the Gilmore Girls revival from this Gilmore Gram?
1. Those Cups Could Have Serious Symbolism
I know I'm analytical to a fault, but those cups couldn't have been chosen at random. I'm assuming the fact that there are two means that these are Rory's and Lorelai's — and if this is the case, there is plenty to read into in the cup details. Like the fact that the one is decorated with a jaunty little cityscape. Could that mean that Rory is living it up in a city somewhere nearby? It's definitely possible.
2. Luke's Is Still Serving Up The Best Cup
I have many fears about the Gilmore Girls revival, and one of them is that Luke's won't be Luke's anymore. Even though we've seen photos of the set during shooting, I was still worried that the place would have changed into something else in the nine years since we've all last seen Stars Hollow. So I'm over the moon to see that this diner is still serving some of the best coffee in Stars Hollow. At least some things never change.
3. Cell Phones Still Aren't Allowed
Another fear of mine: That hipsters will have taken over the diner with the addition of wireless internet and smartphones. So, I'm relieved to see the "No Cell Phones" sign front and center at Luke's in the revival.
4. The Revival Could Start The Same Way The Original Series Did
The caption of this Gilmore Gram reads, "Like all good things, we gotta start with a cup of Luke's coffee." Fans of the show will remember that the entire series started with a cup of Luke's coffee, too: Lorelai was in the diner begging Luke for another cup. I'm thinking this caption could be a hint at how the revival episodes will start, too. If all good things start with coffee, then that must mean that the four episodes will start with a steaming cup of Luke's brew.
5. Luke's Still Looks Like Luke's
Who else was terrified that Stars Hollow would become some horrible, overdeveloped, cliché version of itself in the time since fans last visited? I had nightmares of Starbucks and Chipotle lining the streets. But, it looks like Luke's is still run by the original owner himself. If someone else had taken it over, it would have likely gotten a facelift by now.
I'm personally loving these little sneak peeks into Stars Hollow these days. So keep the 'grams coming, Gilmore Girls. We fans can't get enough.
Image: Netflix; Giphy (5)