Waiting For 'The Girl On The Train'? Read This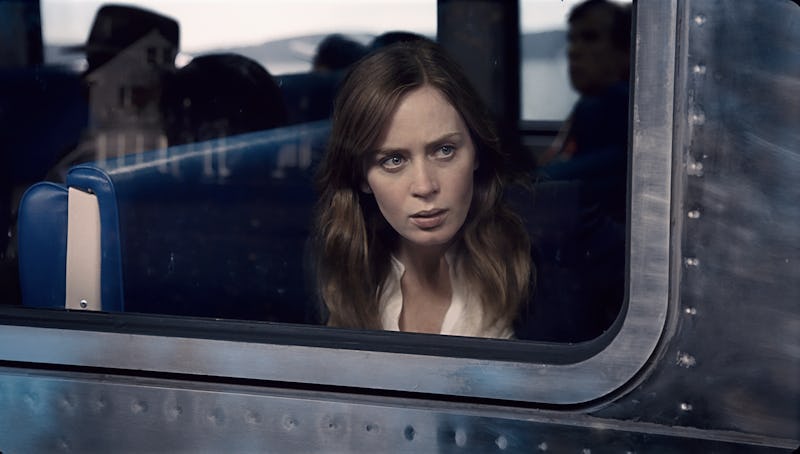 In my opinion, thrillers make the best summer reads. First of all, if you're on vacation, the thrillers will completely encompass your attention. Second of all, when else do you have an entire day just to sit and read? Personally, I can't just read a thriller little by little — I pretty much sit in one place until I finish it, because I have to know what happens, whether it's a literary thriller or an awesome YA thriller.
This is what happened to me when I read The Girl on the Train for the first time. I sat in one place until I finished the entire book, and by the time I was done I was completely obsessed. It's safe to say that this book, along with Gone Girl, sparked a love for thrillers that I didn't know I would have. But now that I do, I'm very impatiently awaiting The Girl on the Train film (which comes out September 27th and has a very epic trailer).
Until the movie comes out and we can revisit the riveting story of a woman seeing things from the window of a train, the best thing we can do is obviously to read more thrillers. If you're looking for something to fill the train-sized hole in your heart, here are some options.
If you liked the timeline of The Girl on the Train, you've got to check out All The Missing Girls by Megan Miranda. This thriller is about a woman named Nicolette Farrell and a reopened case about her missing best friend. It's told in reverse chronological order, and you'll be up all night reading it.
This story follows 18-year-old Jill Charron, who wakes up after a terrible car accident with a ton of injuries. She's told that she was in the fatal accident while on a school trip to Italy. The only problem? Jill doesn't remember the trip. She struggles to piece together her accident in this thriller perfect for readers fascinated by the memory loss plot line in The Girl on the Train.
This thriller by the author of In a Dark, Dark Wood comes out July 19th. Lo, a travel journalist, is onboard a luxury cruise as an assignment when a woman is thrown overboard. She saw the accident, but the next day, she learns that no one is missing. This one's already being compared to Agatha Christie's mystery novels, and the claustrophobic feel of the luxury cruise setting will have you squirming in your seat.
Diana Jager is a surgeon and blogger who's unlucky in love — until she meets Peter. She quickly falls in love, and gets married. But her happily ever after is shattered when Peter is murdered, and Peter's sister becomes convinced that Diana is responsible. Reporter Jack Parlabane investigates the tragic crime in this page-turner, and the morally ambiguous characters and fast-paced plot will definitely appeal to The Girl on the Train fans.
Catherine West has a seemingly beautiful life, but she feels dissatisfied — until she meets the dashing William Stockton. Only trouble is, something's a little off about William. Fans of the dark pasts of certain male characters in The Girl on the Train will be completely absorbed by this tale.
Nicolette Holland has the perfect life — until she stumbles upon a murder scene and is forced to disappear. Jack Manx is supposed to go to college — until he gets roped into the family business... as a hitman. His assignment? Kill Nicolette. This YA thriller features alternating viewpoints, similar to The Girl on the Train, and it will definitely keep you guessing until the last page.
Six kindergarteners go missing, and 11 years later, five of them return. They say they don't remember the sixth victim, Max, but his sister Avery is suspicious of their supposed amnesia. Memory loss? Vanishing people? Fans of The Girl on the Train, here you go!
Kelsey's mother was kidnapped and escaped, so the mother and daughter are now always prepared for the worst case scenario. But when Kelsey's mother disappears, Kelsey has to improvise in order to track her down. This plot line about a disappearance is great for fans of The Girl on the Train looking for a young adult thriller.
Daniel and Laura go on a trip that's supposed to be an adventure, until they get thrown off a train (!) in the middle of the night. And they never talk about what they saw that night as they made their way through a forest. But as they try to restart their life in London, they're soon unable to move past it. London, check. A train, check. Add this one to your TBR list, The Girl on the Train fans.
This story is told from the perspective of the three main female characters, Lorraine, Lexy, and Ella. Lorraine's husband left her for another woman. Lexy is an au pair. Ella is Lorraine's sister, who soon finds that her sister might not be as trustworthy as she once thought. This Girl on the Train-esque premise is a great setup for a truly spine-tingling thriller.
This is the classic train mystery that inspired the Hitchcock movie of the same name. Guy Haines and Charles Anthony Bruno meet on a train, but the chance encounter soon turns into a deadly plot that will keep you flipping pages until you reach the end.
Image: Universal Pictures (1)