Victor Is "Very Surprised" By Criticism On 'BB18'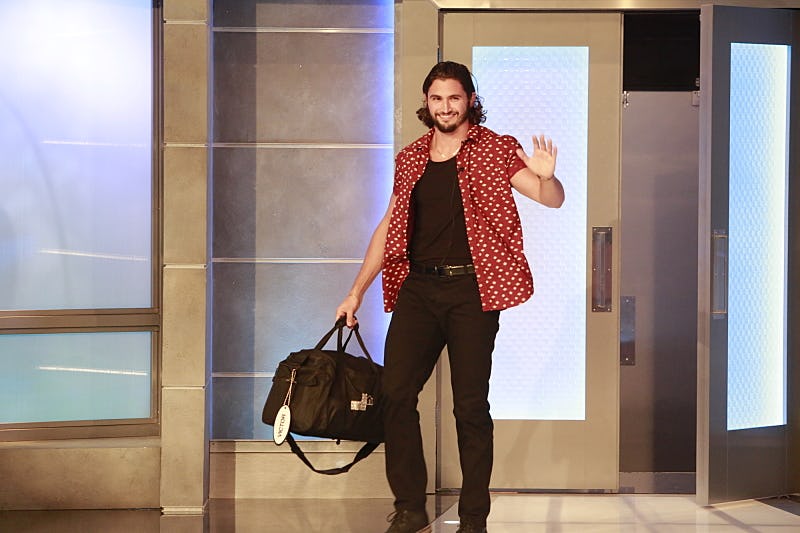 Victor's short time on the block seemed to be a wake-up call for him in the Big Brother house, but it proved to be too little, too late. Victor's eviction from the Big Brother really put the "Vic" in "eviction," and prompted some pretty interesting responses from his fellow houseguests, including Natalie telling him in her goodbye message that he should be nicer to people "especially women." Victor told Bustle in an email he "was very upset" about Natalie's comments. "[I felt] very surprised, very offended," he continued. Victor's treatment of women on BB18 brought criticism from fans of the show on Twitter, but, in his eviction episode, Natalie calling him out made Victor acutely aware of how he was perceived by some in the house.
Victor responded to this criticism in his email to Bustle, saying, "My mom raised me right, I would never talk to women in a disrespectful way." But, what he may not have deemed disrespectful, many others did. Fans watching the feeds often tweeted about his comments, including his regular talk about interest in "sexy ladies" and his habit of seeming to speak down to other women in the house including Natalie, who he was shown to have a very adversarial relationship with. He also appeared to patronize Bronte when she was hoping to talk some sense into the Jozea-Paul-Victor alliance.
The house has had various problems with treatment towards women this season, including some alarming behavior from fan favorite Frank Eudy, but, on Thursday night, Victor was the center of attention as Natalie's goodbye message said what so many watching may have wanted to say. "I really hope you take away a lot from this experience and learn to be a little nicer to people, especially women," she said. In response to this, Victor told Bustle, "I hope [Natalie] goes back to watch the show and realize that's not the case ... But if she feels that way, I do apologize."
Victor may be able to get back in the house thanks to the BB Battle Back twist, and he already has some plans. Victor told Bustle that "will [return as] Evil Victor," in reference to his gameplay and hopefully not in his attitude towards women. He continued, "I know everyone was out to get me now, for sure, so no more playing nice." If Victor wants to stay in the game, his best bet might not be going "evil," but instead being a little nicer to others. Being nicer in the house could make a huge difference if all-women alliances like Fatal Five and Spy Girls continue to dominate BB18.
Victor also said he plans to return to the house with a more focused strategy and a more focused target: Frank. According to Victor, "He's won all the Power of Veto competitions he's played in. Not only is he a good competitor, he has a good social game." Victor may have an immediate plan for when he gets back in, but hopefully, he'll spend some time thinking long-term, or else the women are likely to send Victor right back out.
While his acknowledgement that his behavior may have inadvertently hurt Natalie is a good start, the best thing Victor can do is spend his wait for the BB Battle Back thinking very intently about his attitudes in the house, and wait for an opportunity either in the house or on social media to truly show that he has reflected and learned from his Big Brother experience. For now, fans can watch the gameplay progress without Victor on Sunday at 9 p.m. ET on CBS.
Image: Bill Inoshita/CBS