19 Ice Cream Recipes For National Ice Cream Day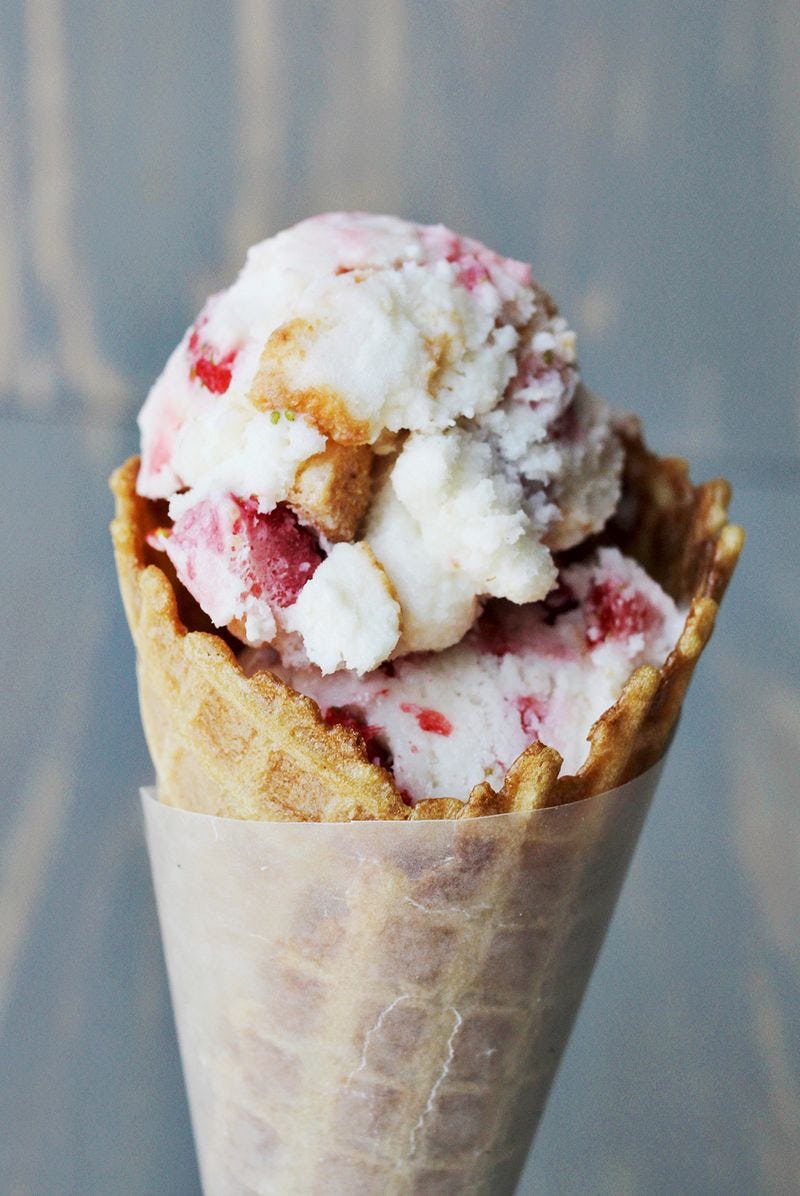 There seems to be a holiday for absolutely everything these days. And while some are downright ridiculous, I know we can all totally get behind making ice cream recipes to celebrate National Ice Cream Day. Appropriately enough, this holiday goes down on July 17, during one of the hottest months of the summer. Time to mark your calendars, folks.
Obviously, these recipes can be made on any ol' summer day. In fact, I totally encourage it. With so many potential flavor and ingredient combinations out there, the world of ice cream has a lot going on. Plus, how awesome would it be to offer summer party guests homemade ice cream? Talk about major hostess cred.
For me, there is something extremely rewarding about learning how to make ice cream. It just amplifies my love and appreciation for the dessert. Luckily, there are even a few no-churn ice cream recipes on this list, making the task more approachable for novice makers.
Regardless, I hope you find a new summer favorite on this mouthwatering list of recipes. Once you do, get ready to cool down with a delicious treat and curl up with a 2016 summer read. Happy National Ice Cream Day!
1. Hazelnut and Salted Caramel Ice Cream
Sweet and salty come together in this awesome concoction by Foodie Crush. The post even features some essential tips for novice ice cream makers.
2. Blueberry Cheesecake Ice Cream
For a decadent treat that's practically sinfully delicious, try Joy the Baker's blueberry cheesecake ice cream. It's yet another reason to stock up on those summer berries.
3. Four-Ingredient Ice Cream Pie With Peanut Butter Rice Krispie Crust
There's something about pie that makes everything seem a million times better. Extra points if it's made out of ice cream. Head over to Foodie Crush to learn how to make this four-ingredient version complete with a peanut butter krispie crust. Brilliant, much?
4. Nutella Swirl Ice Cream
Fans of Nutella will fall head over heels for this one by A Beautiful Mess. It's a simple treat that is equal parts creamy and dreamy.
5. Fig, Coconut, and Blackberry Ice Cream
If you're looking for something a little fancier, bring in some figs. This particular recipe, created by Green Kitchen Stories, uses coconut milk. This one's for you, dairy-free ice cream eaters.
6. Buttermilk Ice Cream with Strawberries
Why make ice cream with milk when you can make it with buttermilk? This recipe by Joy the Baker uses this magical ingredient and bourbon. Yes please.
7. Ferrero Rocher Ice Cream Cheesecake
I can't help but look at the title of this recipe and think, "Um, excuse you?" and I know I can't be the only one. Classic Ferrero Rocher chocolate teams up with an ice cream cheesecake in this magical invention by Sugar et al.
8. Date Night Hot Chocolate with Chocolate Ice Cream
I know that it's the middle of summer. Yet, I couldn't help but share this hot chocolate and ice cream combo by Sugar et al. Something tells me it would be totally worth the semi-warm dessert.
9. Key Lime Pie Ice Cream
If you're a fan of sweet and tart flavors, you'll totally be into this key lime pie ice cream by A Beautiful Mess. It even has a generous sprinkling of graham crackers for that extra crunch.
10. Aussie Summer Ice Cream Tart
Bring in your favorite summer fruits with this ice cream tart idea by Sugar et al. In fact, it might even look too beautiful to eat. It's like art for the stomach.
11. Cookie No-Dough Ice Cream
Joy the Baker took a dough-less approach on the classic ice cream flavor. The end result is a ton of cookie-flavored goodness to cool down the hottest of summer days.
12. Caramel Ice Cream Cheesecake with Salted Butterscotch Sauce and Meringue
I'm really loving this ice cream cheesecake thing going on. This one by Sugar et al brings those salty and sweet flavors together in a layered concoction that's awesome enough to be a birthday cake.
13. No-Churn Ferrero Rocher and Raspberry Ice Cream
Zero churning and more Ferrero Rocher chocolate? Count me in. Sugar et al kills it once again with this delicious summery dessert idea.
14. Brownie Bottom Ice Cream Cupcakes
If you're into the ice cream cake idea, consider giving ice cream cupcakes a spin. In this recipe, Joy the Baker merged that idea with a brownie bottom. It's kind of like the graham cracker crust's cooler, sweeter cousin.
15. No-Churn Raspberry Ice Cream
For another no-churn ice cream treat, visit Sugar et al for a ridiculously easy three-ingredient recipe. This one happens to be dairy-free and tastes a bit like a sorbet.
16. Strawberries and Angel Food Ice Cream
When there are chunks of angel food cake in my ice cream, you know it's going to be a good day/summer/life. There's even cream cheese in this recipe by A Beautiful Mess. I repeat... CREAM CHEESE.
17. Creamy Pomegranate Ice Cream
Pomegranates are one of those underrated fruits that simply doesn't get the attention that it deserves. With A Beautiful Mess' recipe, you can give it a chance in the form a of a lovely pink-tinted ice cream.
18. Toasted Coconut Ice Cream
Get those tropical vibes going with a tasty scoop of toasted coconut ice cream. I'm thinking this creation by The Crepes of Wrath would go amazingly well with some pineapple chunks mixed in.
19. Dairy-Free Vanilla Ice Cream
Here's another dairy-free treat for those of you looking to skip the milk. This ice cream by A Beautiful Mess is soy-based and features a classic flavor that can be used in cakes, ice cream sodas, and more. Win.
Images: Foodie Crush; Joy the Baker; Foodie Crush; A Beautiful Mess; Green Kitchen Stories; Joy the Baker; Sugar et al; Sugar et al; A Beautiful Mess; Sugar et al; Joy the Baker; Sugar et al; Sugar et al; Joy the Baker; Sugar et al; A Beautiful Mess; A Beautiful Mess; The Crepes of Wrath; A Beautiful Mess