12 Bizarre 'Bachelor' Moments You Forgot About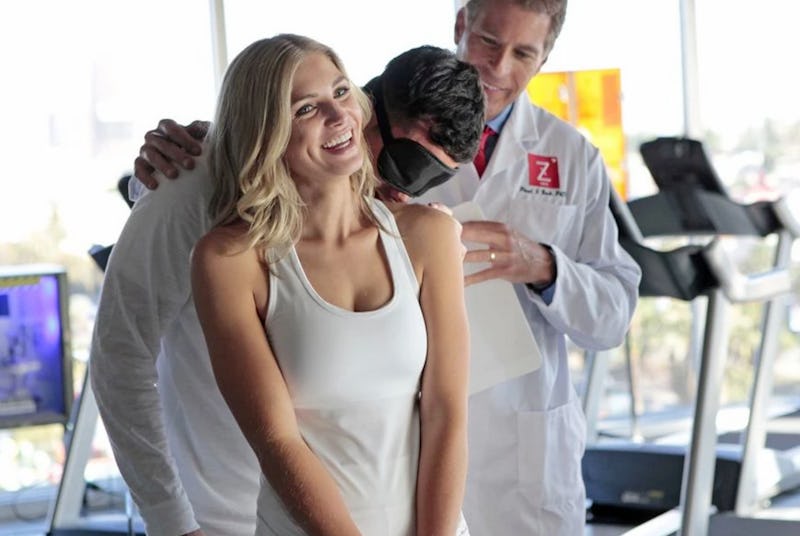 Over The Bachelor/The Bachelorette's time on television, fans seen a lot of wild stuff — each season has its own unique set of strange and questionable cast members doing strange and questionable things. And, while this season of The Bachelorette may be one of the strangest we've seen thus far (an amped up argument about a lost poker game? Anything Chad did on the show ever?), The Bachelor has a legacy of weird and bizarre moments from its long time on air. Need your memory refreshed? I've got you covered. I know how much it's needed as the drama winds down.
After all, we're nearing the end of our time with JoJo and her gaggle of potential men as we continue to careen towards the finale when the show actually fulfills its promise of being about, you know, love. It's always kind of nice to see the series make an about-face from the contrived group date, forced interaction phases of the first half of its season — but it's also a little sad. This far into the game, all of our fabulously weird contestants are pretty much outta here, which means that the show's level of drama (i.e. the in-house politics of it all) is also pretty much down for the count. But, in these drama-free moments, we can take time to reflect on all the craziness that has occurred over the last decade-plus of the show.
1. That Time Jillian Didn't Listen Hard Enough
You might remember that time Jesse forgot a contestant's name and handed the rose over to the wrong girl, but I'd argue that this moment from Chris Soules' season — that involves a crucial name mix-up and a painful to watch scuffle in sky-high heels — is far more cringe-worthy.
2. That Time Kasey Got Inked for Ali... And It Was Super Creepy
Tats are known 'round the world as a symbol of unending devotion. So it stands to reason that it's probably an indication of terrible judgement to get a tattoo of a woman who is dating you along with eighteen other eligible men. Kasey went ahead and got some ink to woo Bachelorette Ali Fedotowsky, and she was understandably creeped out, so off he went into the night after a swift elimination.
3. That Time Ashley S. Lost Her Mind Over an Onion
Okay, so maybe you haven't forgotten this one — but it wouldn't be a "bizarre Bachelor roundup" without a mention of Ashley S. Yeah, "Onion Ashley," a perfect example of reality television gold who was unafraid to have a little fun. But her shining moment was when her talking head interview was suddenly interrupted with an excited squee and a pomegranate (or an onion?) spotting that I could watch on loop for eternity.
4. That Time Tenley Danced Her Heart Out
Usually, when we talk "dance" on The Bachelor, it's usually of the two-person variety. Waltzing, slow dances, swing dance lessons, this show loves seeing contestants get light on their feet. But when Tenley and Jake got some time alone, Tenley took on a dance all by herself — and the result was an interpretive dance more hard-to-watch than heart-wrenching.
5. That Time Mackenzie Was Like, "Do You Believe In Aliens?"
Look, I'm a big fan of people who believe in aliens (see: my undying love for Megan Fox for proof), and Mackenzie is no exception. But bringing up your love for little green men on the first one-on-one with the man whose heart you're vying for? Gutsy. Turns out, she got a rose anyway.
6. That Time The Bachelor Had To Smell Everyone
Most of Ben Higgins' season was overshadowed by the antics of Olivia and the few final heartbreaking episodes, but does anyone else remember the time the Bachelor was tasked with sniffing and rating the smells of all of his prospective mates, and the show called it a date? No thank you.
7. That Time Tierra Lost Control Of Her Eyebrows
It's been a while since Teirra has graced our television screens. This amazing Bachelor contestant went after AshLee Frazier while defending her inability to "control her eyebrows." Don't worry, Tierra. I can't either.
8. That Time We All Saw Stacey's Underwear
File this under aggressive date move #1: Handing over your prospective mate a pair of your lacy unmentionables. When Stacey entered the Bachelor house in Season 12, she immediately whipped out a thong and bestowed it upon Matt Grant. Points for originality, I guess?
9. That Time Kelsey Had A Panic Attack
And everyone was mad because it scored her extra time with Chris.
10. That Time JoJo's Hometown Was So Rough Her Mom Went Straight For The Bottle
Considering how often I feel like I need a drink while watching the awkward antics of The Bachelor, it was pretty satisfying to see someone else indulge in the kind of nerve-quelling effects of wine. I get you, JoJo's mom!
11. That Time Jonathan Was So Stressed About A Kiss
Look, sometimes a contestant on Bachelor or Bachelorette won't have chemistry with someone. Case in point: That time Jonathan tried to shore up enough courage to kiss Ali during a music video shoot and got so worked up he cried.
12. That Time Robyn Turned A Back Flip Into A Back Flop
First of all, shout out to Robyn for even trying to do back flips — I can barely go into a bridge for more than five seconds — but a combination of slick cobblestones and high-heels meant that she went flying and we all watched on in horror in the process.
But, without these antics, the show wouldn't be nearly as much fun — so bring on the awkward!
Images: Rick Rowell/ABC (2); giphy (8)