Check Out Every Kardashian Lip Slayer Shade Here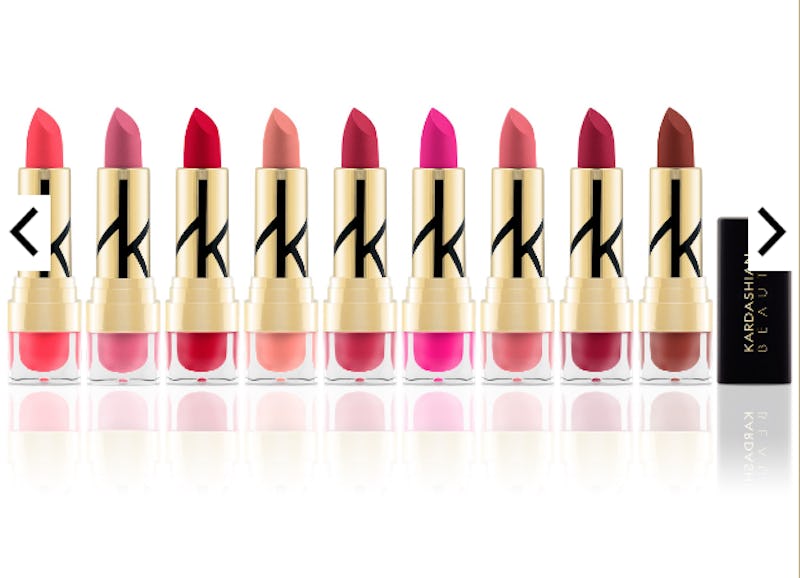 The Kardashians have proven time and again that they're not just entertaining TV personalities; they're also reigning beauty moguls. With their newest Kardashian Beauty Fierce Collection, they've introduced to us a new line of cream lipsticks, but what shades do the Kardashian Lip Slayer Creams come in? With nine different velvety hues, this assortment just might make the matte craze a thing of the past.
According to Popsugar, "Despite the moisturizing properties in this super-creamy formula, it feels surprisingly lightweight on the lips. Each shade glides over your pout like a balm would, delivering intensely pigmented color."
While matte formulas give us a whole different look than high-gloss options, feeling a balmy glide on our pouts rather than the dry, cakey feel of a matte might be a nice change of pace now and then.
Plus, the nine-hue collection offers a little bit of something for everyone. Coming in a range of traditional shades (no metallic blues or Craft blacks here), you can choose from an assortment that ranges from rich browns and nudes to soft blushes and statement-making pinks. In addition to the versatile colors, the names of the actual lipsticks are amazing, ranging from "Bye Felicia" to "Empowered" to "Opinionated."
Let's explore the exact hues below, seeing what the Kardashians have brought to us this time around.
1. Bye Felicia
Bye Felicia LIP SLAYER Color, $9.99, K Beauty
"Bye Felicia" comes in a toasted brown shade that seems to be a warm blend between chestnut and red. This will give you a bold pop of color while still feeling more natural than going, say, full dark brown.
2. Empowered
Empowered LIP SLAYER Color, $9.99, K Beauty
Channel your inner Old Hollywood siren with this strong red hue. Everyone needs some crimson in their makeup arsenal.
3. Damn Gina
Damn Gina LIP SLAYER Color, $9.99, K Beauty
"Damn Gina" is an electric coral shade that will be perfect for the days when you want to make a statement.
4. Independent
Independent LIP SLAYER Color, $9.99, K Beauty
"Independent" is a deep, rich mauve that offers a grownup alternative to pink.
5. Opinionated
Opinionated LIP SLAYER Color, $9.99, K Beauty
This isn't a shade for the meek or timid. This electric pink creates a vibrant, fearless pout that demands attention. This is perfect for anything from cocktails with friends to running errands.
6. Persevere
Persevere LIP SLAYER Color, $9.99, K Beauty
If look-at-me shades aren't your thing, then "Persevere" might be more up your alley. A dusty, petal pink, this hue adds a touch of color without feeling too overwhelming.
7. Show Up
Show Up LIP SLAYER™ Color, $9.99, K Beauty
"Show Up" is a cooler version of "Persevere," leaning towards purple rather than pink undertones. It's a touch deeper and darker.
8. Goals
Goals LIP SLAYER Color, $9.99, K Beauty
"Goals" is the answer to all your nude prayers, favoring pink rather than traditional brown undertones. If you want a soft lipstick shade to add to your arsenal, this is it.
9. Phoenix
Phoenix LIP SLAYER Color, $9.99, K Beauty
"Phoenix" is all glamorous sophistication. A heady blend of magenta and red, it provides a deep and dark shade to play with.
The great thing about the Lip Slayer Creams line is that it provides options for all tastes — you have your electric, statement-making shades, your nudes and everyday pinks, as well as your deep and glamorous hues. There are definitely a lot of great options to choose from. And you can choose for yourself now at Kardashian Beauty, or wait until Aug. 2016 when the collection hits ULTA shelves.
Happy applying!
Images: K Beauty (10)