The Newest Makeup Trend Has To Do With Your Ears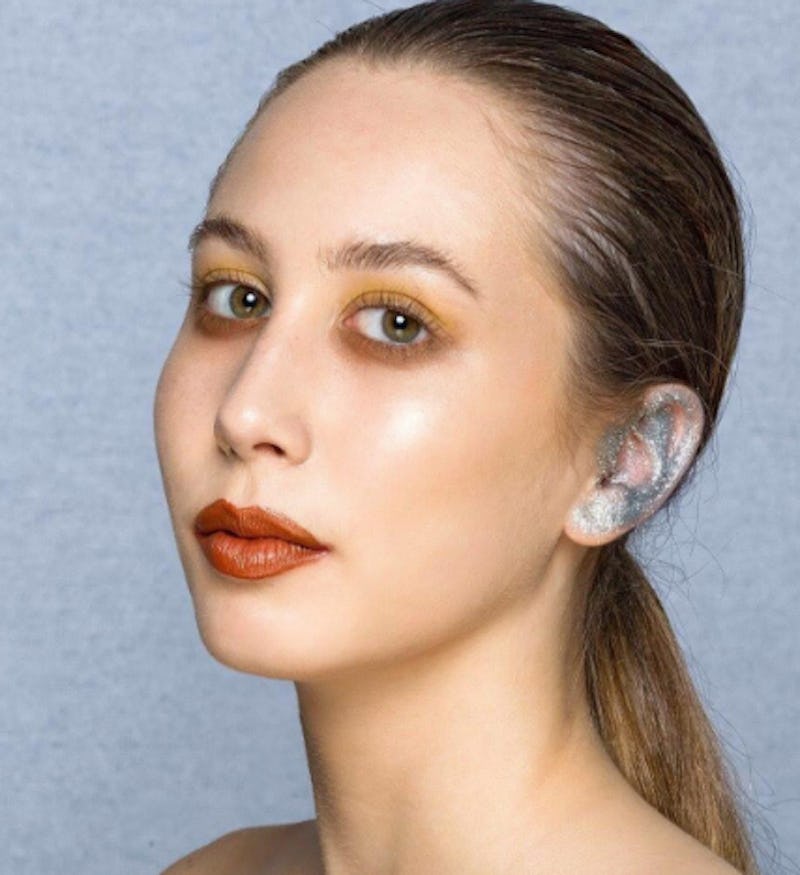 When it comes to new beauty trends, there have surfaced a lot of inventive techniques over the past couple of months, ranging from lip tattoos to hair stencils. But the newest makeup trend heads away from your face and focuses instead on your ears. Ear makeup art is blowing up as much on the runways as it is on social media, as reported by Popsugar, making me believe this could be the next big thing to wear while out on a Friday night. Although you might feel a little apprehensive about dabbing on look-at-me makeup outside the vicinity of your face, you have the option to make this trend as subtle or as bold as you're comfortable with.
According to Marie Claire, it all started on the runway two years back. "Designer Anthony Vaccarello sent his models down the runway with graphic, inky lobes that were drawn on with black liquid liner. Makeup artist Tom Pecheux was going for a quasi jewelry look. Kind of like a second-skin ear cuff." Since then, both Louis Vuitton and Opening Ceremony have used the same concept in their 2016 shows.
By dipping the lobe in a single color, the makeup technique looks more like jewelry and less like an art project.
However, the trend came back around this year when makeup artist Violette Serrat (the wizard who also brought us tiny lip tattoos) created metallic ear makeup looks for CR Fashion Book, bringing what some might consider an intimidating runway trend onto the streets.
By painting the earlobe in gold rather than black, Serrat designed the "perfect complement to cool-girl-beloved small gold hoops," according to Marie Claire. The aesthetic could even be used as the perfect backdrop to showcase your earrings.
If you like a bolder look, you could also play with outlining the whole ear instead of the lobe. For example, here we have a look that uses the whole body part, giving it a glittery, galactic-like feel for those days when you're feeling otherworldly.
Alternatively, if you'd like a neater, less-splattered version, you could also try outlining your ear in clean, precise lines, like Serrat did in her take on the trend.
This is a subtler option, whereby it mimics wrap earrings and doesn't quite feel like you just took a paintbrush to the side of your head and went wild. While this is a creative and playful look, the jury is still out on whether we'll see this as a permanent facet of beauty routines. But one thing is for sure: It warrants at least one experimental attempt in the safety of your bathroom.
Images: Courtesy nikahiemstra/Instagram