This New Starbucks Drink Sounds So Refreshing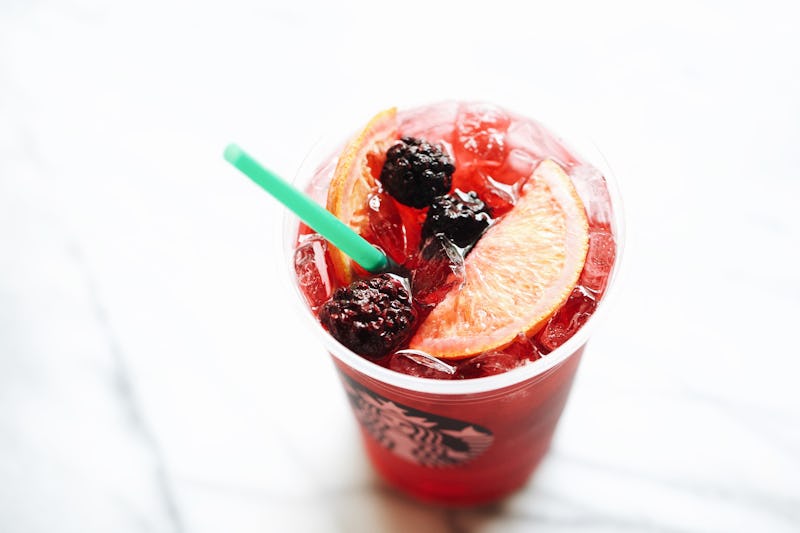 There are few things in this world more universally loved than sangria, which is why the new Teavana Shaken Iced Berry Sangria Herbal Tea at Starbucks is something that should immediately be on your radar. The new summertime drink makes its official debut at Starbucks stores everywhere on July 12, but if you happen to be a Starbucks Rewards member, you can get your hands on this cool, refreshing drink a day early on July 11. You feel special now, don't you?
What is the Shaken Iced Berry Sangria Tea, eager fans want to know? It's a pretty delicious throwback to your favorite happy hour go-to — you know, minus the alcohol. Teavana Iced Passion Tango Tea makes up the base of the drink, bringing with it its natural notes of hibiscus, lemongrass, and apple. (Fans of this particular beverage might also recognize it as the base to the Instagram-famous Starbucks Secret Menu Purple Drink.) The tea alone tastes just like summer should, but what really takes this beverage above and beyond is the sangria syrup that gets added next. The peach, elderberry, blood orange, and raspberry flavors that go into the syrup make the whole drink taste, well, just like sangria. Throw in some ice, apple juice, blackberries, and orange slices, and you have a very beautiful nectar on your hands, people. Very beautiful indeed:
I gotta say, as an iced coffee lover, I don't usually get excited about tea — but this sangria is making me rethink my ways. It just sounds so refreshing, and anytime there is fresh fruit involved, I'm game. The Teavana Shaken Iced Berry Sangria is made from herbal tea, meaning you won't find any caffeine in this beverage, but it should still hit the spot at 3 p.m., when you're in the mood for an afternoon treat. And if it doesn't make you feel like you're sitting on the beach somewhere, splitting a pitcher of sangria, then you might need to rethink how you relax.
A grande Shaken Iced Berry Sangria costs between $3.95 and $4.25, depending on the market. The drink should stay on menus all summer long, until supplies run out, so do yourself a favor and try it at least once. Even if you're a die-hard cold brew aficionado like me, I promise you you're going to be pleasantly surprised.
Images: Courtesy of Starbucks