Is 'OITNB' Season 4 Eligible For The 2016 Emmys?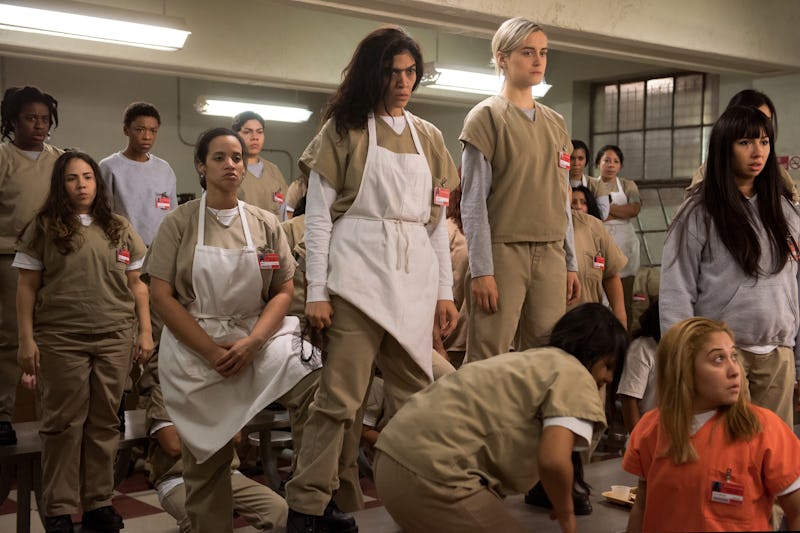 If you've already made your way through all of Season 4 of the Netflix original series, Orange Is The New Black, then you know that the drama at Litchfield has only gotten more intense. Inmates teamed up against one another, the guards had no boundaries, and an unexpected loss created even more chaos for Mr. Caputo heading into next year's Season 5 premiere. However, with all of that behind us — and nominations for the 2016 Emmys on their way — I'm sure I'm not the only fan starting to wonder if Orange Is The New Black Season 4 is eligible for the Emmys. Despite the season's performances being especially note-worthy, the June 17 premiere date doesn't work in the show's favor.
Let me explain. No, OITNB Season 4 is not eligible for awards during for September 18 live broadcast of the Emmys. However, that doesn't mean that the cast won't be showing up and possibly taking the stage for some acceptance speeches. As confusing as this might seem to some, Season 3 of OITNB is eligible for the 2016 Emmys. The nomination period lasts from June 1, 2015 to May 31, 2016, so Season 3's June 11, 2015 premiere makes Season 3 eligible, while Season 4's June 17, 2016 premiere makes the most recent season a no-go for the Emmys stage. At least for now.
Fans shouldn't be surprised or caught off guard if certain actors aren't recognized for their favorite character's most recent efforts behind bars. For example, Season 3 provided characters like Judy King and Lolly with little to no screen time, while characters like Sophia Burset and Norma were given much larger roles within the third season's inmate community. You would need to re-watch all of Season 3 before you make any rash judgements on the soon-to-be-announced nominees. I can already sense the possible uninformed outrage that could be headed toward this year's Emmy voters.
However, that doesn't mean that OITNB will be snubbed. With numerous Emmy wins and nominations (as well as Golden Globes) under their belt from the first two seasons, I'm anticipating a wave of Season 3 nominations and awards. Just remember that the Emmys are an entire year behind when it comes to this show, and brace yourselves prior to tuning in for the nominations.
Images: JoJo Whilden/Netflix; Giphy