'Bachelorette's James Taylor May Be Single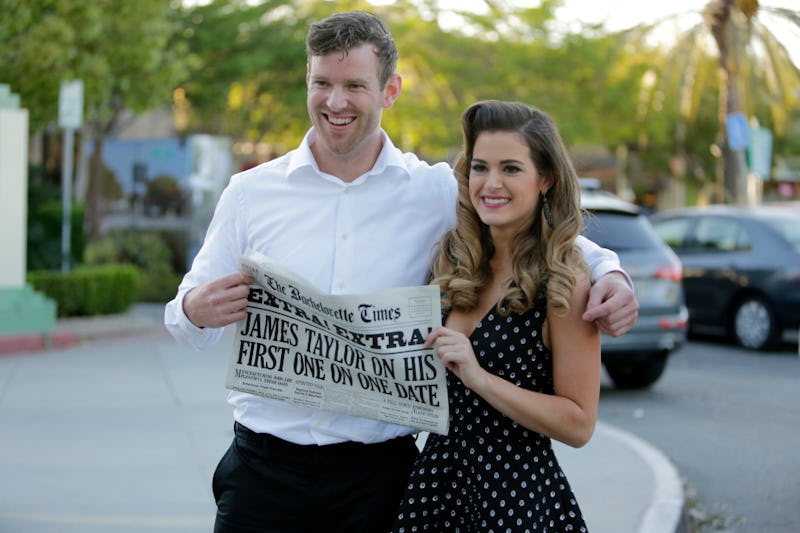 As The Bachelorette Season 12 continues, JoJo has begun to seriously wind down the number of suitors vying for her heart. Still, the show may not be moving ahead fast enough for some viewers (including myself) who are looking forward to seeing which man JoJo will choose in the final rose ceremony — and where all the other Bachelorette men are following filming. Some are headed to paradise, others are focusing on their career. Some are single, some aren't. So, is James Taylor single after The Bachelorette ?
After perhaps too much time spent scouring the internet, social media sites, and spoiler hubs, it seems to me that James is single-ish after his stint on The Bachelorette — and he probably isn't hiding out with JoJo in a post-filming bunker in order to keep their relationship a secret. Now, I'm not a fan of spoilers (and I know better than to take them at face value), but there is plenty to suggest that James doesn't wind up winning this season of The Bachelorette — not the least of which are the facts that he received one of the last two roses in Episode 6 and that Jordan Rodgers and Luke Pell have been the front runners since night one.
Still, rumors about James shipping off to paradise for ABC's Bachelor in Paradise Season 3, as reported by Inquisitr, seemed to confirm that the suitor wouldn't make it to the end of The Bachelorette. However, if Bachelor in Paradise filmed in June, then it's unlikely James was a part of the season since he consistently posted to Instagram throughout the entirety of the month (and his posts documented his ongoing singing/songwriting career).
As for his relationship status, Reality Steve previously reported that James would be eliminated in Episode 7, but again, these spoilers have been wrong before. However, new spoilers from the depths of Twitter seem to confirm that James Taylor and JoJo didn't work out, and that he's seeing other women. Twitter user Chris Higgins posted that he saw James Taylor making out with a woman who isn't JoJo, and another Twitter user, AG, posted photos that seemingly confirm the statement — though it's hard to really confirm anything with blurry photos.
So, do all these rumors mean James Taylor is single? Maybe, but if if he was dating anyone new, he wouldn't be able to talk about it just yet. As with most rumors, I'll believe them when they've been confirmed. So, for now, I'm sticking with the single-ish label and leave it to James to let us know his relationship status.
Source: Greg Zabilski/ABC