The 'BB18' James & Natalie Showmance Is Amazing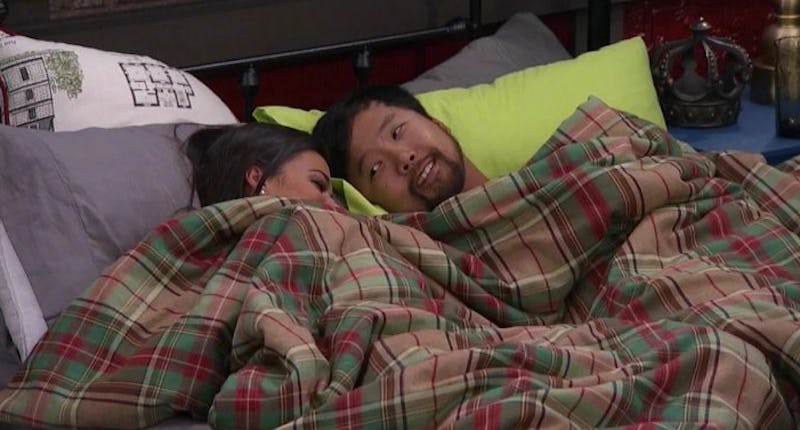 The motto of Big Brother is "Expect the Unexpected," but that motto also works perfectly when describing romance. Unexpected pairings pop up in real-life, and it seems the Big Brother house has an unexpected pairing of its own in the showmance between James and Natalie. While many eyes have turned to the possible Nicole and Corey showmance, a far less predictable relationship has been brewing in the house. This one may not have been what anyone would have predicted, but the James and Natalie's connection has quickly become the most adorable pairing in the house.
James established himself as a flirt in his original appearance on BB17, following through on those habits in BB18, but seems to have found someone he really connects with in Natalie. Natalie also seems to really enjoy James' company and has previously served as an accomplice in his pranking antics, so it's no wonder that these two have found a connection. In the often boring and isolated world of the Big Brother house, finding someone who can make the experience more fun means everything. The sweet, innocent flirtations between Natalie and James are enough to melt even the iciest heart, and here's proof that this showmance could end up being the defining showmance of BB18.
"He's My Type"
Some people on Twitter have been hating on the pairing and stating that they believe that Natalie is out of James' league. While the concept of "leagues" in dating is a much larger topic that can't be summarized easily, the evidence stands that Natalie herself has declared that James is her type of guy.
They Stay Up Late
It happens so quickly, that moment where you're staying up late talking to someone you feel a connection with, and the next thing you know it's already light outside. Clearly, Natalie and James have plenty to talk about — or possibly nothing to talk about. No matter what they talk about, they certainly enjoy talking to each other no matter the content.
That Covert Cuddling
There's not a lot of room in the Big Brother house, often resulting in shared beds. Luckily, Natalie's bedmate, Bronte, appears to be fine with James joining them so that these two can spend the night in one another's arms. And of course, James is the little spoon.
The Clothing Swaps
James is the most prank-friendly personality in the house, but Natalie has been proving to be able to play the game just as well as James does. Natalie has been serving as either an accomplice to James' pranks or worked to prank him right back. When James spent a day wearing Natalie's sweater without telling her, Natalie came right back and confiscated some of James' wardrobe.
Some Fancy Footwork
While there is room for relationships to grow in the Big Brother house, the house itself isn't exactly romantic. It's purposefully tacky and artificial, with no room for luxury or glamour. However, that doesn't stop James from finding opportunities to pull some more traditionally romantic gestures, like helping Natalie dance in the BB kitchen.
When That Hotline Bling
This season, Big Brother has incorporated phones into the design of the house, allowing houseguests to talk across rooms (despite the fact that it would be very easy to walk from one room to the other). James and Natalie have been using this feature to keep in contact, even when hanging out with their separate alliances.
While James and Natalie's showmance is an adorable development in the house, it could also prove to be a pretty important allegiance with regard to gameplay. James and Natalie are on opposite sides of the house, with the former being in the powerful 8-pack alliance and the latter being in the smaller but more tight-knit Spy Girls alliance. James and Natalie's partnership could end up being tested if one of their alliance mates puts one of the star-crossed houseguests on the block. Until then, James and Natalie will likely continue to fall for each other and provide some adorable moments for fans at home to watch.
Image: Screenshot/CBS