How Teresa & Jacqueline Became 'RHONJ' Enemies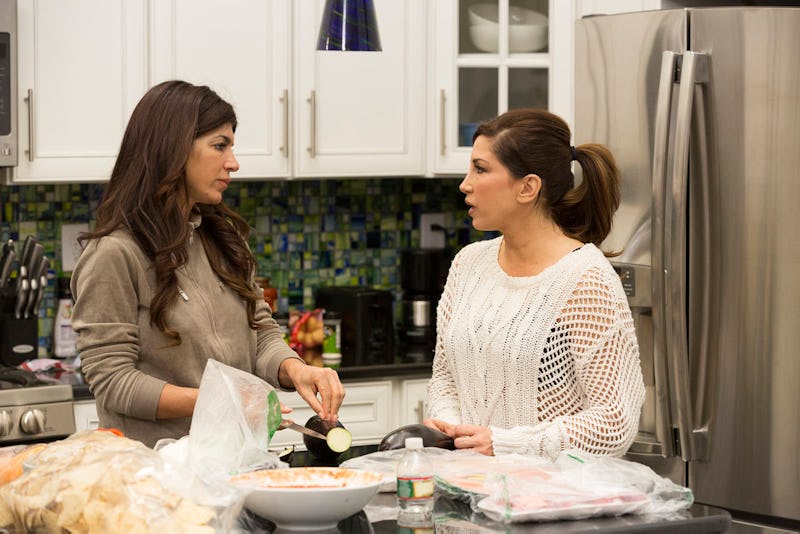 The seventh season of Real Housewives of New Jersey promises more fighting between stars Jacqueline Laurita and Teresa Giudice. But since the show has been on for so long, it's hard to even remember what happened between Jacqueline and Teresa. Years ago, they were nothing but close friends from New Jersey, but after Bravo got involved, these former pals became frequently feuding foils instead. In order to figure out exactly what went wrong between Jacqueline and Teresa, you have to go back — way back, in order to understand why they were so tight to begin with. Before The Real Housewives of New Jersey premiered, Jacqueline and Teresa were close friends, and if you watch Season 1, you'll see that there wasn't the same obsession over taking sides until Danielle and Teresa really started to clash.
As with most things on RHONJ, the trouble started with Danielle Staub. As you may remember, Teresa immediately clashed with the memorable character, and she got upset with Jacqueline for being friends with Danielle. However, quickly both women had reason to despise Danielle, who brought a lawsuit against Jacqueline's daughter. But even with Danielle in the cast, Teresa and Jacqueline were goofy, constantly joking best friends — often referred to as the Lucy and Ethel of the show.
In 2012, Jacqueline explained to Starcasm that she believed Teresa was a hypocrite for attempting to be cordial and friendly to Danielle after being willing to throw her friendship with Jac away over it. But while the Danielle thing might have seriously impacted Jacqueline's opinion of Teresa, things had been deteriorating for a while now. Teresa's problems with her sister in law was taking over the show, and everyone was being forced into the conflict whether they wanted to be or not.
In the Season 4 finale, at Kim's Posche Fashion Show, Teresa tried to prove that Melissa had once been a stripper, which, according to Jacqueline's Bravo blog, was never something Jac wanted to do or be involved in. At that point, she could no longer handle the constant drama, and Jacqueline told Hollywood Life she "had a nervous breakdown" after the confrontation. That officially marked the end of their close friendship.
For most of Season 5, Jacqueline and Teresa were icy, but unemotional, towards one another, but as they attempted reconciliation after reconciliation, things got even worse between them. Jacqueline heard that Joe cheated on Teresa, and since she'd witnessed a lot of disrespectful behavior from Joe, she believed the rumor. Naturally, the very protective Teresa was furious, and wound up blaming Jacqueline for the problems between her and her brother, which made absolutely no sense. While on a trip together in Tucson, Teresa implied that Jacqueline's son's autism could be caused by "bad karma," another shockingly insensitive comment. The whole season went back and forth like that.
As of RHONJ Season 7, Episode 1, Jacqueline and Teresa are attempting to repair their friendship. They haven't been in a white-hot fight in a while, especially after Jacqueline stepped back from being a main cast member in Season 6. Briefly, they clashed over Jac feeling left out of the loop with regards to the Giudice's criminal situation, but a couple of polite text messages isn't the same as being back in the throes of another RHONJ season, and, reportedly, there are some huge fights that come out of it. It's kind of sad when you think about it, since these were two adorable BFFs torn apart by reality TV scheming... if only it wasn't so entertaining.
Image: Greg Endries/Bravo