ColourPop's New Bundles Will Save You Big Money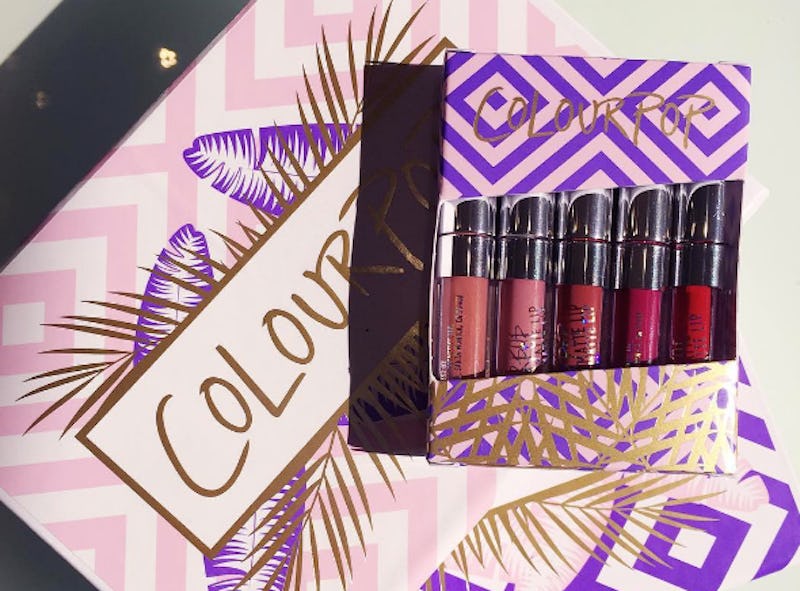 Brace yourselves, because this Instagram-famous indie brand just got even more affordable. For the first time ever, ColourPop created three Starter Packs that will save you a whole lot of dollars. I'm talking groups of bestselling lip and eye colors that are way less than if you bought them all separately. Get those wallets ready, because ColourPop will steal your heart — and all your money — with these gorgeous new collections.
I honestly didn't think it was possible for ColourPop to get any more affordable, but they have found away. In honor of their new international shipping, the company launched three Starter Packs — Foxy, Mile High, and Staycation. Each one comes with a handful of eyeshadows or lip products that will build the perfect ColourPop beginner collection. This is pretty huge, because it's this the first time that the company has offered bundles that actually save you money.
Not only that, but it's a great way to start your ColourPop stash if you're shopping internationally for the first time. Or if you're just looking to make your makeup bag a little fuller. Heck, it's all-around great for everyone! The colors aren't too bold, so they work for a variety of other people. Oh, and they make sure to show lip swatches on every single skin tone too. It doesn't get much better than this!
While their products are already at drugstore prices, these bundles make them even more affordable. Six different Lippie Stix would normally cost you $36, but now you can get a whole variety pack for $25. That's two free products!
The same happens with their eyeshadows, which are normally $5 a piece. You can now get a free eyeshadow, because the six different shades are just $25. If all that's not for you, the third option is five mini Ultra Matte Lips for $18.
Don't just take my word for it though. Here's an up-close and personal look at all the new Starter Packs, so you can choose the one that speaks to you most. Just be warned, you're going to want every single one.
1. Foxy
Foxy Starter Pack, $18, colourpop.com
This mini-pack is perfect if you've never tried the Ultra Matte Lip formula out. Not only do you get a pretty great shade range, but you don't have to commit to a full size tube.
2. Mile High
Mile High Starter Pack, $25, colourpop.com
In my opinion, ColourPop eyeshadows are some of the best. The formula is super creamy to the touch, just like their highlights. Now you can get six starter hues to help you build a variety of looks.
3. Staycation
Staycation Starter Pack, $25, colourpop.com
This is the option that saves you the most money. You can get six Lippie Stix (my personal favorite formula) for the price of five. Yes, please!
I told you these were good!
Image: colourpopcosmetics/Instagram (1), colourpop.com (3)