Celeb Stylists Swear By This Product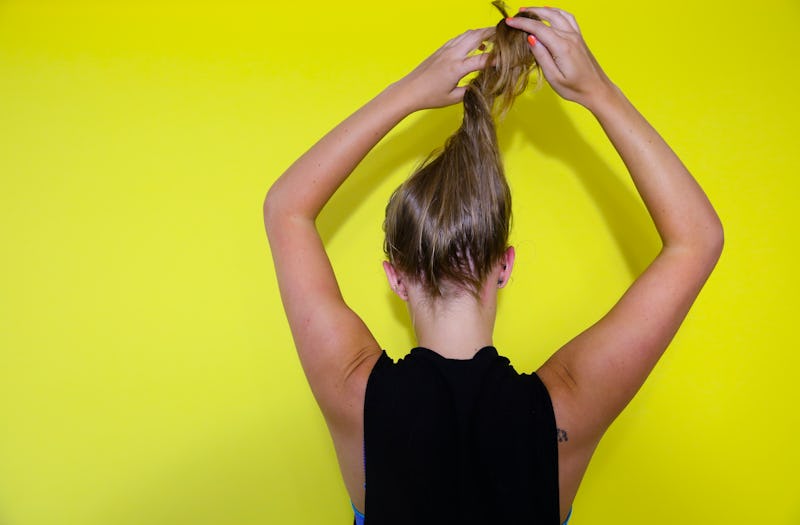 There are so many different hair products out there right now that it can be difficult trying to decide which ones are actually worth it, but Bustle spoke to a celebrity stylist and colorist to find out the one product hair stylists swear by, and it's somewhat surprising. I'd venture to say it's probably not in your routine already.
You probably have tried your share of shine serums, anti-frizz creams, dry shampoos, hairsprays, and more, but spoiler: None of those are what stylists swear by. Bustle's West Coast Fashion & Beauty editor, Sara Tan, interviewed Suave celebrity stylist Jenny Cho and colorist Eddie Cook in Los Angeles, and the product they absolutely cannot live without is hair mousse. Wait — what?!
"I love mousse on all hair types. It's the lightest product that you can never overuse. It always stays light and fluffy, it's weightless," Cho tells Bustle. "Especially if you don't wash your hair every day, I like using mousse. Your hair stays cleaner for a longer time." Who knew?!
OK, that definitely makes sense. I mean, who likes the feeling of crusty, crunchy, oily stuff in their hair, anyway? And according to Cook, its benefits go beyond weightlessness. "It's like a little barrier, because you layered in your products the first day, there's still a barrier that protects your hair the next day. When you're blowdrying your hair, it has a little bit of a grip to it, so it's not so super silky, especially if you're trying to get rid of the frizz," Cook tells Bustle.
So a styling product and a frizz-fighter in one? Where has this product been all our lives? (Overlooked, clearly). If you want your hair to look as flawless as possible and style much easier, shop these mousses to add into your routine.
1. Thickening
Bumble and Bumble, $30, sephora.com
Need to thicken up your hair? This mousse will get the job done.
2. Conditioning
Bumble and Bumble, $31, sephora.com
This mousse will condition your hair if it's on the dry side.
3. Soft
Ouai, $28, sephora.com
Don't like the feeling of product in your hair? Choose this soft mousse.
4. Curl-Enhancing
Living Proof, $28, sephora.com
If your hair is naturally curly, enhance its texture.
5. Budget
Suave Professionals Luxe Styling Volume Souffle Mousse, $4.99, walmart.com
It doesn't get much better than a reliable, hardworking, but affordable product, like this one from Suave's professional styling line.
Images: Andrew Zaeh/Bustle; Jeromy Robert Photography; Sephora; Courtesy of Brands