Chris Hemsworth Steals The Show In 'Ghostbusters'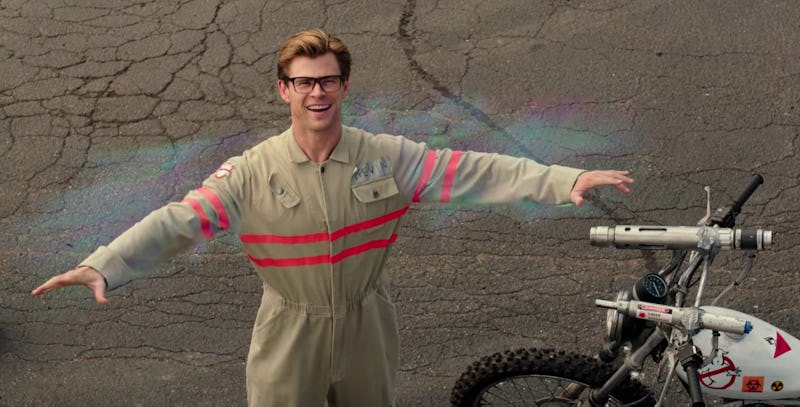 Ghostbusters is all about the ladies, but that doesn't mean there isn't room for some male talent to shine. Case in point: Chris Hemsworth, who plays the Ghostbusters' secretary, in the reboot. While a lot of the buzz surrounding Ghostbusters has gone to stars Melissa McCarthy, Kristen Wiig, Kate McKinnon, and Leslie Jones, Hemsworth has emerged as one of the most surprisingly delightful — and hilarious — parts of the film. Yes, the funny women still rule the film, but word is that Chris Hemsworth as Kevin in Ghostbusters totally steals the show.
Let's face it, Hemsworth didn't really have to be all that funny in the Ghostbusters reboot. Casting a Hollywood hottie like him as the new Ghostbusters' receptionist is already a comedic win just based on optics and social commentary alone. The fact that he's actually funny enough to go head-to-head with the likes of McCarthy, Jones, McKinnon, and Wiig is just the cherry on top. In the film (no spoilers, I swear), Hemsworth plays Kevin, a nice, handsome, and awfully dumb Australian man who works for the Ghostbusters to pay the bills while he tries to start an acting career. Eventually, he gets involved in the ghostbusting business himself, though with mixed results.
Hemsworth isn't exactly known for his comedic chops. The one time People's Sexiest Man Alive is better known for his hammer-wielding muscles than his jokes. That's not to say, though, that he doesn't have some experience with comedy. In 2015, he had a supporting role in Vacation, where he played a very well-endowed Southerner. Still, when it came to stepping in front of the camera with the Ghostbusters cast, Hemsworth was a bit out of his league. "I told him not to worry. He wouldn't have to come up with anything if he didn't want to," director Paul Feig said in an interview with Entertainment Weekly . But, all that worry was for nothing. It turns out, Hemsworth was an improvising wizard. "I remember looking at [screenwriter] Kate [Dippold] like, 'Did you write that for him?' And she said no. He just turned out to be this amazing improviser," Feig added.
Feig isn't the only one who has been singing Hemsworth's praises. When Jones, McKinnon, McCarthy, and Wiig were on The Graham Norton Show , they couldn't say enough nice things about their co-star, which, it turns out, was somewhat of a problem. "At a certain point I thought, I have never rooted for someone maybe to be an unbelievable jerk. I just needed something to be wrong with him," McCarthy said. "He's hilarious," added Jones, "We were like, 'Did you bring writers or something?'"
Sadly, Hemsworth has been noticeably absent from the Ghostbusters press tour, probably a consequence of the Thor: Ragnarok production schedule. But, he continues to support the film on social media, and it's clear he enjoyed being on the funny set. After he wrapped the movie last August, Hemsworth tweeted that he "had a blast," adding, "Never laughed so much in my life."
Audiences will have to decide whether or not Hemsworth's performance lives up to the hype, but it seems like this superhero might have a future in comedy — once he's done saving the world and everything.
Images: Columbia Pictures; Giphy (2)