Revisit These One Hit Wonder Bands From The '90s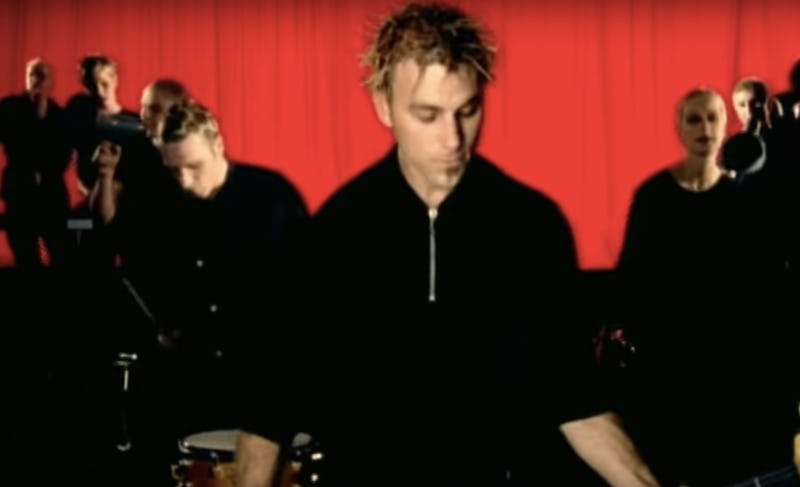 Having a hit song can be both a blessing and a curse. For some bands, a hit song means the beginning of a long, successful career, and for others, that song ends up simply defining them instead. It becomes a one hit wonder, and it can sometimes completely engulf and distract from the fact that the band actually had way more to offer. Whilst there were countless one hit wonders in the '90s, the majority of them seemed to come from musicians who didn't really seem to have a whole lot else going on. There were, however, a fair amount of one hit wonder bands from the '90s with reams of music which are still worth checking out to this day. For some of these bands, their biggest hit is a perfect route in to experiencing and enjoying the rest of their musical back catalogue, whilst for others, their one major hit feels baffling compared to the rest of their musical output.
So, do yourself a favor; Don't just settle for the one, obvious track when you could go and rediscover a band through an amazing album that you'd never heard before. These bands are all worth revisiting — and some of them might just surprise you.
1. Chumbawamba
Prior to signing to a major label and releasing this humongous party hit, Chumbawamba were, astonishingly, a socialist collective known for writing anarchist-punk songs and actively opposing racism, big business, war, and homophobia. Even if you hated "Tubthumping", fans of political folk music would do well to go and explore the band's impressive back catalogue.
2. Soul Asylum
You'll no doubt remember their hit song "Runaway Train" incredibly fondly, but Soul Asylum often get wrongly tagged as being nothing but a one-hit-wonder when they so much more to offer. Their debut album, Grave Dancers Union remains something of an alt-rock gem which is more than worth revisiting.
3. Marcy Playground
"Sex And Candy" is by far one of the greatest and weirdest songs of the '90s, so it's easy to understand why the song engulfed Marcy Playground's legacy. But the band was also curiously unique, with great songs like "Comin' Up From Behind" (which was featured on the Cruel Intentions soundtrack) and the upbeat "Poppies" proving them masters of dark, menacing pop music.
4. The Breeders
There's no denying that "Cannonball" is a supreme force of a song (with one of the best bass licks of the '90s), but do yourself a big favor and listen to the albums Pod and Last Splash. Full of heartfelt and acerbic songwriting genius, The Breeders are still woefully underrated and more than just a single hit song.
5. Semisonic
For real, Semisonic wrote some of the catchiest pop songs of the '90s and that didn't start and end with their hit "Closing Time." Delve a little deeper, and you'll discover outstanding songs such as "Secret Smile," "F.N.T," and "Singing In My Sleep" — which you'll be singing for days, weeks and maybe even months, totally awake.
6. Blind Melon
Don't just leave your Blind Melon experience at "No Rain," as the self titled debut album the song comes from holds up just as well. For anyone searching for the sort of blissed out, peaceful and upbeat jams that go perfectly with a sweetly lazy day of doing nothing in the sun, then Blind Melon is definitely the album to revisit.
7. Sublime
Sublime frontman Bradley Nowell died of a heroin overdose right before both this song and the album it comes from (their fifth, simply titled Sublime) were released. The Californian ska punk band had four other albums prior to this, however, which were just as deserving as the success which Sublime had garnered, and which ska fans should definitely go back and have a listen to.
8. The Lightning Seeds
This quirky, British band only had one major US hit with "Pure," but their entire back catalogue is full of fun, stunning slices of guitar pop such as "Lucky You" and the wonderfully odd, "Sugar Coated Iceberg."
9. Cypress Hill
If you mention Cypress Hill to the average person then they'll likely only be able to reference "Insane In The Brain." It's time to reacquaint yourself with the hip hop band, though, and discover other musical pearls such as "(Rock) Superstar," "Dr. Greenthumb," and "Lowrider."
10. Shakespears Sister
"Stay" is probably one of the best pop ballads of the '90s (with one of the greatest music videos), but Shakespears Sister's album Hormonally Yours shouldn't be overlooked, as it's got some pretty terrific moments of female fronted goth soaked, pop-rock definitely worth returning to.
11. The Cranberries
"Linger" is great and all, but as a song it doesn't hold up against the powerfully anthemic "Zombie," or deeply emotional album tracks such as "Empty" or "Ode To My Family."
12. The Prodigy
Seriously, break out some glow sticks, gel your hair up into a fauxhawk, and throw yourself around your bedroom to just about any of the The Prodigy's back catalogue. Every album still holds up as being angry, tenacious bursts of energy and there's way bigger songs to snarl along to then "Firestarter."
It's definitely time to raid your old CD collection and revisit some of these bands. I promise you, some of the musical discoveries you might make by doing so will be more than worth it.
Images: ChumbawambaVEVO/YouTube