What I Learned While Buying My First Bikini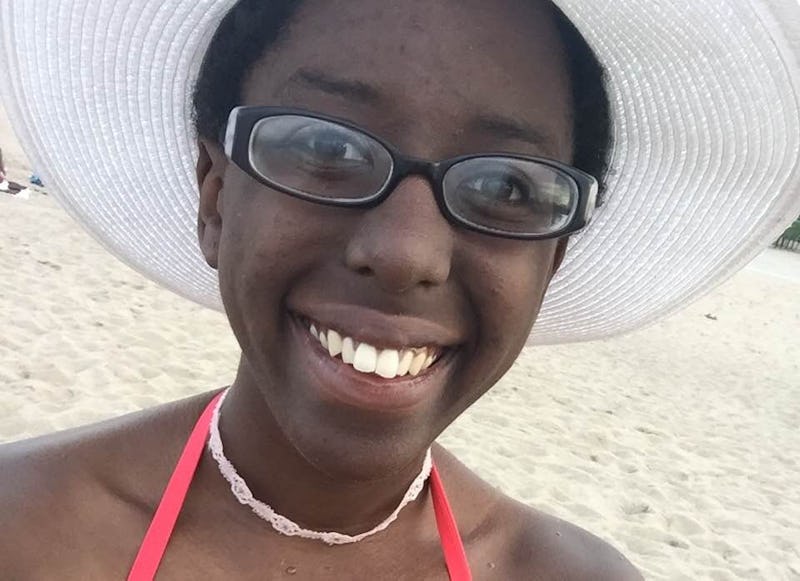 If you Google "swimsuits" or "bikini" you will be overwhelmed with the number of shopping options you have. There are so many different colors, styles, cuts, terms and prices that I did not know where to begin when I decided I finally wanted to buy and wear my first ever bikini at age 20.
To backtrack on my swimsuit story: I grew up in St. Louis, Missouri, so while there were plenty of lakes and pools, I never really went to the beach-beach. I went to a Catholic high school and am generally just a more conservative person in the way I dress. I had a lot of baby fat in my tummy, arms, thighs and cheeks in high school and it made me feel self conscious even in my bright blue tankini I got at Kohl's for $22.
Once I got to college in Chicago, I started frequenting the beach more in summer weather and gained a bit of confidence as I learned to love the way my body looked as I got older. Finally, this year, I decided it was high time I try and find a bikini just for me. Here are nine things I learned from trying on multiple bikinis and finally finding the perfect one.
1. "Bikini Bodies" Aren't A Thing
There is no such thing as having to get "bikini-body ready" to try on your first bikini. Do you have a body? Then you're ready!
2. Start Shopping Early
I started off my bikini search at my favorite place to shop: Forever 21. But I found myself trying on mismatched suits and ill fitting sizes, mostly because the first mistake I made was to start swimsuit shopping after the Fourth of July. Start swimsuit shopping in the spring, when stores still have all the sizes and styles you could want.
3. Start Small
Feeling self-conscious about wearing a bikini in public for the first time? Ease into it. Strut your stuff around the dressing room first to get comfortable seeing and feeling your body in a bikini. These swimsuits show a lot of skin, but don't spend the whole time scrutinizing your every flaw. Smile and see how cute your tummy looks, how nice your butt looks, how strong your shoulders are, how sexy your legs are.
This is your beautiful body and you have every right to show it off! Once you've mastered the dressing room and you've decided to purchase it, you still don't have to head straight to the beach. Wear it around your bedroom, try just sitting on the chairs at the pool or beach, and finally go out swimming if you want. You might be able to complete these small steps in one day, or it might take a week, a month or longer. Just keep trying, and your confidence will build at its own pace.
4. Pricier Suits Are Worth It
Save up your money and take your time to buy a quality made swimsuit. You're going to be spending a bit of money already on a bikini, especially since most are sold as separate pieces. There are cheap and trendy suits that can fall apart or fade quickly, but if you go the extra mile and splurge on a well made one you can get away with having only one or two bikinis that will last you for several summers at least.
5. "Bikini" Doesn't Just Mean One Style
There are different types of bikinis and you can choose the one that fits your style the best. Don't want to show off your whole tummy? Try a monokini or high-waisted bottoms. Don't feel like wearing a string thong? Buy a pair of boyshorts to match. You can try the strapless tops, halter tops, racerbacks, and everything in between to see what suits you best.
6. Try Everything On
Even if you think you know your size and favorite styles, try everything on. I love wearing strapless dresses, but realized in the dressing room that I do not like wearing strapless bikinis. I kept self-consciously pulling up the top, so I tried on a classic halter bikini and ended up liking that top way more. I also made sure to jump around, check for tightness in the hips and rib area and considered how the swimsuit would fit once the water made it expand.
If you are going to shop online, have your exact measurements handy since sizes vary from brand to brand. And check the store's return policy to make sure you can at least exchange the swimsuit if it doesn't fit.
7. Bikini Shopping Can Help You Love Your Body
Once you find the perfect swimsuit for you, life is just a little bit brighter. The last place I visited on my bikini journey was Target, the answer to every shoppers' prayers. I like my clothes simple, so I found myself drawn to the store's swimsuit selection that featured bold colors, thicker ties, and more coverage for the tops and bottoms. Their singular pieces were cheap and I was able to get a cute swimsuit for under $50. I was drawn to a hot pink suit that popped brightly against my dark melanin. It fit like a glove and twirling around in that dressing room, showing off what I used to deem "problem areas" felt like a weight lifted off of my shoulders.
8. No One Is Judging Your Bikini
And if they are, that's their problem, not yours. Trust me, I know it feels like every other girl at the beach is totally in love with their body and feels 100 percent confident in their bikini, but that's just not true. I've spent enough time scouring Instagram-filtered bikini pics and feeling shy about my own body to know it's better to find inspiration elsewhere if you can.
One of my personal favorite people to watch is Ashley Graham: She's a beautiful curve model who feels great in her own skin. I also love seeing dark skinned black women like myself having fun in the sun in their bikinis. Rather than trying to change the way you look to fit the image that tends to be populate mainstream media, seek out happy bloggers and other individuals who already look similar to how you do.
When I went to Lake Michigan with my boyfriend to try out my new bikini I did feel very nervous being so bare around strangers. I wondered if they would judge the cellulite on my thighs or how I still had a little muffin top compared to the flat ab girls playing beach volleyball.
But I saw people playing in the water, playing with their kids, relaxing with their loved ones. I saw bodies of all different shapes, sizes, and colors enjoying the outdoors and being near the water. They were only concerned for themselves.
After that I felt so much more relaxed and confident to also have fun and be myself. I had come to enjoy myself with someone I loved, so after quickly shedding my clothes I asked my boyfriend to take a picture of me posing and smiling in my new suit. After that we ran into the water, splashed around and had a great time. I had chosen the perfect size bikini so I wasn't constantly adjusting it or making sure nothing popped out. I was able to focus on myself, my partner, and beauty of the ocean.
9. You Might Decide Bikinis Aren't For You
And that's 100 percent OK. Bikinis can be intimidating; they could just not be your style or what you're looking for right now. If you try one on and decide this is not for you, I am so glad that you even tried. If you try one on and end up loving it like I did, that is so wonderful as well. For me buying a bikini and wearing it in public gave myself another boost of self-confidence that I really needed and wanted to have. Many consider trying a bikini a right of passage in one's life and the experience itself can really help solidify a positive body image and calm your nerves about wearing one. Your body is yours alone, and as long as you are loving it and showing as much or as little as you please, that's all you need to be happy.
Images: Charlene Haparimwi