5 Moondust Palette Alternatives To Shop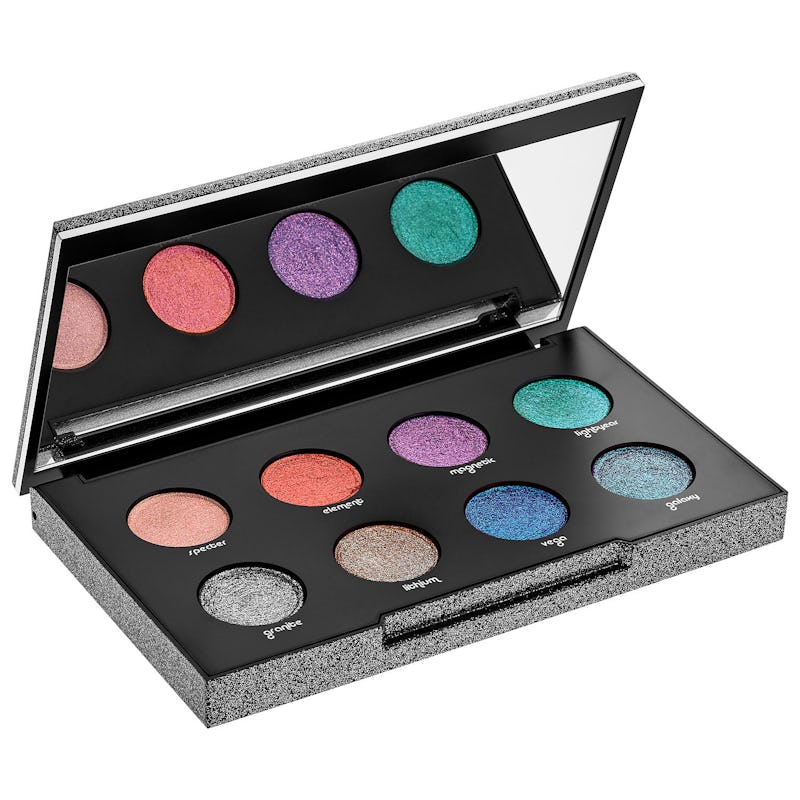 Urban Decay is one of the biggest and baddest beauty brands, especially when it comes to eyeshadows. Their latest palette is gorgeous, but it's definitely not available at a drugstore price. So whether you're looking to save some cash or want to find alternatives for a singular eyeshadow color, here are the best affordable alternatives to Urban Decay's Moondust Palette.
The newest member of the UD palette family is the Urban Decay Moondust Palette, which retails for $49 and comes with eight glittery shades ranging from gray to aqua green and a pinky copper shade. The shades are versatile enough to create everday looks with a single shadow, or dramatic evening looks. But what if your budget isn't having it? While the cost breaks down to $6 a shade, it's still considered a high-end product. You may not want to pay that much for all eight shades, or you may just want to save a few bucks and find a dupe for one of the eyeshadow hues in the kit. Whatever the reason, I've got you covered.
The drugstore and indie makeup brands have beautiful eyeshadows for super duper cheap. The quality is glittery and creamy, and the formulas are easy to work with. You don't have to spend a ton to get amazing products and looks!
Urban Decay Moondust Palette, $49, Sephora
Below are some of my favorite affordable alternatives to the Moondust Palette.
Super Shock Shadow in I Heart This, $5, Colour Pop
Love a single shade in the palette? Colourpop Super Shock Shadows come in a huge line of colors. This silver taupe is a perfect dupe for Lithium.
Infallible Eyeshadow in Endless Sea , $7, Amazon
Yes, this shadow is a dollar more than the individual breakdown price of $7 for Moondust's shadows, but this formula is so worth it. This shade is an exact dupe for Lightyear.
Eyeshadow Pan in Hot Pants, $6, M akeup Geek
These shadows are some of the best in the biz. Recreate the glitter effect by wetting your brush before applying.
e.l.f. Baked Eyeshadow Palette , $7, Amazon
Baked eyeshadows have an amazing metallic finish and smooth blendability. You get a whole palette for less than a quarter of the department store price!
Morphe Eyeshadow Pan in Mysterious, $2, Sleek Hair
For half the price, you can have these incredible shadows! Mysterious is a great dupe for Element.
Images: Courtesy of Brands