Women-Led Shows Even Less Represented In Emmy Noms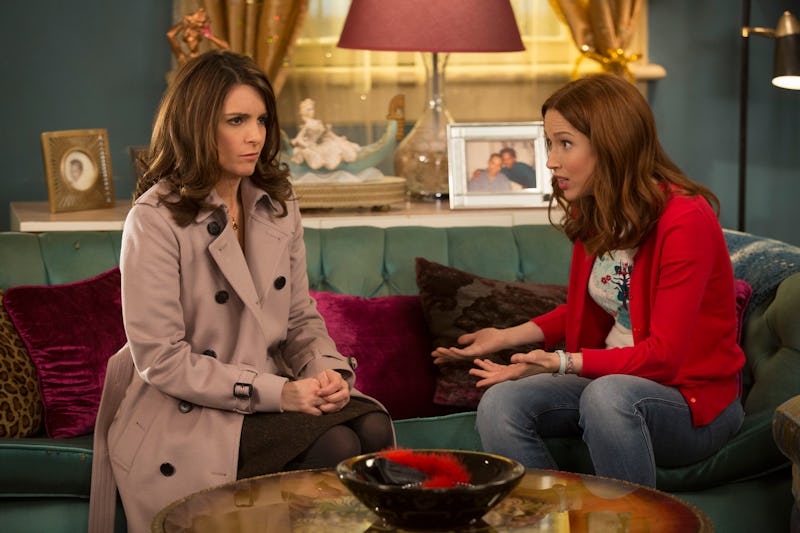 Unbreakable Kimmy Schmidt's theme song said it best: "Females are strong as hell." But, the females who create, write, and star in female-led television shows didn't make as strong a showing at the 68th Emmy Awards as many would have liked in the two major categories of Outstanding Comedy Series and Outstanding Drama Series. Predictions for this year's awards were filled with new women-driven comedies and dramas such as Crazy Ex-Girlfriend and UnREAL — the latter a Peabody Award winners and both unfortunately snubbed in the aforementioned categories. It was exciting to think that with a nomination, these shows, created by and starring women, would help lead peak TV towards female-domination. Instead, though, TV fans get another piece talking about the lack of female representation at an awards show.
This year's actual list of 2016 Emmy nominees varied little from 2015's, which upped the number of possible nominees per category from six to seven. Well, except for the fact that this year, less female-led shows, both onscreen and off, were represented on the ballot. Last year, the Outstanding Comedy Series category included three female-fronted series, but this year only two, both of which were nominated last year (Unbreakable Kimmy Schmidt, Veep). The 2016 nominees for Outstanding Drama Series also took a step back, with only one female-led show on the list after nominating two last year.
In the category of Outstanding Drama Series, Homeland gets to once again be the example of female representation. It's become the go-to female drama for the Emmy voters since 2012, winning the prize in its first year. Until that Homeland win four years ago, a series with a female lead character hadn't won the award since CBS's Cagney & Lacey won in 1985. The show about two female New York City police detectives would also win again in 1986. As for how many female-led drama series have won in Emmy's history, it's only been three with the PBS series, Elizabeth R being the first and only other show to win in 1972.
In the 66-year history of the category at the awards show, it's mostly been led by ensemble shows like Game Of Thrones, which won last year, and male anti-heroes like Sopranos, Mad Men, and Breaking Bad. This year was more of the same, except with Mr. Robot and The Americans (which does have a female co-star in Keri Russell) shaking things up as new additions to the category.
But, this year, unlike last, Orange Is The New Black didn't get nominated (the Jenji Kohan show was actually completely snubbed) and female-led dramas such as Lifetime's UnREAL, Starz's Outlander, and Netflix's Jessica Jones (created by Twilight screenwriter Melissa Rosenberg) were left off the ballot. Even more significant: there are no female-created shows in the Outstanding Drama Series category this year. Zero. UnREAL, created by Marti Noxon (Buffy the Vampire Slayer) and Sarah Gertrude Shapiro was at least recognized for its writing and Constance Zimmer's supporting performance, but it still didn't nab a nomination in a lead
Female-fronted shows were recognized in other categories, such as Outstanding Lead Actress in a Drama Series, in which 2015's history making winner Viola Davis earned another nomination for How To Get Away With Murder, along with Homeland's Claire Danes, and Orphan Black's Tatiana Maslany. But, this is unfortunately how we come to celebrate female dramas — only in the female relegated categories. These critically celebrates female shows always struggle to land in the bigger more noteworthy categories. TFunny, how that works out that way.
Women did fair a little better in the comedy category where two female creators, Tina Fey for Unbreakable Kimmy Schmidt and Jill Solloway for Transparent, landing Outstanding Comedy Series nominations. If either wins, it would be a boost to Emmy's history since in the categories history, only two female created shows have won the award in the past, Murphy Brown (1990, 1992) and 30 Rock (2007, 2008, 2009). Yep, Fey could possibly be the only woman to ever win with two different shows.
In 2015, the female-led Veep (which is nominated again this year) won the award for Outstanding Comedy Series in a year that saw two other female-led comedies earn nominations: Parks and Recreation and Unbreakable Kimmy Schmidt. Only eight female-led shows have won the top prize: The Mary Tyler Moore Show, Murphy Brown, The Golden Girls, Ally McBeal, Sex and the City, 30 Rock, Veep, and I Love Lucy, which was the very first female-starring show to win in 1953 and 1954.
It's why seeing a show like Crazy Ex-Girlfriend get overlooked by the Academy is so disheartening. It's a show created, written and starring women — and it seems to check off all the boxes when it comes to what the Emmys look for. It's a comedy (and a musical!) that delves into mental illness. Its female lead is flawed, just like so many of the male ones that are on this list. The show is diverse: like Shonda Rhimes, Rachel Bloom is creating a world that looks like the one people actually live in. Basically, it's the epitome of what television can be now. But, yet, it still wasn't enough. Bloom's character isn't the only one singing the "Sexy French Depression Song" right now.
The women nominated for this year's Emmys, airing September 18, deserve all the accolades they get, but there were others who also deserved to be on this list who aren't. Unfortunately, they were once again overlooked.
Image: Eric Liebowitz / Netflix; Giphy (2)