Lennon & Maisy Stella Want To Get Along On TV Too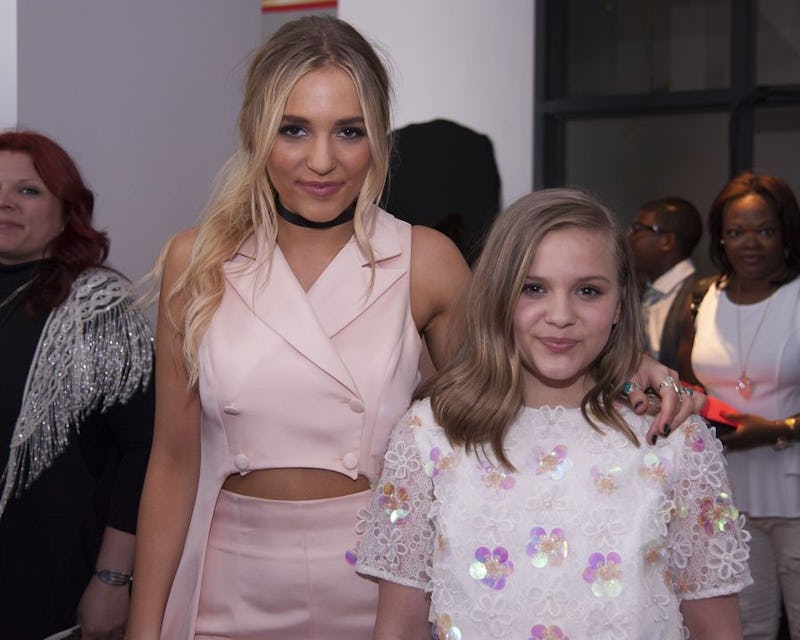 Just like their characters on Nashville, Lennon and Maisy Stella have grown up in the spotlight. While starring on Nashville for the past four seasons as Maddie and Daphne Conrad, respectively, these sisters have matured into talented, ambitious young women. Of course, acting isn't their only accomplishment. In addition their many YouTube music videos, the duo has released their own line of adolescent-friendly home décor for PBteen, which is currently available for purchase online and in PBteen stores, and they're gearing up for Season 5 of Nashville , which will air this fall on CMT after the network rescued it from cancellation. Hooray! That's especially great news for fans of Stellas' characters, as they had an intense Season 4 and based on what Lennon and Maisy tell Bustle, things are bound to remain interesting when Nashville returns.
In Season 4, Lennon's Maddie went through a lot — to put it lightly. She petitioned a judge to emancipate her from her parents, who she believed were stifling her creatively, and it put an incredible strain on her relationship with her family, leading to some emotional scenes. "I definitely was nervous," Lennon says about taking on this storyline. "This is the first thing I've done acting-wise, so … I was taking it as it came." One thing that actually helped her adjust to the increasingly difficult subject matter was the way that Nashville gradually upped the stakes. "It was kind of like every episode kept getting more and more intense, so it made it easier to build," she says.
Maddie's storyline eventually reached an extremely emotional, disturbing point when she started working with a producer who had a history of sexually assaulting young female artists. While hard to watch, Lennon and Maisy think it was important for the show to portray such a sensitive topic. "It's something that actually happens, and it's a real thing, and I thought it was really cool to create awareness for teenagers," Lennon says, adding that she thought her character could teach young viewers about the topic. But as someone who saw her real-life sister acting in these scenes, Maisy admits, "It was uncomfortable for us to watch."
And though Daphne's storyline in Season 4 didn't reach as upsetting of a place as Maddie's, she certainly had some emotional scenes of her own as she grappled with Maddie's emancipation and the possibility of a solo career, and Maisy has high hopes for her character in Season 5. "I think she'll definitely start maturing in this season," she says. "She's definitely done with Maddie's crap, so I'm leaving and I'm going solo, and definitely done with Maddie treating her so horribly."
A hope for Season 5 that both Lennon and Maisy share is for Maddie and Daphne reach a better place in their relationship. When asked if they want to see the sisters make up in Season 5, both respond in the affirmative, as Maisy says, "I miss performing together as friends on the show and not just like hating each other." Lennon adds, "It would be perfect if they'd make our characters friends sometimes."
Luckily, pretending to fight on TV and growing up in the spotlight hasn't affected the sisters' lives too much. "[Being on television] is our normal, as we just have always been a part of it," Lennon says. "Because it's happened so organically, it's just like we've stayed so normal and in public school until we literally couldn't anymore. It feels like nothing has really changed to be honest. We're obviously really busy, but everything else has stayed pretty much the same."
But that's real life. In the world of Nashville, things are bound to keep getting shaken up, especially since Season 5 is making one very big change by moving to CMT.
Images: Image Group LA/Disney Channel; Giphy (2)