Barbie & Her VP Are Running An All-Female Ticket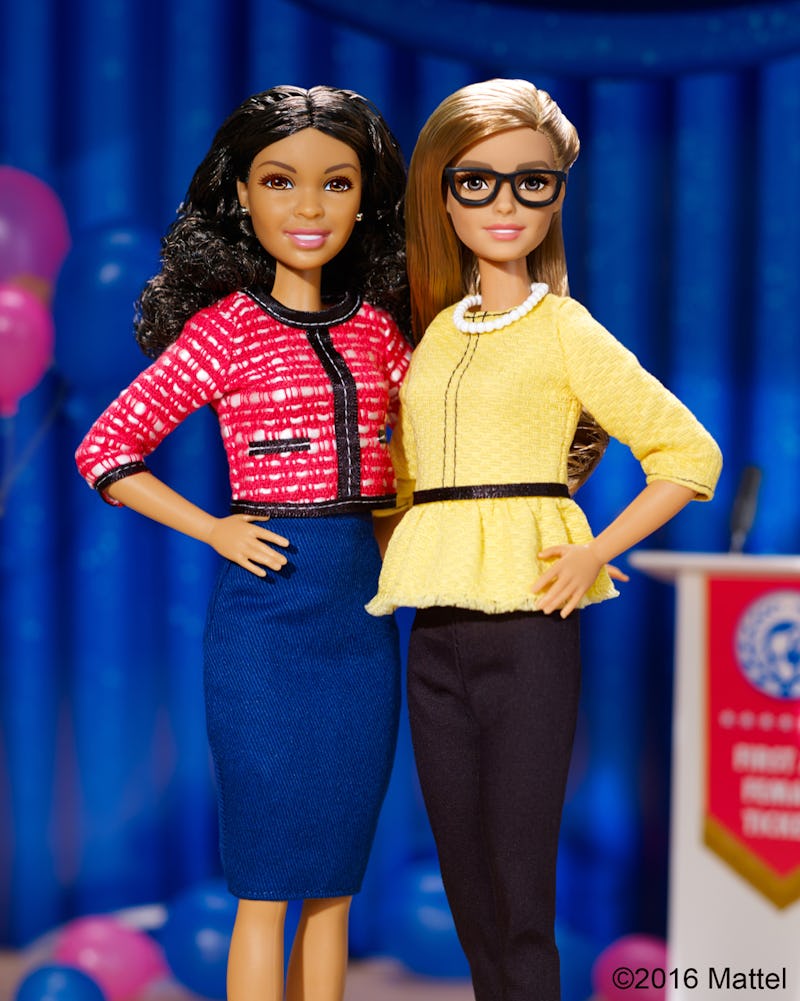 Anyone else remember growing up and looking to Barbie for all the possible career paths you could take? Well, if you know a kid who loves Barbie today, you're in luck, because Mattel has just released brand new President and Vice President Barbies. While it's true that this isn't the first time Barbie has occupied the Oval Office — the first President Barbie was released in 2012 — she didn't have a running mate at the time. Now, though, Vice President Barbie has been added to the mix, giving us an awesome all-female ticket — even if it's just an imaginary one. Pretty cool, am I right?
A collaboration with non-profit She Should Run, President and VP Barbie are meant to inspire girls to become the leaders of the future. Said She Should Run co-founder and CEO Erin Loos Cutraro in a press release, "At She Should Run, we believe that women of all backgrounds should have an equal shot at elected leadership positions and that our country will benefit from having a government with varied perspectives and experiences. We are excited about partnering with the Barbie brand given its reach and infuence to encourage girls everywhere to unlock their leadership potential."
According to the Wall Street Journal, even the box for the new Presidential Barbie offers important words of encouragement: "Nowadays there are more women running for public office at all levels. Are you interested in making the world a better place?" I think this is a great way of reminding children that there is a world of opportunity available to them, regardless of their gender identity or sex; indeed, no matter how you feel about Hillary Clinton as a presidential candidate, the very fact that she's poised to clinch the Democratic nomination is historic in and of itself.
This is just one of a number of notable moves Barbie has made recently; earlier in 2016, for example, the dolls launched three new body shapes — "petite," "tall," and "curvy" — in addition to the original one, as well as a huge variety of new skin tones, hair colors, and hair textures. The result is a wonderfully inclusive doll that empowers both kids and adults — and I've no doubt that President and VP Barbie will both do the same.
The fact of the matter is, kids love their toys and see them as representations of themselves and the outside world. Having toys that children can relate to, whether it's in terms of appearance or career goals, can go a long way toward making young people feel more secure in themselves and comfortable in their own skin. For that reason, Barbies that both reflect the diverse world that we live in today and highlight the possibilities of where it might go in the future matter.
Excited to buy the new Barbie Presidential duo? The dolls are available for $24.99 both online and in stores nationwide. While the dolls do not yet come in the three new body shapes, you can choose between a number of options for skin tone, hair color, and face shape.
Personally, I am pretty excited to see where this movement takes us. Kids deserve to be empowered just as much as adults do, and what better way to do that than through the things they play with and love?
Images: Mattel; Giphy