Nintendo Is Releasing A Retro Miniature NES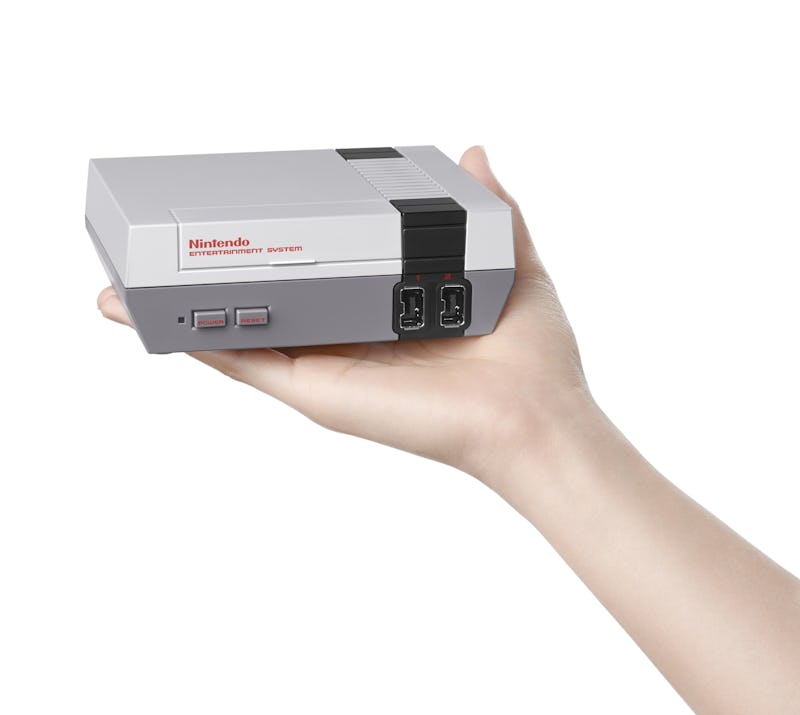 Since we all can agree that between the Blink-182 release, the Clinton campaign, and the world's unbridled enthusiasm for "Pokemon Go" that we collectively fell into a worm hole in time this past week, it's only fitting that Nintendo is releasing a miniature NES to bring us all full circle. The Nintendo Entertainment System: NES Classic Edition, a miniature replica of the NES console of gaming past, is set to hit stores on November 11 — just in time for you to spend the next month and a half playing through all 30 included games before the New Year! While it will look just like the original console, this version will be able to operate on high-definition screens and comes with an HDMI cable, an AC adapter, and one NES Classic Controller. It is expected to retail for $59.99, but really, guys — this kind of nostalgia is priceless.
"We wanted to give fans of all ages the opportunity to revisit Nintendo's original system and rediscover why they fell in love with Nintendo in the first place," said Nintendo of America President and COO Reggie Fils-Aime. "The Nintendo Entertainment System: NES Classic Edition is ideal for anyone who remembers playing the NES, or who wants to pass on those nostalgic memories to the next generation of gamers."
Here is a list of the games that will be included with the console:
Balloon Fight™
BUBBLE BOBBLE
Castlevania™
Castlevania II: Simon's Quest™
Donkey Kong™
Donkey Kong Jr. ™
DOUBLE DRAGON II: THE REVENGE
Dr. Mario™
Excitebike™
FINAL FANTASY®
Galaga™
GHOSTS'N GOBLINS®
GRADIUS™
Ice Climber™
Kid Icarus™
Kirby's Adventure™
Mario Bros. ™
MEGA MAN® 2
Metroid™
NINJA GAIDEN
PAC-MAN™
Punch-Out!! ™ Featuring Mr. Dream
StarTropics™
SUPER C™
Super Mario Bros.™
Super Mario Bros. ™ 2
Super Mario Bros. ™ 3
TECMO BOWL
The Legend of Zelda™
Zelda II: The Adventure of Link™
A brief salute to my little sister, who I will probably see crawl out of her Legend of Zelda hole sometime next May. And yet another salute to humanity, for constantly bringing back our best achievements so we can foist them on the youth and legends will never die.
Images: Business Wire