Where To Shop Muji Drawers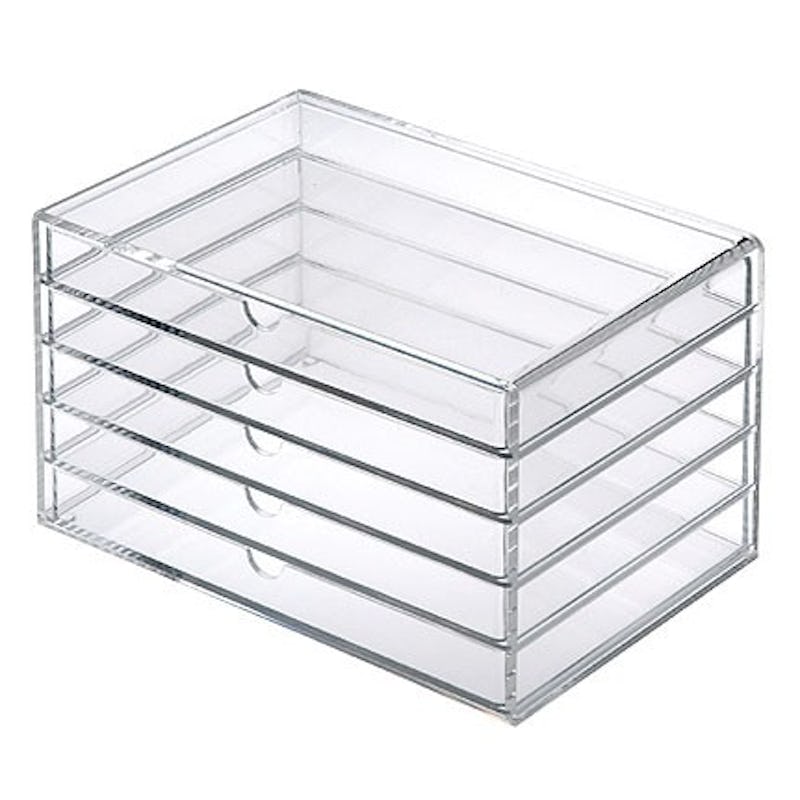 Beauty lovers love to load up on the latest and greatest makeup products, from Jaclyn Hill's entire Champagne Collection to Kylie Jenner's Lip Kits. But as our cosmetics collection keeps growing, we start to run into a problem — where do you keep it all?! Enter Muji drawers, the perfect solution to all your makeup storage problems. Where can you buy Muji drawers? You may now be wondering. The product is actually pretty easy to shop.
You may have first become familiar with Muji drawers from the thousands of YouTube reviews out there from influential vloggers. Beauty gurus like I Covet Thee, The Beauty and The Blondie, and Tamira Jarrel have all posted tutorials showing how they utilize their Muji drawers, so it's no wonder they have skyrocketed in popularity.
If you've never heard of this storage solution before, let me break it down for you. They consist of five drawers, are made of acrylic, and are super wide, providing tons of room to hold all your precious makeup. The best part? The drawers are clear, so you can easily scan for the product you want when applying your makeup every morning.
If you're already dying to organize your makeup in one of these, you can shop the drawers online at Muji, and Amazon.
Muji Acrylic Case 5 Drawers, $60, Muji
The brand has physical stores, too, so you can shop in-person as well as online. If you're in New York and California, you can head over to one of their many locations.
Just look at all that neatly organized makeup. You need these drawers in your life.
The drawers aren't exclusive to just makeup, you can store pretty much anything in there.
Happy shopping!
Images: Muji (2)