The 'People V. O.J.' Cast Responds To Emmy Noms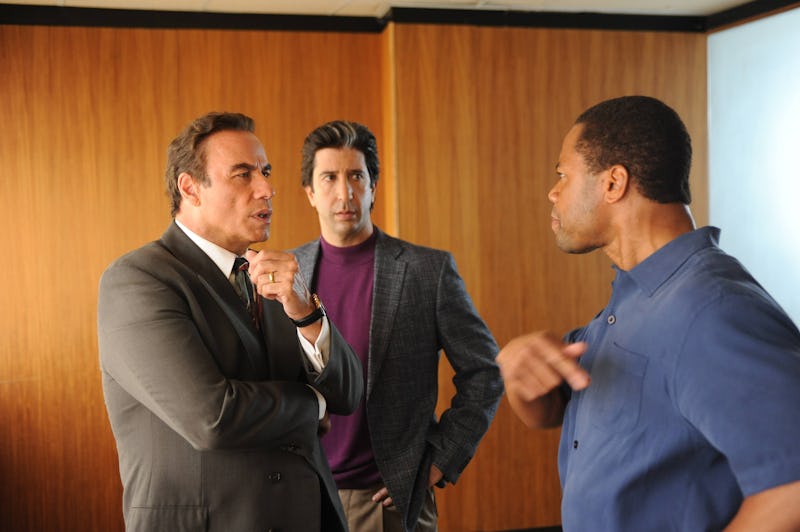 As one FX show proved this year, knowing the outcome of a crime drama does not make the subject any less compelling. That series is, of course, The People v. O.J. Simpson, which chronicled the aftermath of the murder of former football star O.J. Simpson's wife Nicole Brown Simpson and her friend Ronald Goldman, as well as the trial that ensued after Simpson was accused of their murders. Of course, the celebrity and ex-athlete's 1995 trial ultimately found O.J. not guilty of the murders, and in its wake, created a media storm — one that exemplified the uglier parts of American media. American Horror Story creator Ryan Murphy told this story as the first installment of his American Crime Story anthology series, and it turns out that Murphy's retelling of history has paid off in accolades: The People v. O.J. Simpson has picked up 13 Emmy nominations, and it sounds like Murphy is bursting with pride over the nods.
Murphy worked on the series as the executive producer and directed four episodes of the series (including "From The Ashes Of Tragedy," which was nominated for Outstanding Directing For A Limited Series Or Movie). Here is what he had to say about the show's 2016 Emmy nominations, in a statement released to Bustle:
Working on The People v. O.J. Simpson has been a career highlight and its own reward, but I am especially moved by the recognition for everyone who devoted their hearts and souls to this project — from our brilliant cast to our amazing writers and directors to the extraordinary producers. We are all incredibly grateful. It's a happy day.
It sounds like this project was very close to Murphy's heart, which makes it particularly special that it received one of the highest honors a television show can receive. Murphy isn't the only one who responded to the Emmy nominations, either — star Courtney B. Vance, who portrayed defense attorney Johnnie Cochran, was nominated for Outstanding Lead Actor In A Limited Series Or A Movie, and he also released a statement to Bustle:
When we finished the incredible journey of creating this groundbreaking project, The People v. O.J. Simpson, we all knew we'd created something incredibly wonderful and special together! It was an opportunity of a lifetime to work with such a dream cast and to portray a man like Johnnie Cochran. To receive an Emmy nomination today is the continuation of this phenomenal journey and is indeed a true blessing and honor. I am overjoyed that my wife, my mother, and children are here to enjoy this moment with me. Although the disease ALS has taken my mother's ability to speak, I see joy and pride written all over her face right now. Being surrounded by my family - at this very moment - means everything to me!
David Schwimmer, who portrayed Robert Kardashian on the series and was nominated for Outstanding Supporting Actor In A Limited Series Or A Movie, echoed Vance's happiness with a statement with his own:
I am totally surprised and thrilled to be nominated alongside my other cast mates, as well as the show's writers, producers and directors. I'm proud to be part of such a timely and provocative series, and hope it continues to contribute to the much needed discussion of race and class in this country
John Travolta, who portrayed Robert Shapiro and was nominated for Outstanding Supporting Actor In A Limited Series Or A Movie as well, released this statement to Bustle:
It was a beautiful surprise to be nominated today! And I'm so proud of our 22 nominations and being part of that is truly special! What a wonderful way to come back to television.
Though we won't get any more episodes of The People v. O.J. Simpson, here's hoping that the next installment of this anthology series is just as special and celebrated as the first.
Image: FX Networks