Will Ezria End Up Getting Engaged On 'PLL'?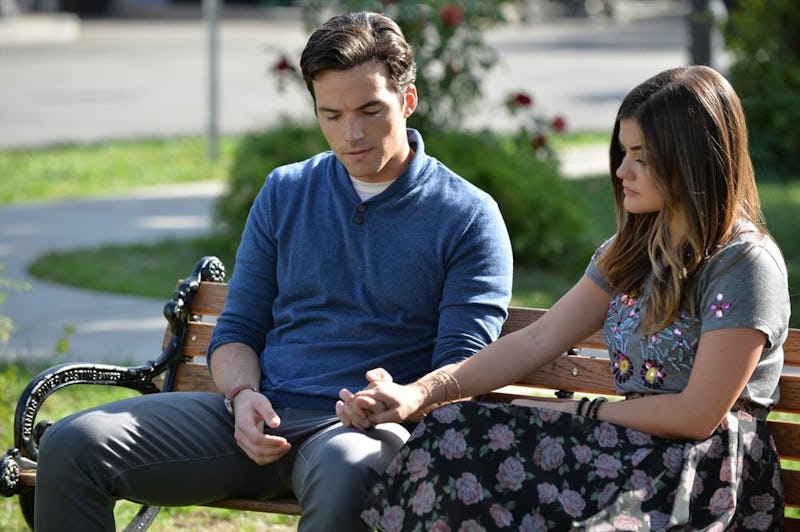 Pretty Little Liars may be a murder mystery, but it also has plenty of heart. Romance has been a staple on Pretty Little Liars since its very first episode, and this is no more evident than when Aria looked across a college bar and locked eyes with her future soulmate/English teacher, Ezra, in the pilot. Since that fateful day, Aria and Ezra have broken up and gotten back together approximately 1,000 times — but one thing that they never stopped doing was loving each other. Now that the show could potentially be ending soon, its only natural for these two to fall back together — but could Ezra finally put a ring on it as well? A new promo for the Pretty Little Liars episode "Along Comes Mary" has revealed that one of the Liars will get an unexpected proposal, and I'm wondering if it could mean that Aria and Ezra will get engaged in Season 7.
According to the new promo (which also drops some major hints about Dr. Rollins real name) one of the Liars will receive a very surprising #PLLProposal. Though it's not explained if this proposal is actually a marriage proposal, showrunner I. Marlene King told Variety that there will be a PLL wedding during Season 7, and that the proposal will take place during the summer season. It seems like the real deal: wedding bells are chiming for one Liar, and I would hedge my bets on Aria being the one who is getting ready to walk down the aisle towards Ezra.
Check out the promo:
Though there are quite a few options for which Liar could be the one getting married, Ezra and Aria are the one couple that makes the most logical sense. Emily isn't currently dating anyone, Spencer is on the verge of breaking up with Caleb, and Hanna just dumped Jordan royally. Aria and Ezra are also the only original couple currently together, and King hinted in her Variety interview that the proposal will make original shippers feel the feels:
I think for fans of the original ships, it's going to be a very magical and rewarding proposal. I cried and a lot of people cried at the table read for that episode, and I really cried when I saw it. You don't have to wait for the finale to see it. I think it's going to make a lot of people happy!
Aria and Ezra have been through so much together, and though I wasn't always a fan of their love, the five-year time jump has made their romance far less icky. These two just can't quit one another, and now that a Liar is getting married, they might not have to.
Here's hoping that "Happiness" by The Fray (aka B26!) will be their wedding song.
Images: Freeform; Giphy